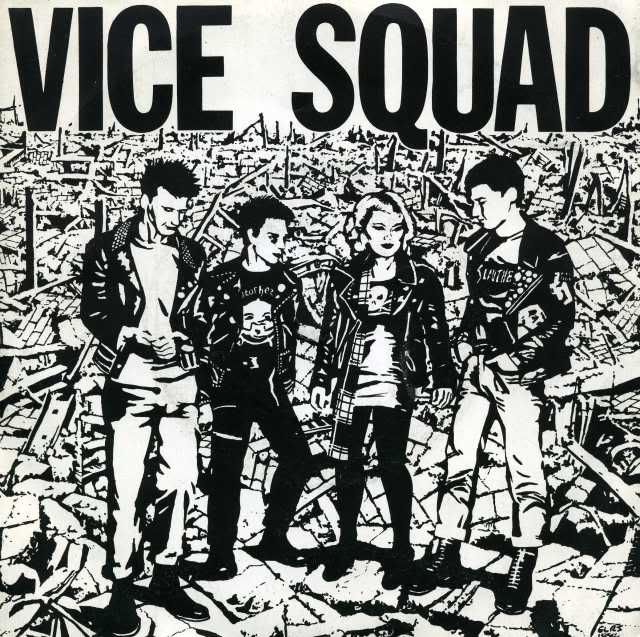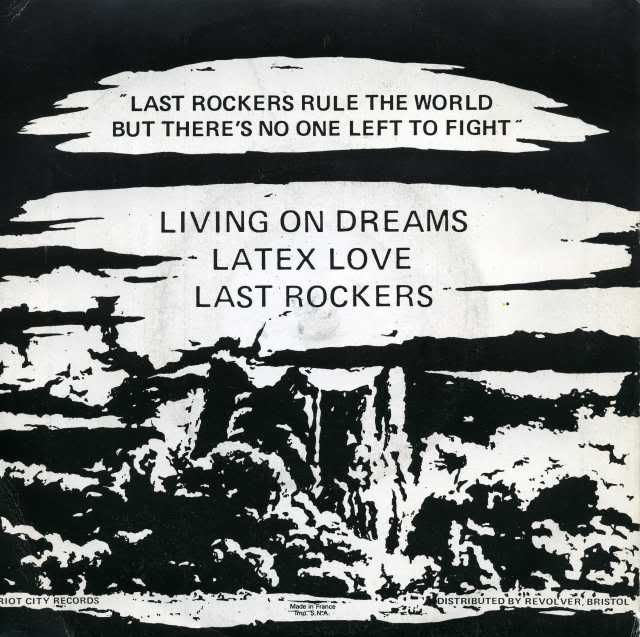 Debut 7″ single by Bristol's Vice Squad which sold bucketloads in the early 1980's, one copy was sold to me, and it remains the only Vice Squad record that I have ever owned.
The sleeve depicts the obligatory for the era 'punks in post armagedden landscape' artwork, adding a mushroom cloud picture to the rear of sleeve, just in case anyone missed the subtlety in the lyrics of 'Last Rockers'. 
Great Stuff…
Text ripped from ungraciously from Wikki Pee Dear.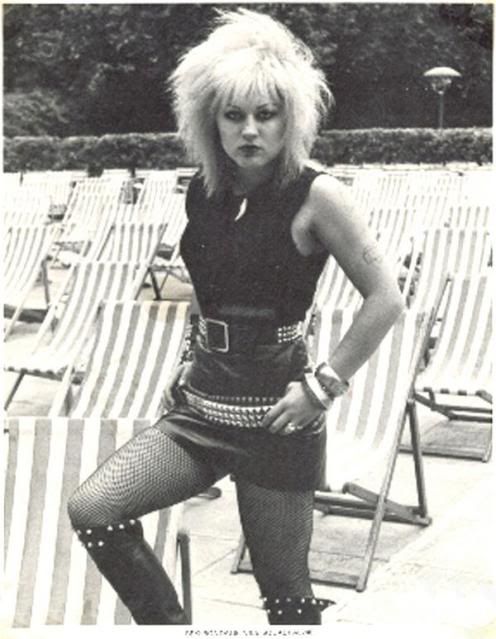 Vice Squad is a punk band formed in 1978 in Bristol, England. The band formed from two other local punk bands, The Contingent and TV Brakes. Songwriter and vocalist Beki Bondage (born Rebecca Louise Bond) has been with the band since the original line-up. She is often cited as being the first punk pin-up featured on the front cover of a number of influential music papers and magazines such as Melody Maker, Sounds, NME, Punk Lives and Smash Hits.
Vice Squad formed with an initial line-up of Beki Bondage (vocals), Dave Bateman (guitar), Mark Hambly (bass), and Shane Baldwin (drums), and played their first gig at Bristol University's Anson Rooms on 12 April 1979. Bateman and Baldwin had previously been members of the TV Brakes. The first release by the band was the track "Nothing", which was included on the 1979 compilation "Avon Calling". Members of the band were involved in setting up the Riot City label with Simon Edwards, the label becoming one of the major punk labels of the era. The band took some time to make further impact, only playing six gigs in 1980, but the debut single "Last Rockers" released in December 1980, was well-received, selling over 20,000 copies and spending almost forty weeks in the UK Indie Chart, reaching number 7. The follow-up, "Resurrection", reached number 4, and the band undertook a tour supporting UK Subs. The singles received airplay and support from BBC Radio 1 DJ John Peel, and they would go on to record two sessions for his show, in 1981 and 1982.
In 1981 the band signed with major label EMI (their Zonophone subsidiary), prompting criticism from many within the DIY punk scene. Their debut album, "No Cause For Concern", was released in late 1981, reaching number 32 in the UK Album Chart. A second album followed in 1982, and the band embarked on a tour of the United States and Canada. On returning from the US, Bondage announced that she was leaving the band. She went on to front Ligotage and later Beki and the Bombshells, and without her, Vice Squad were dropped by EMI.