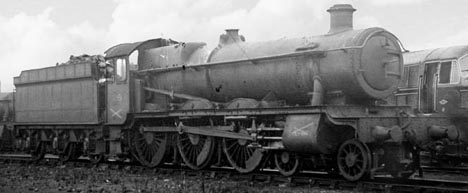 Pic of Hall class GWR loco from 1979 – part of secret strategic steam engine reserve
Is it just me, or is this totally surreal? Apparently, as part of the UK's top secret nuclear war survival strategy, 160 steam (and a few diesel) engines were kept in working order in an underground depot up until 1982… when they were all secretly cut-up.
Apparently, they might have been saved but for the pesky Greenham Women
What a shame we did not know at the time – could have been the subject of a song or two. Or even the chance to fill the pages of anarcho fanzines with pics of steam trains with mushroom clouds coming out of their funnels…
Anyhow, here is a cut 'n' past taken from : http://www.willys-mb.co.uk/rudloe.htm
Long viewed as a kind of British 'Area 51' , the vast underground complex at Corsham, Rudloe Manor, Box near Bath, England was the wartime home of a joint War Office/ U.S. Government plant for the assembly of the famous 'Jeep' light reconnaissance truck.
Less well known however is its cold war function as home of a vast collection of retired steam locomotives – the legendary strategic steam reserve.
Secure underground storage
As well as acres of secure storage space, the mothballed Jeep factory provided both the tooling and the skilled pool of local labour – former employees who were fitters, metalworkers, machinists etc. – necessary to keep the stock of over 160 locomotives in working order. As late as 1982, long after the demise of steam on Britain's railways, a small staff of dedicated personnel were still carrying out care and maintenance on the stock of slumbering giants.
Unlike their diesel and electric counterparts, the steam locomotives had no electrical or electronic control systems which could have been affected by the electro magnetic pulse created by a nuclear explosion. They also required no imported fuel oil or electricity which would have been in very short supply after an attack.
End of the strategic reserve
The last word is perhaps best left to Bob Watson who tended the strategic steam reserve throughout its existence:
'They were in good nick as we'd kept the boilers filled with de-oxygenated water and although none of them had official boiler tickets, we were exempt and could fire them up for test runs. I never worried as we had a retired boiler inspector of 35 years experience on the staff and if he'd fire it I'd drive it! We had a regular greasing and maintenance schedule and we'd take one at random every two or three months and fire it up for a day to make sure it was o.k.
I was sad, we all were, when the engines were scrapped. I'd expected them to go over to Dai Woodham ( A scrapyard in Barry, South Wales. ) where I reckon most of them would have ended up being preserved but the government at the time was very sensitive about anything to do with nuclear war after the Greenham Common women and all the protests.
It was budget cuts that led eventually to the decision to decommission the steam reserve.That and the fact that the preserved railway movement was growing and there were locomotives and staff that could be requisitioned in an emergency and cost the government nothing to maintain!
We cut them up on site, no contractors because of security, and the metal was taken in lorries direct to the British Steel plant at Llanwern, it kept me busy more or less up until I retired.'