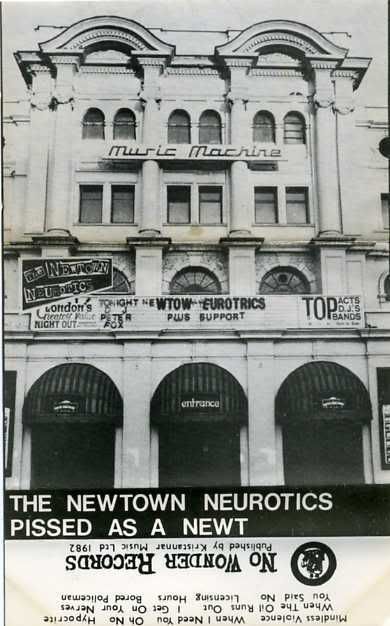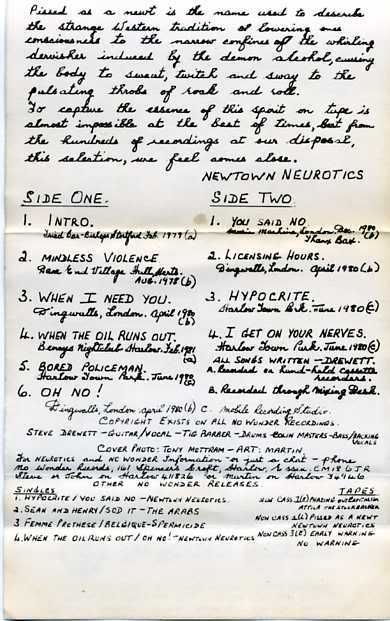 Intro / Mindless Violence / When I Need You / When The Oil Runs Out / Bored Policeman / Oh No!
You Said No / Licensing Hours / Hypocrite / I Get On Your Nerves
Newtown Neurotics were based around my old stomping ground, Harlow, home of Stortbeat Records, Urban Decay, The Square, and The Playhouse (on a Saturday for a swift pre-gig drink).
Also dead near to Stevenage, Welwyn and Bishops Stortford…and all the wonders of those places!
Also, I regret to inform, Harlow was also home to members of Combat 84 and the Jean Harlow / Bennys pub / club, where the BBC cameras were poised just in time for a bit of the old ultra-violence between the boneheads. Nice bit of footage if you like boneheads cracking bonehead's heads…!
Plenty stocked up of the first couple of 7″ singles by Combat 84 in the punk record shop in Post Office Walk near the market, strangely enough I never did pick those up… Perhaps the vibe between the grooves wasn't quite right, huh?
Countering those naughty people were The Newtown Neurotics, who's members when this tape was recorded at London gigs in 1980, included Tig, the drummer, Steve Drewitt (who had hair down to his arse, Joey Ramone style) and the lean punker Colin.
Around late 1981, Tig had left to be replaced by Simon, and Steve had a haircut, making the band look a little more clean cut and sharp!
They went on to record some great political and personal material, including the tracks on there only full length album 'Beggars Can Be Choosers', which simply must be heard.
This one's for Nuzz…