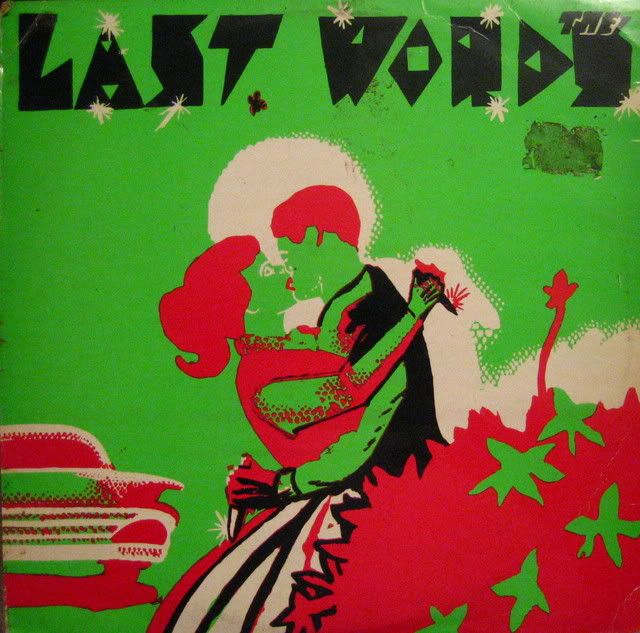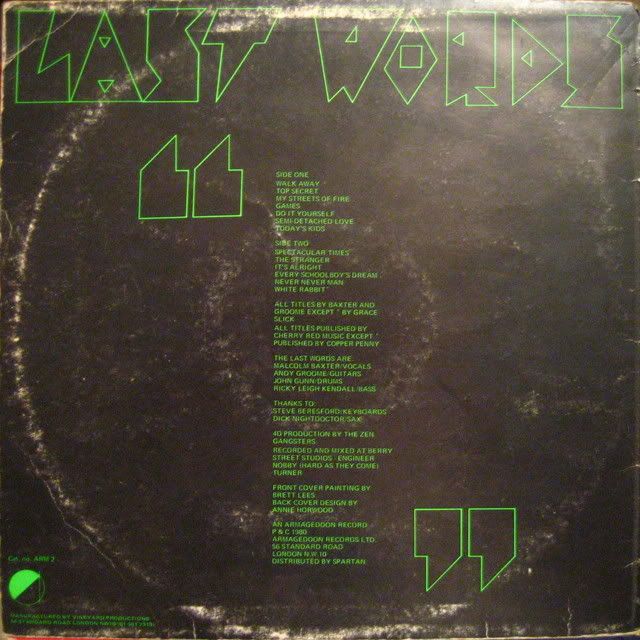 Walk Away / Top Secret / My Streets Of Fire / Games / Do It Yourself / Semi-Detatched Love / Today's Kids
Spectacular Times / The Stranger / It's Alright / Every Schoolboys Dream / Never Never Man / White Rabbit
Released on Armageddon Records in 1980, straight after the LP 'Underwater Moonlight', the second excellent LP by The Soft Boys, this debut and only LP by Last Words is pretty damn melodic and mighty fine.
Indebted to Mick Lugworm for lending it to me to download.
Some wikkie pee'd eh? text below on the band:
The Last Words were an early punk band from Sydney, Australia. They played and recorded in Sydney and London from 1977 to 1980. The band comprised Malcolm Baxter (vocals), Andy Groome (guitar), Leigh Kendall (bass) and John Gunn (drums). The band's first single, "Animal World" had a cult following. Last Words were among the first rock bands to experiment with dub music, recording with Adrian Sherwood in 1980.
The band's founder members, UK migrants Baxter and Groome, grew up in Liverpool on the outskirts of western Sydney and played all of the instruments on their first, self-funded release, "Animal World", which would be the band's most successful song. It was released by the band three times on three different labels — initially their own label — and in two different countries. In Australia, it was the first punk single to be released on a major label, by an unknown band that had never played live. In the UK, it was released by Rough Trade, and reached number eight on the UK Independent Chart. All three releases are today collectors items. The Rough Trade release of "Animal World" with "No Music" on the flip side (1979) is valued by collectors for its picture sleeve and the "& Wizard" credit on the initial pressings. The 1,000 blue vinyl pressings of "Animal World" with "Every Schoolboy's Dream" as the b-side, released by Wizard in 1978, is also a collector's item. The Remand version of "Animal World", released in 1977 as one of the very first DIY punk singles, is, for this reason and the single's rarity, also valued by collectors worldwide.
In 1979, Kendall played guitar on the Punks Are The Old Farts Of Today EP (Rock-O-Rama Records RRR 001) by German band Vomit Visions, beginning a series of collaborations between members of the two bands.
However, the band's later releases, "Today's Kids" and "Top Secret", both in 1980, failed to duplicate the modest success of "Animal World". Although noted for its dub version of Jefferson Airplane's "White Rabbit" and for its producer, Adrian Sherwood, the album, The Last Words, released in December 1980, did nothing to lift the band out of its relative obscurity. A recording (made by Eric Hysteric) of a gig at London University remains unreleased.
A retrospective album, The Last Words 1977-1980, was released in 2007. The first three tracks, "Animal World", "No Music", and "Every Schoolboy's Dream" were recorded with producer Les Karski (of Supercharge fame) in 1978 when the band was signed to Wizard Records. Tracks four and five, "Today's Kids" and "Something's Wrong", were recorded in London in 1979 on the band's own Remand label and distributed that same year as a single, "Today's Kidz/Theres Something Wrong", by Rough Trade. Rough Trade had earlier released "Animal World" under license to Wizard. "Games", "It's Alright", "Top Secret", and "The Stranger" were all taken from the band's self titled LP which was produced in London by dub maestro Adrian Sherwood and released in 1980. The last two tracks, the original version of "Animal World" and "Wondering Why", were written, recorded and released in Australia in 1977 on the band's own Remand label.
In November 1980 Groome, Kendall and Gunn recorded with German cult figure Eric Hysteric (ex-Vomit Visions) the album Drive You Crazy (Wasted Vinyl Records, Waste 2, 1981). Groome and Kendall also played on three tracks (recorded before the album) released as Eric Hysteric solo singles: "Life" (Waste 45, 1982) and "Fool Around"/"(I Wanna Be A) Kid Forever" (Waste 9, 1983). In 1981, Malcolm Baxter co-wrote the single "Dream Home" with Pete Petrol of Spiz Oil fame. Baxter later moved back to Sydney and formed Tenement Dance. The band released the reggae-inspired single "Wild West"/"Had My Chance" on Tribal Records in 1984.