Screaming Babies
Kill Your Pet Puppy's Mick Lugworm with Fred Previous of Screaming Babies
Jon From Bromley, Rob and Fred before Screaming Babies gig at Centro Iberico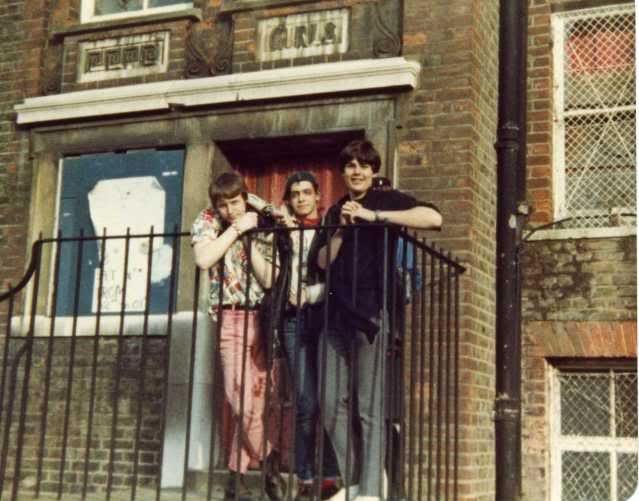 Rob and Jon From Bromley before Screaming Babies gig at Centro Iberico
Screaming Babies PRACTICE
Screaming Babies DEMO
Paralysis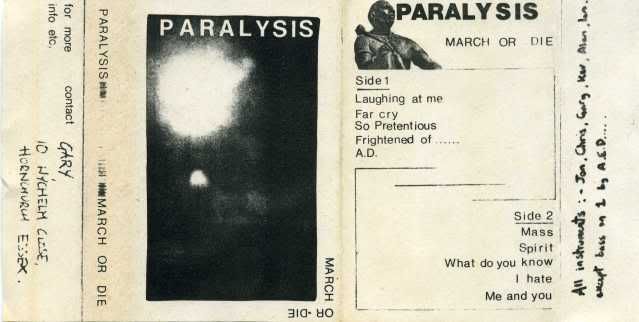 Laughing At Me / Far Cry / So Prententious / Frightened Of…/A.D.
Mass / Spirit / What Do You Know? / I Hate / Me And You
Seventh Seance
The Grandfather Clock Ticked On / A Narrow Way / The Incision / Epitaph
Thanks to Jon From Bromley for these tapes and the text that follows also the photographs (except the Lugworm one which is from the mighty Lugworms collection)
Screaming Babies 1981
Dave Waller – vocals, Jon From Bromley – guitar, Fred Previous – bass, Rob Maidens – drums.
The band started as two school friends with a Damned obsession (Rob Maidens, Chris Ward – guitar and vocals).  This line-up managed to disappoint a sizeable audience at Wapping Autonomy Centre who had turned up expecting an under-cover Crass show.  This line-up slowly expanded to include Dave Waller and Fred Previous.  When Chris left I (J.F.B) was asked to join the band.  This led to a bit of a chance in direction given my leanings towards Joy Division, UK Decay, Bauhaus etc.  A lot of our gigs were to the anarcho punk crowd who never really liked us much – the best response we ever had was performing Crisis 'Holocaust' at Centro Iberico.  After a year or so of this line up, we split with Dave, got a new vocalist (Aidan Williams) who also played rhythm guitar (and loved Echo And The Bunnymen), changed the name to Still Screaming, did one gig at the Sir George Robey and disbanded.
Paralysis 1982
This was a Hornchurch super-group of sorts for a few hours only with various members of Cold War (Chris Knowles, Kev, Ian Smith), Screaming Babies (J.F.B), and a few others, Gary Gherkin and the mysterious AED, a friend of Chris who turned up, played a bit but said he hated the whole thing.  We improvised and recorded the whole thing in a four hour session at Romford's 'Lower Wapping Conker Company' rehearsal room.  It was only made available in limited quantities and we never spoke about it afterwards.
Seventh Séance 1982
Ritual One is the cassette release by Seventh Séance.  This band was formed by Winston Detleiv (A.K.A, Smith brother of Ian from Cold War and ex-Orange Cardigan guitarist).  The released this tape in small quantities, later followed by a 12″ EP 'The Incision'. The text below from the band's myspace page:
A band from the decaying heart of London's docklands, formed in 1982 by ex-drummer and guitarist of four piece Goth/Punk band the Orange Cardigan, Steven Humphreys and Winston Detleiv released their first 12″ EP, "The Incision" in Nov. 1982. Guitarist Paul Shewan and bassist Richard Moore soon joined the duo for a string of live dates around London and the UK. This line-up self destructed in 1983 and a new line-up, Winston's brother Ian on backing vocals, Garfield on Saxaphones, Peter Collins on Drums, recorded a 12″ EP in 1983, called "I Could Forget Myself". After meeting up and performing with Martin McCarrick on Cello/Piano and Bill McGee on Double Bass, for Marc (Almond) and the Mambas farewell shows in Dec.1983, Martin and Bill both played live with Seventh Seance, followed by the release of the third 12″ EP "Another Empty Face" in April 1984. The band recorded an unreleased acoustic album for Chrysalis Music in mid 1984 and split soon after. A temporary line up then formed for a BBC radio session and Chrysalis demos featuring Dave Addams on drums, Phil Steriopoulos on double bass, Rachael and Caroline on flute and violin, Garfield still on sax. A more stable line-up, Chris Calvert on drums, Richard Spyers on bass, then formed shortly after with a radical change in direction back to an electric/alt./rock/goth sound. Extensive gigging around London and UK then followed, before tape releases on Icon in 1986.
Vertical Hold
Frying Tonight / Prison /  Ripple / Injustice / Biohazard / Slander / Rubber Cross / Blood bath / Iron Maiden / Holiday Butlitz / Extint / HX Sex Shop / Division In Youth
A performance recorded at the Autonomy Centre, Wapping 10/01/82 text below by Southend Paul
Vertical Hold were one of a crop of bands to come out of the east London suburb of Hornchurch, an area famed for producing acts such as The Wolfhounds, Winston Detliev (in his various guises), Cold War, The Screaming Babies/ Still Screaming and Martin Luggers Amazing Heavy Metal Iron Beard.
So what did they sound like? Well If New Order had embraced punk instead of electro pop they would of been Vertical Hold, and what were they like? The group were fronted by Steve George a lead singer that would not of been out of place in the Anti Nowhere League, a man with a girl in every town and a regular girlfriend who knew it! I once saw the whole band hide behind him when the bottles started to rain down at a gig in Swindon. As for Mark Routledge, Mark played chuga chuga guitar like a rasta on speed. A song writer of great talent with an unflappable character. Fred Previous on bass. Moody, prone to throw valve amps and bass guitars off the stage, looked like the bastard son of Captain Sensible and Daniel Ash, on a bad hair day. Paul Fenlon, The musician of the group could play any instrument but chose drums, could be because his love of wearing denim and of trying to outdo Steve on tats and shades. Did this indicate a latent desire to be an extra in Grease.
The Band gigged for around five to six years in the early 1980s, being well considered by the likes of Kirk Brandon (Spear of Destiny) Jello Biafra (Dead Kennedys) and Gene October (Chelsea). They supported acts such as Theatre of Hate, The Exploited, And UK Decay at venues such as the 100 Club in London and The Rez in Romford.
Vertical Hold produced two Singles, One EP and had two tracks on the Tails from the Crypt comp Album. They also share the accolade of having a joint single of the week with The Damned in the NME.
Jon From Bromley's recent Yellow 6 material can be listened to HERE