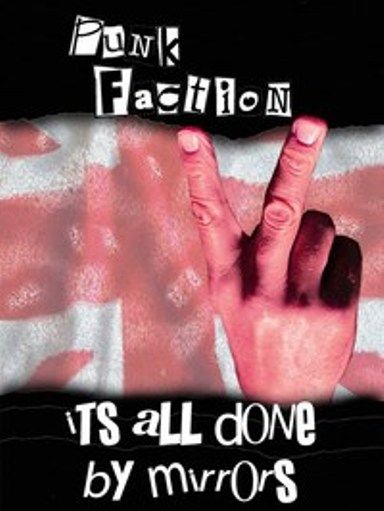 We have been alerted to the news of punk fiction relating to the nineteen eighties being released in ebook form, available for free. We have been alerted to this by the writer of said works.
Marcus Blakeston, the author and self-proclaimed 'shouting poet', says the work is "Nine interlinked slice of life dramas set in and around a small Yorkshire town in the early 1980s. They are populated by an assortment of punks, skinheads, yobs and hooligans. Not suitable for yuppies."
As far as I can gather you get the books for free HERE
And there's more about it all HERE , where for some reason it asks for £2.50. but you can read it all anyway.
A biography of sorts and the subject matter within the books:
"I was 13 in year zero. Like most of the people in these stories, I was too young for the first wave and only really got to be a part of it for the second, though my older brother did sneak me in to the local night club to see a few of the original bands.
I left school the year Thatcher first started to fuck the country up, and other than a few brief periods in dead-end jobs, I spent most of her reign on the dole, just like most of the people I knew.
In the 80s I started writing poetry. Spurred on by people around me, I used to dive on stage uninvited at local gigs and shout poetry at the audience while the band tuned up, until I either ran out of poems or got shoved off the stage by the band. I was approached by Marcus Featherby once, who said he was looking for a poet to put on a compilation album he was putting together for PAX Records, but I turned it down.
Domesticity called in the late 80s, with children arriving soon after, and all my childhood interests were put to one side. I still went to gigs, but only as a member of the audience. I stopped writing, and the dole forced me onto various training schemes that I hated intensely until one day I said I was interested in computers and they sent me on a computer training course. I found I had a flair for desktop publishing, and landed a job with a local training company who had bought the software but struggled to do anything worthwhile with it. They paid me through college on day release, I got myself a degree in graphic design, and then they made me redundant.
Back on the dole again, everything was completely different. Now you had to actually prove you were applying for jobs before they would give you anything, and they treated you like scum. I couldn't really handle that, so I set up my own business, designing leaflets (and later websites) for anyone who would pay me. I also buy and sell on Ebay, mostly books and old games consoles, but also anything else I think might turn a modest profit".
This is the blurb for the full book:
Nine interlinked slice of life dramas set in and around a small Yorkshire town in the early 1980s. Written by shouting poet Marcus Blakeston, they are populated by an assortment of punks, skinheads, yobs and hooligans. Not suitable for yuppies.
Punk and Disorderly: Punk rocker Colin Baxter was looking for a good night out, getting as drunk as possible to escape the tedium of his life on the dole. He certainly wasn't looking for a fight with one of the local skinheads.
Yob Culture: Skinhead Trog was in a foul mood when he pushed through the door to The Black Bull, and the rowdy sounds of his favourite band The Cockney Upstarts playing on the jukebox did little to calm him. It was bad enough having his bird yelling and screaming at him and then stamping off in a sulk without having some gobby student call him a 'rotter'.
Bored Teenagers: Four short vignettes in which nothing much happens.
Warrior in Woolworths: Woolworths security guard John Taylor doesn't like punks. If he had his way they would all be shipped off to the Falklands to fight the Argies. Management might say he has to let scum like that in the shop, but that doesn't mean he has to put up with any nonsense from them.
Gothic Rooms: "Come back to my bedsit," Stiggy said, "we'll play some records and stuff." But when Colin gets there he finds out Stiggy has other plans.
It's All Done by Mirrors: Colin and Brian had it all planned out, a romantic night out with a couple of punk birds – go and see a band, ply the birds with drinks all night, then see how it goes. But then glue sniffer and social misfit Stiggy decides to tag along.
Sniffin Glue: There's only one thing worse than having some kid yapping in your ear while you're trying to enjoy a good bag of glue in peace, and that's having the coppers turn up while you're off your head and unable to defend yourself.
I'm an Upstart: Top oi band The Cockney Upstarts, much loved by both punks and skinheads alike, are playing in nearby Shefferham. Unfortunately they chose to play at a time when tensions between punks and skinheads are running high. Life Moves On. An announcement is made.
Discuss – should some future puppy madness be disseminated this way?