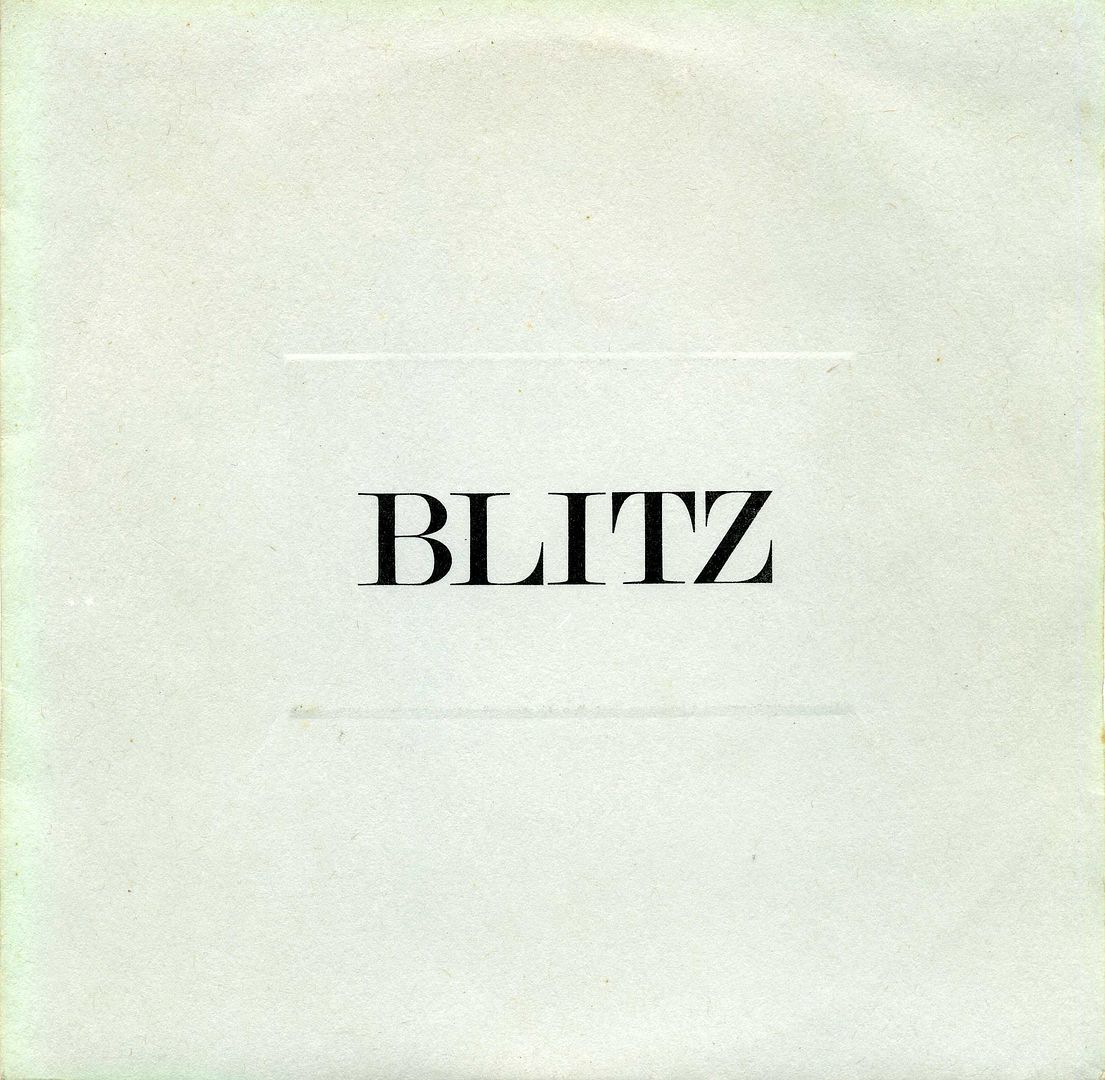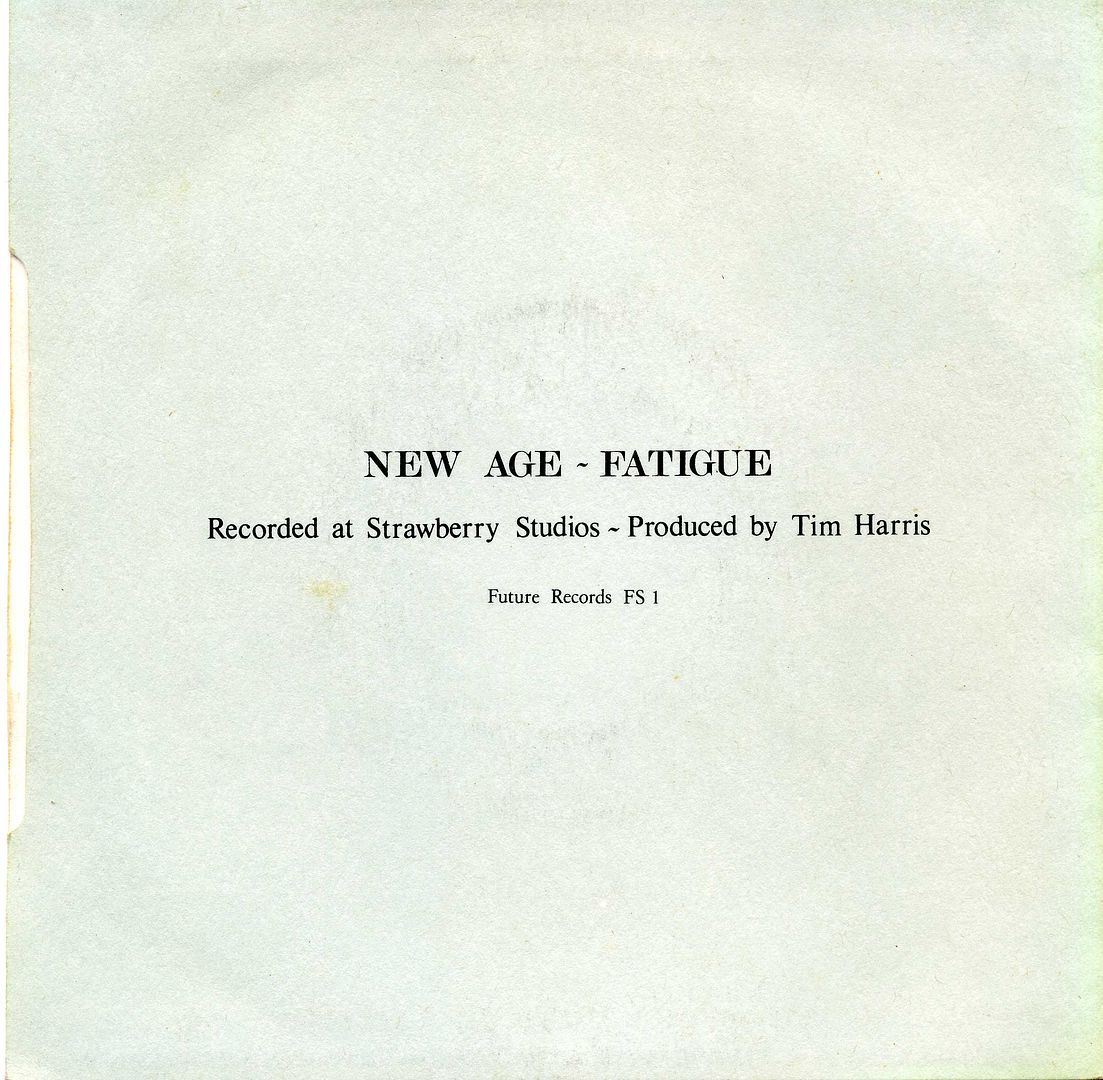 My favorite Blitz 7″ single is uploaded tonight and as I like all the records that this band released that means a fair bit. This Blitz release though was the first release on Future Records, a 'progressive' sister label to the better known No Future Records and was the last release from the classic Blitz line up that produced the 'All Out Attack', 'Never Surrender' and 'Warriors' 7″ singles. Carl, vocalist and Tim the drummer were in the next version of Blitz and kept the band name for the 'Telecommunication' 7″ single and all the following releases, the 'Solar' 7″ single and the 'Second Empire Justice' LP. Nidge and Mackie guitarist and bassist went onto form Rose Of Victory and continue to record for No Future Records.
Blitz appeared on The Tube, a popular primetime friday night alternative music showcase programme with this release, and it was played on the radio one shows a fair bit after the eight o clock watershed by Kid Jenkins and John Peel. Sold bucketloads as far as I can remember. A great and glorious bowing out for this line up of the band.
The next single 'Telecomunication' was in a more Joy Divisionish vein and I remember some fallout with that release including a very upset Skinhead writing into Sounds weekly music paper to complain that he had a Blitz tattoo inked into his face around the time of 'Warriors' and that the last single ('Telecommunication') had made him feel ashamed to go outside with his bonehead mates! Poor sap, hope he got over that one…
This record was played by me a fair bit all those years ago in 1983 and over twenty five years later it still sounds great. I have not played it for at least that long! Nice to dig it out tonight, and get chummy with it again.
Text below from Ian Glaspers book 'Burning Britain' and lifted from the nofuture.co.uk site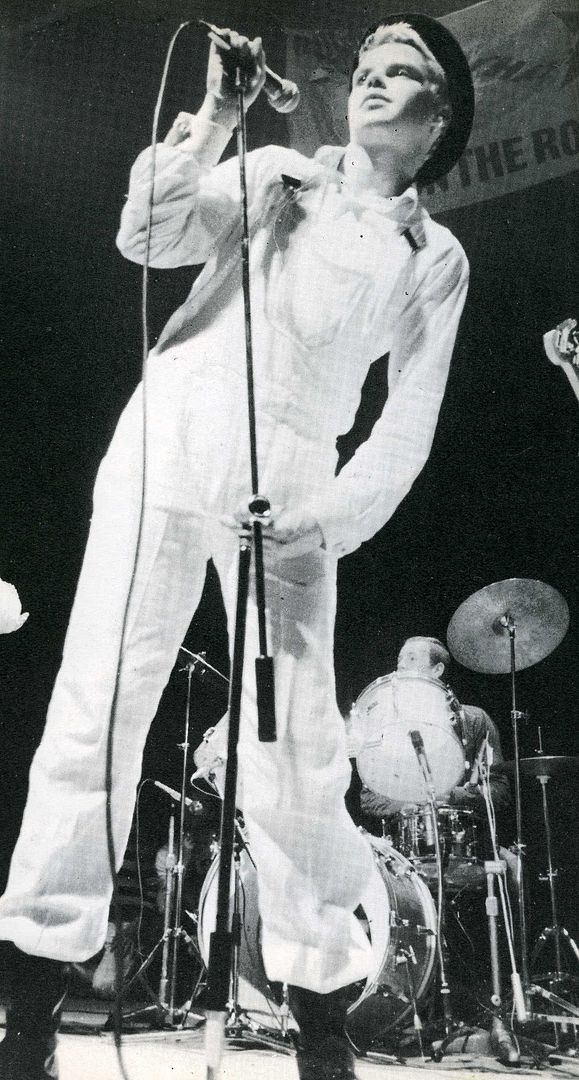 Like Riot City, No Future was a very prolific label for a very short time, riding the exciting crest of punk's second wave with gleeful abandonment, and crashing to oblivion almost as quickly as it ascended. But for the short time they were in existence, their bands and releases dominated the Independent Charts, and have remained hugely influential to this very day. "It was around about 1980, I think, when I left school and went to work for the Ministry Of Defence in Malvern," begins label co-founder, Chris Berry. "I was in a big open plan office, and I got friendly with this guy, Richard Jones, who, along with Iain McNay of Cherry Red in London, had his own promotions company. He used to put on gigs at the Malvern Winter Gardens, and even used to sell records he would buy from Rough Trade in London on a stall there, and I ended up going along, working on the stall, and enjoying all these bands. Richard taught me a lot about music, and if it hadn't been for him, I would probably still be listening to Led Zeppelin and Pink Floyd… I was quite happy with all that until I was introduced to punk rock.
"One day we were chatting, and we decided to start our own label, and we put an advert in Sounds asking for 'punk and skinhead bands'. At the time that was what excited us, and we thought there was a market for it… Riot City had just started up, and Cherry Red had just had great success with the Dead Kennedys.
"The name, as cheesy as this may sound, came from the Pistols' song. It always used to amaze me when people said the Pistols couldn't play – they were fantastic musicians, that guitar sound was amazing… although they were more rock 'n' roll than anything really.
"Anyway, after that ad, we were swamped with demo tapes! Not only that, but I'd been stupid enough to put my home phone number on the ad, and I still lived at home with my parents, so I'd get in from work, and my mother would have my tea ready… but it would go cold 'cos the phone was always ringing! My parents were very accepting really, 'cos I had some really weird and wonderful people ringing up all the time.
The best demo they received was from a New Mills band, Blitz, whose superb four-track 'All Out Attack' debut EP was the label's first release, and was an incredible, unexpected overnight success story.
"The Blitz demo had so much aggression and power, and the sheer sound and presentation of it was far beyond anything else we'd been sent," remembers Chris. "It was ready to go as it was, in fact, 'cos they'd actually bothered to go into a good studio and do a decent recording. Blitz always were a little different from the other bands we worked with – they had their heads screwed on and knew what they were doing and where they wanted to go. Unfortunately in the end, they started to believe their own hype a bit too much.
"We did one thousand copies to start with, 'cos that's all we thought we'd sell. So we didn't even bother getting any labels pressed, we just used white labels and stamped them. I took them off to London to Rough Trade, and they bought the lot, and said, 'We think you better press some more – and quick!' So we did another two thousand, and they sold all those too, so then we did another five thousand… it all just took off. Garry Bushell picked up on them, and it went from there."
Suddenly able to fund further releases far easier than expected, No Future began snapping up punk talent from all around the country, quickly garnering a strong roster that between them turned out many a much-loved punk classic. The Partisans, a young band from Bridgend in South Wales, were next with their rabid 'Police Story' single, closely followed by Brighton's tongue-in-cheek Test Tube Babies, and their eminently lovable 'Banned From The Pubs' EP.
"We never looked too far ahead – just the next release, the next gig," reckons Chris. "We were too busy trying to look after all these bands we were signing, a lot of whom portrayed this ferocious image, but in person, were quite the opposite – a lot of them were actually very immature. Some of them were literally kids. I remember The Partisans were asked to do quite a big gig in Bristol, with Vice Squad I think, and I had a phone call from one of their parents, and was told that they weren't allowed to go unless there was a chaperone, haha! Their parents just wanted their best interests, obviously, but because of their ages, they were a contractual nightmare.
"We weren't really into contracts though, to be honest. We had help on the legal side of things from Cherry Red, who ended up doing our publishing for us, but it wasn't really fair to have young kids signing twenty-three page contracts or whatever. So we had very basic, simple agreements. I wanted to model the label on Mute Records, who released Depeche Mode; they were just starting to get quite big, but they carried on for years without any official contracts being signed. We didn't really achieve that goal though, and often ended up getting people to sign stuff that we didn't even fully understand ourselves!
"Things went badly wrong with the Test Tube Babies in the end though, but that had a lot to do with their manager, Nick McGerr. Looking back he was far more professional than we were, but he took away any fun we might have had working with the band. He would think nothing of driving up to Malvern from Somerset to have a rant! I remember we did a No Future gig at the Lyceum, and Peter slagged me off from the stage for about twenty minutes, which was… well, different! But musically they were brilliant."
One of the label's earliest releases was the 'A Country Fit For Heroes' 12″, a low-priced sampler that compiled, much like Crass Record's 'Bullshit Detector' series did, the best tracks from some of the many demos the label had been sent.
"That was Richard's idea really, I have to give him credit for that. There were a lot of bands who had one great song on their demo, but who weren't worthy of a proper deal. We just decided to do a 12″ to give some of them some exposure. We did it all on the cheap really – we nicked the front cover photo from a book without crediting the source… and we were really naughty and didn't send out any free copies to the bands! We wanted to keep the cover price as low as possible, so it was all done on the cheap, but it did incredibly well for what it is. Bushell really championed that one."
Several of the bands that appeared on the 12″ went on to sign with the label for further releases – The Samples, from Worcester, who Chris actually managed; Attak and The Violators, who were both from the same area as Blitz; Crux from Nuneaton, who went on to do a split 12″ with Crash; and the excellent Blitzkrieg, who opened the sampler in fine, electrifying style with 'The Future Must Be Ours' and then released one further single for the label.
"We used to get on quite well with most of our bands, especially before they got too big; they would treat us quite respectfully 'cos we were putting out their records! I used to like working with Blitz, especially Carl, and I can remember crashing over on his bedroom floor, and talking into the middle of the night and his mum ended up shouting at us! I would have these bands come stay with me, too, and I was still living at home. My mum and dad were always very tolerant of all these mohicans turning up at all hours on our doorstep."
Not all the bands were quite so easy to work with however. "I gotta tell you about The Blood!" laughs Chris, further confirming all the rumours that the band were essentially an unmanageable force of nature. "Bushell put them in touch with us, and we did this brilliant single with them. They came up to the office for a meeting, and they all seemed to be about six-foot tall! I first met with them in London at this really dodgy pub, where the landlord had this huge dog and a shotgun behind the bar… and when it was turning-out time, he just used to let the dog out from behind the bar!
"Anyway, they turned up at Adelaide House with at least sixteen cans of lager each, to sign these contracts, and within the first hour, they filled the whole building with cigarette smoke, and drank the bloody lot. I was completely phased by the time they left. One single with them was quite enough, haha!"
After a very prosperous few years, when it seemed that everything pumped out by the label would be snapped up greedily by the record-buying public (Blitz's 'Voice Of A Generation' album even spending a month in the Top Thirty of the National Charts), No Future's fortunes took a dive in 1984, when Chris hit some serious cash flow problems.
"I think I went a bit loopy really," he confesses. "The music scene was changing, the initial excitement for punk music was waning, sales were dropping… and effectively we were spending more money than we had coming in. Had I known then what I do now, we should have had someone to do some financial forecasting – but all we had was a local accountant that just prepared our books. I didn't have anyone telling me, 'No, you can't spend that much in the studio', so I just went and spent it! 'Cos I was personally convinced that things were going to carry on as well as they had been forever. Soon we owed money to the pressing plants and everything."
One of the things that Chris did to try and stop the rot, perhaps suspecting the label had painted itself into a corner, was start up Future Records, an offshoot where he could release more experimental material.
"I set up Future mainly to release Blitz, when they went all weird. Carl had gotten involved with Tim Harris, who had previously produced the band, and they did a single, 'Telecommunication', which actually sold very well – it got a lot of air play on Peel and Jensen, but then things went a bit too arty. And 'cos they were my biggest band, they wanted to use bigger and better studios, so all of a sudden instead of paying the usual rate of £10 or £15 an hour, we were paying £35 an hour or whatever.
"We lost credibility in the eyes of most punks about then, and we definitely lost the support of Bushell. I'd probably had enough too – I was getting tired of it all, and we released a few distinctly dodgy records towards the end that really should have never came out.
"I went on to do Future for quite a long time after, working with a band called And Also The Trees, who were very successful in Europe and did a lot of touring out there. They were kinda like The Cure, and I worked with them for three or four years, but wasn't earning any money when I desperately needed to. In the end, I decided that I couldn't work with them any more. I had my own flat by then and couldn't afford to pay the rent – it was a bit of a sad day really, but I went and got a real job. I felt it was time to move on."
Chris now runs a retail business in the Cotswolds with his partner, but still regards his time as a punk rock magnate with philosophical fondness, and has even been contemplating a return to the fray of music management since being interviewed for this book.
"Like I said, we were caught up in the whole thing, and just enjoying the scene, and we were attracting a certain type of band… we didn't really know what we were doing at the time, we were just putting records out. It was definitely all about the buzz for me; finding a band, getting them in the studio, cutting the single, releasing it, and watching it climb the Indie charts… the whole enthusiasm of it all. At the time, we were only nineteen or twenty or whatever, and we just did what we did. I'm very flattered, and more than a little gobsmacked to be honest, to think that what we did is still regarded as so important."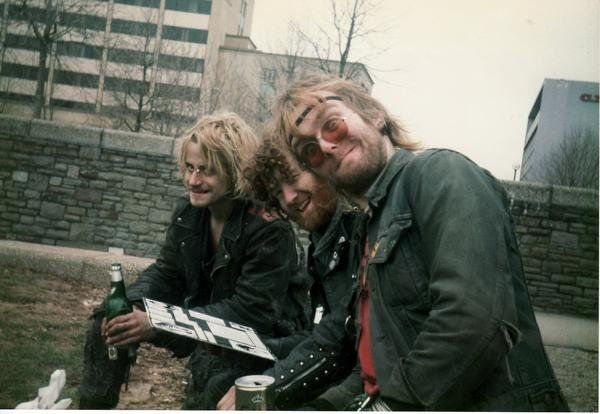 This post is dedicated to Monti, ex Sons Of Bad Breath and member of the infamous Hackney Hell Crew, now residing in Bristol whose birthday it is today.
Happy birthday to you, have a nice day with your muckers and Fred the hound. Monti (from around 1985) is pictured on the right with Ollie and Martin, two other members of the Hackney Hell Crew that are happily still with us…Sadly Simo and Pus never made it passed the eighties.
Original line up of Blitz with the debut release 'All Out Attack' uploaded and posted HERE