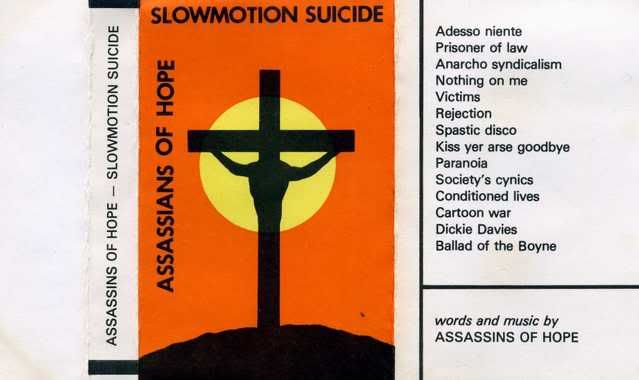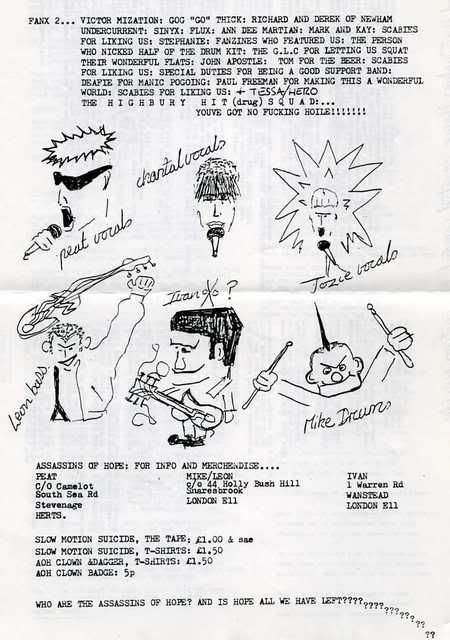 Adesso Niente / Prisoner Of Law / Anarcho Syndicalism / Nothing On Me / Victims / Rejection / Spastic Disco / Kiss Your Ass Goodbye / Paranoia / Society's Cynics / Conditioned Lives / Cartoon War / Dickie Davies / Ballad Of The Boyne
A rough old cassette release by Assassins Of Hope is uploaded tonight, the only official release that the band sold at gigs.
The text below is courtesy of Nuzz, nuzzprowlinwolf.blogspot.com and the photographs are courtesy of Mikey P.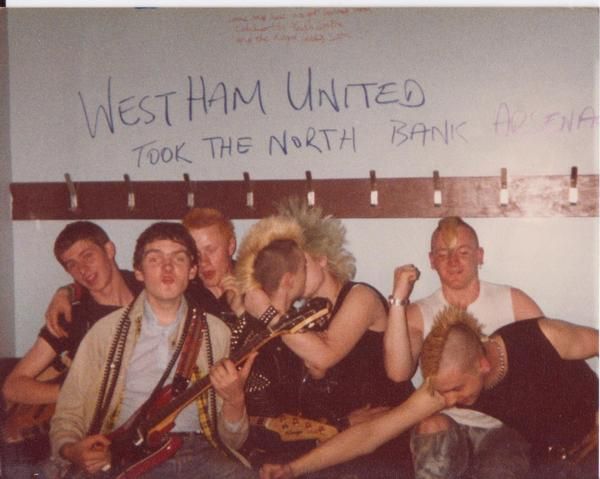 One band missing from Ian Glaspers excellent The Day The Country Died are THE ASSASSINS OF HOPE. The year 1981 the place London, the music anarcho-punk. This is their only recording and it is rougher than a badgers arse, but great with it. Their musical influences ranged from; The Clash, The Mob through to Theatre Of Hate and Del Shannon, not that you'd know it listening to Slowmotion Suicide. Other influences included the punk scene, the angry brigade, seeing the Anarchy centre at Wapping work and a disillusionment with being on the football terraces. Somewhere along the line they lost their two singers; Peat Protest, Chantal and the Hope.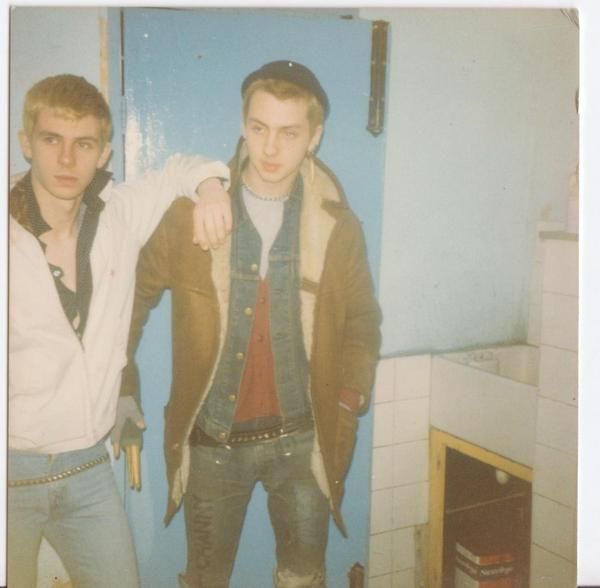 They found a new singer, and another guitarist and became THE ASSASSINS; musically they changed but lyrically and ideologically they remained the same and you could hear more of their influences in their sound The Ruts spring to mind. They recorded one demo and also a planned single Hell is for Heroes, which was never released. Not only were they a great band in both guises but they were top people. I remember going with 'em (when they were the assassins)to a gig in Oldham where they were supporting The Varukers. The band, the equipment and friends all crammed in the back of some box truck with no windows. They when't down like a lead balloon with the mohawks. Then there was the time they supported Mercenary Skank and a punk theatre group, also not forgetting a gig they did with The Stingrays.