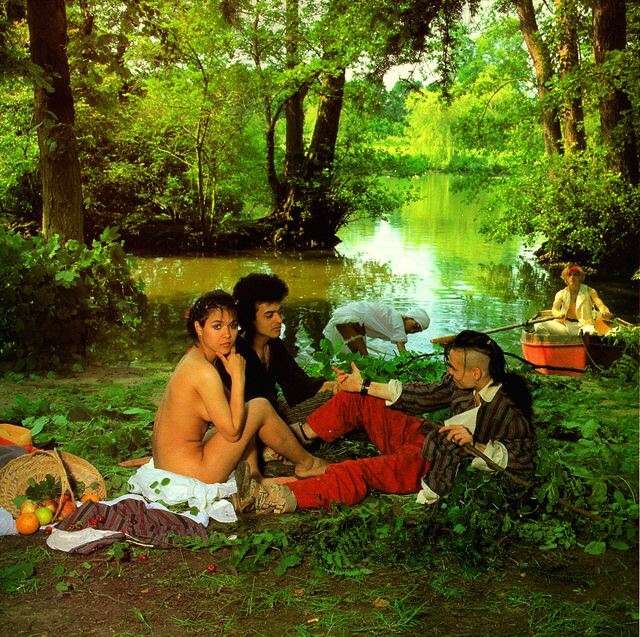 As readers of Kill Your Pet Puppy the fanzine will know, our Dear Leader (aka Tony D.) in his previous incarnation as editor of the classic punk fanzine Ripped and Torn [founded 1976] did a fair bit to promote Adam and the Ants in their original and unexpurgated form. Sadly, by the time (late 1979) KYPP No. 1 hit the streets, Adam and his Ants were in decline.
The decaying Ants released an album called 'Dirk Wears White Socks' which, although pretty ace in retrospect, failed to capture the full on power of the punk Ants. Malcolm Mclaren then got involved and hived off half the Ants to create Bow Wow Wow. Adam retaliated by becoming a 'King of the Wild Frontier' pop star , recycling old Ants songs like Physical (Your So) and Fall Out as 'b' sides on his hit singles.
Rewind to Bow Wow Wow… looking for a fresh angle on how to annoy the music biz, Malcolm Mclaren came up with an amusing riposte to the 'Home Taping is Killing Music' which was the then big fear of the music biz . [Now of course it is downloading off the Internet]. So the first single – initially released in June 1980 as a cassette tape only – by Bow Wow Wow was 'C30 C60 C90 Go'. Which I duly bought …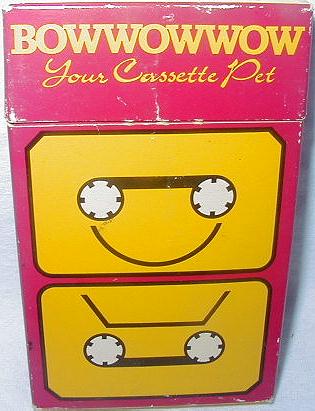 Fast forward 28 years and I am quizzing Nic (honorary member of the Puppy Collective for contributions to KYPP online well beyond the call of duty) about the Androids of Mu album. The Androids being part of the 'hippy / punk' [aaaaaaaargh] DIY. ATV / Here and Now / Fuck Off Records / Street Level Studio / Zounds / Mob / Brougham Road etc etc cross-over and – according to Nic- the Androids of Mu's Blood Robots LP is already fetching good sums (on ebay and beyond) thanks to the increase in interest in the 'UK D.I.Y.' music scene of the late 70's / early 80's…
You what? So I asked Nic to elaborate, which he did thus wise:
In the 1990's, a series of (bootleg) LP's called 'Killed by Death' came out which compiled tracks from very rare Punk singles from around the globe…They were a bit of a smash hit as they allowed people to hear old rare records that were far too expensive to buy (whenever copies actually showed up for sale), and – as you can imagine – the scarcity of the records had exponentially increased the expectations of what their grooves contained…
Following on from this idea, a man in the USA started a series of CDr's called 'Messthetics' which compiled tracks from obscure (and rare) UK D.I.Y. singles with each CDr cataloguing a different letter of the alphabet…
The buzz about these CDr's dovetailed with the releases of the Rough Trade 'Post Punk' double CD and a general resurgence in interest in the Post Punk period (spurred on by the rash of bands informed by Gang of Four / Delta 5 etc which popped up about 7 or so years ago)…
This has been consolidated over the last few years by the Soul Jazz records compilations of Post Punk, and also by a few more bootleg compilations…
The 'Messthetics' CDr's have now started to be released as 'official' Cd's, beginning with 2 volumes of London-based singles, a volume of Midlands singles (one of which – from 1981 – features my good self as part of the cover picture – aged 12!), and a volume each for South Wales and Scotland…
As the net widens, people have got wind of the Fuck Off Records / Street Level Studios recordings (which all go for quite silly money in the world of Record Collectors), and this has led them to the Androids of Mu…
Nic gave this link to Messthetics 
http://www.hyped2death.com/frameset1.html
I followed it up and said…
Clunk – sound of jaw hitting floor as AL skims through Nic's Messthetics link…
for example – He's Dead Jim – Colour Climax / Monochrome World: Aberdeen D.I.Y.-punk 1981-83 (Messthetics #215 CD-R)
There was an Aberdeen DIY punk scene?
Struggling for a reference point, I guess this may link to the 'long tail' theory
http://www.longtail.com/about.html
which goes like this…
The theory of the Long Tail is that our culture and economy is increasingly shifting away from a focus on a relatively small number of "hits" (mainstream products and markets) at the head of the demand curve and toward a huge number of niches in the tail. As the costs of production and distribution fall, especially online, there is now less need to lump products and consumers into one-size-fits-all containers. In an era without the constraints of physical shelf space and other bottlenecks of distribution, narrowly-targeted goods and services can be as economically attractive as mainstream fare.
Can we claim this 'long tail' as part of our DIY -fanzines, tapes, records- counter culture? As an alternative to mainstream 'brand name' consumerism? The internet as a huge photocopier / double tape recorder… C30 C60 C90 go… Bow Wow WOW…. see video here
http://www.youtube.com/watch?v=U291AOW2-Ms
Which is the story so far…. DIY / Long Tail – same or different?
A bit bam-boogie and a booga-rooga
my computer's just like a bazooka