FLOWERS IN THE DUSTBIN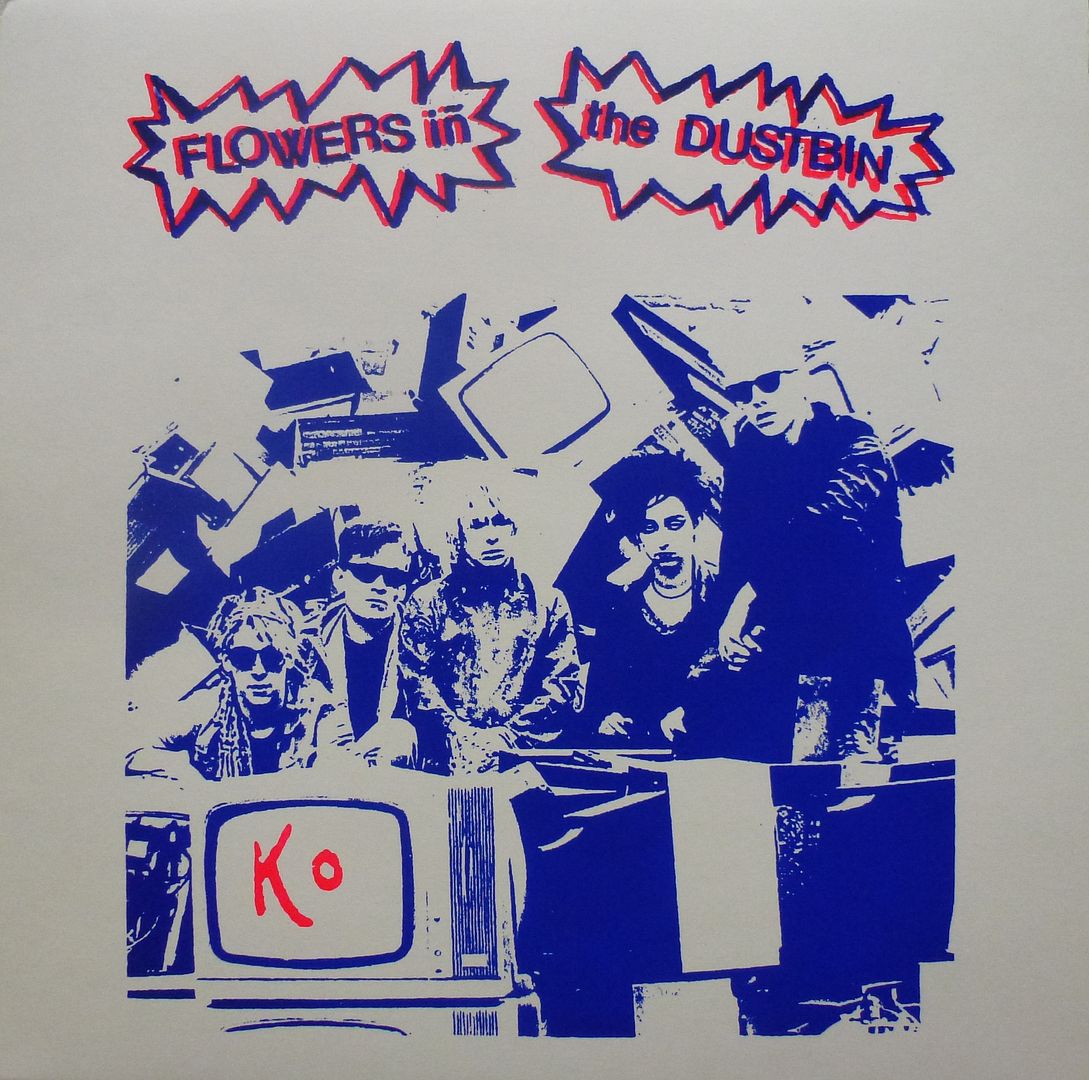 Flowers In The Dustbin released a 12″ record on All The Madmen records in 1984 and a cassette only release on Rob Challice's cassette label 96 Tapes again in 1984. Rob Challice would soon look after All The Madmen records after Alistair left in 1985. Flowers In The Dustbin then released a 7″ record on Mortahate records in 1985 and then yet another 7″ record for Cold Harbour records in 1986. This was the entire vinyl output of the band, and shortly afterwards Flowers In The Dustbin disbanded.
Whilst on Cold Harbour records the Flowers In The Dustbin recorded several tracks for release as an album. The record label went bust two years after the sessions and the release was never forthcoming. A very frustrating time for the band.

The release was never forthcoming until now twenty eight years later!
These 'lost' recordings are now given the respect they deserve via the Freaks Run Wild record label in America. Screen printed sleeves, booklets and a heavy vinyl. Only 500 copies produced.
Get the vinyl of the lost album, which I found out was mastered from my own original cassette in a roundabout way, from Inflammable Material for the UK and Europe and the wonderfully named Punk Vomit for the U.S.A

CYCLOBE

Ossian Brown, one of my oldest friends from my teenage years sent me not one, but two new 'Sulphur' 12″ singles.
One 12″ single in transparent vinyl, and one 12″ single in transparent red vinyl.
I love it when a surprise package ends up delivered at Penguin Towers!
The three tracks on this 12″ single are all separate soundtracks to three separate short Derek Jarman films and the record includes three inserts. The tracks on this record, to my ears, is heavily Coil influenced. That description might be doing Cyclobe a disservice as I might just be engaging in some lazy journalism, and I certainly rate the core duo of Cyclobe, Steven Thrower and Ossian Brown (both in fact ex members of Coil) as two of the most original and independent musicians out there at the moment.
Try to grab one of these different coloured vinyls (limited to 500 each colour) direct from Cyclobe.
LEE GIBSON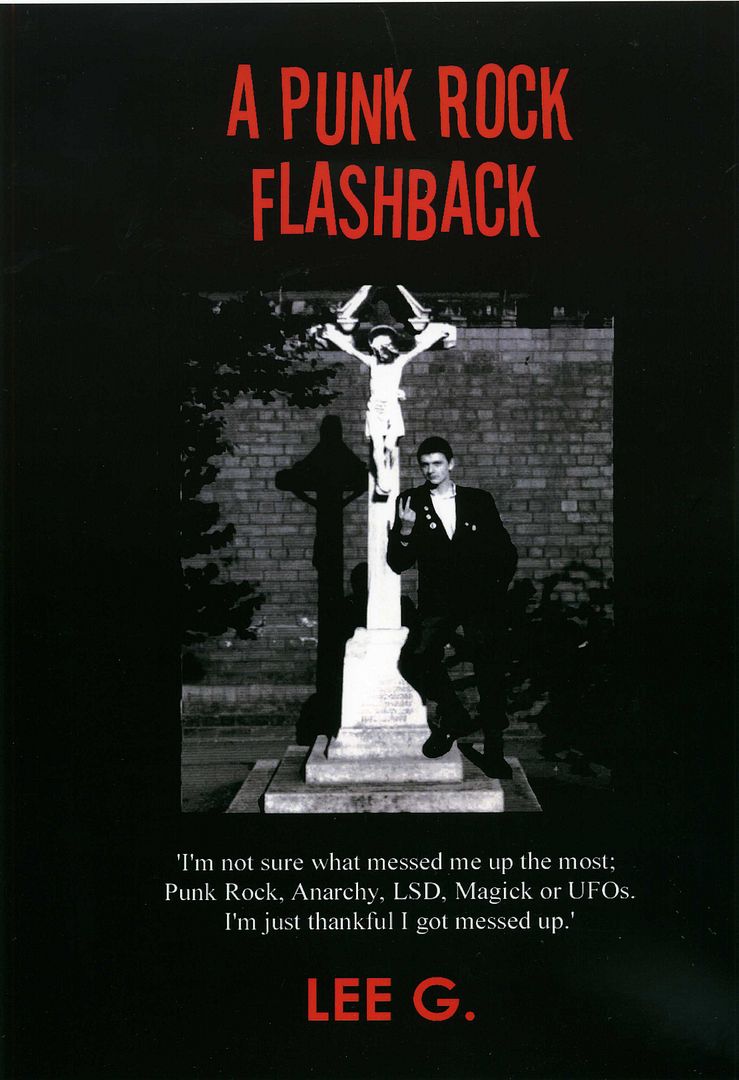 I received the new book by Lee Gibson, ex Brougham Road resident, writer / editor of Anathema fanzine and contributor / editor to many others.
Lee moved in the same circles as The Mob and the Kill Your Pet Puppy Collective for some years. Here in black and white print, throughout this 214 page A4 immense book are memories of Lees early years from 1976 all through to around 1986 (sped read a fair bit just for this description as it will take ages to read it all).
Lee takes the reader though countless Crass and Poison Girls gigs, some pretty rough nights along with various visits to both Crass and Poison Girls HQ's. There seems to be dozens of pages relating to The Mob, Brougham Road and various houses that the Puppy Collective would be just about surviving in. Lots of squat horror stories, Stop The City run arounds, drug abuse, The Apostles, Crowley magick and plenty more.
As an added bonus some of Lees original interviews from his fanzines are carefully reprinted half way through this book, massive texts of the thoughts and feelings of The Fall, Crass, Poison Girls and Andy T from the very early 1980's.
This book seems to be the real deal for anyone who may be interested in reading one persons account of the early anarchic punk culture which was an important and sometimes scary time for many. Absolutely insanely cheap at £8.50 – but having the quality of a £20 book it may be purchased if you are interested from Lulu Publishers.

ROBERT DELLAR
Robert Dellar was involved in a small way (along with Grant Matthews of Rudimentary Peni, a local band to Robert at that time) with the Wapping Autonomy Centre and the Centro Iberico. He edited several fanzines including Straight Up which gave a fair amount of space to The Apostles and The Astronauts. He loved / loves The Swell Maps and Subway Sect. A squatter of many years in many areas, he lived in Brighton for a while and now is back living in south east London, working with Southwark MIND and then Mad Pride. Work that continues to highlight mental illness and help people suffering from the illness.
Robert Dellars book publishing company Spare Change books have published many books including the original print of Nick Blinkos 'Primal Screamer' in 1995.
'Gobbing, Pogoing And Gratuitous Bad Language' and 'Mad Pride: A Celebration Of Mad Culture' were two books with essays, poetry and artwork from various contributors including Nick Blinko, Ted Curtis, Louise Challice, Stewart Home, Andy Martin and Dave Fanning of The Apostles and many more.
'Seaton Point' which also has different contributors to the book is actually the story of  the Hackney tower block of the same name and the youngsters experiances of the time. 'Does for Tennents Super what Trainspotting did for heroin' written on the rear of the book gives a clue to the delights hidden within the paper back cover.
Get the book from Fishpond and try to search out the other books still available on Spare Change books.
Below is a review of the book 'Splitting In Two' by David Russell.
In this book Robert Dellar traces his life journey from his childhood in a working class area of Watford, through Sussex University and the London squatting community, to the murky waters of mental health, as he describes it. Of special importance is the pioneering work Robert did in Hackney Hospital. Here he set up a Patients' Council and Advocacy Department At the time of the hospital's closure in the mid 90s, Robert organised some lively gigs described here in colourful detail. His journey then continues to Southwark MIND, (the first user run MIND group) – then on to Mad Pride – an organisation who through the gigs they put on linked mental health to rock and roll. Together with his friend Peter Shaughnessy they also turned mental health demonstrations into theatre.
The title of this book is also the title of a song by punk legends Alternative TV. They make several appearances here, as does Nikki Sudden and two Survivor Punk bands, The Ceramic Hobbs and Rudimentary Peni. Lesser known but equally talented artists like Dave Russell and The Astronauts also make a number of appearances here – as does Ronnie Corbett; he turns out to be a decent chap. While Mad Pride is associated with Punk Rock, a number of folk musicians and poets also took part in their gigs.
Some parts of this book deal with grim topics; there is also much tragedy described here. But a sense of humour runs through this book, and much compassion is shown. A little anarchy is also at play. The titles for a lot of the chapters come from songs. Many of the titles relating to the Punk and New Wave years. This period of time being of importance to Robert as it was when he produced many fanzines.
His fanzine influence would continue with the Southwark MIND newsletter. This was always an Inspiring magazine to read. Along with the different realities featured here, there are pieces of fiction but they fit in well. Some little known capitalist scandals are exposed like the exploitation carried out by the drug companies. Also charities like SANE (Schizophrenia A National Emergency) who, while appearing to be respectable do a lot to demonise people with that label. Also exposed is the reality of life for people who are diagnosed as Schizophrenic. A life of heavy medication, stigma, and locked wards.
This book is an enjoyable read. It is very entertaining. Robert's journey has been an uphill struggle; it shows both his vulnerabilities and his strengths. But there have been proud achievements along the way. An example being the SANE demonstration Mad Pride organised in the late 1990s where Marjory Wallace came out to face her public. I have a lot of respect for the good work that Robert Dellar has done over the years.
MIKE DINES AND GREG BULL (WITH CONTRIBUTORS)
This project organised, edited and put together between Mike Dines and Greg Bull is another large tome from Lulu Publishers.
The book is in A4 format and has 156 pages printed in black and white with some great artwork by Jacky Smith held within as well as some decent quality flyers and photographs from the contributors of essays for the book.
The contributors include our own Alastair Puppy from Kill Your Pet Puppy fanzine and online blog, Robert Dellar (who is also on this KYPP post in his own right with the release of his latest book above), Greg Bull himself, Justine Butler (late of Welwyn Garden City but for decades now living in Bristol and now working on her vegan-ism blog HERE), Lucy Robertson from the university of Sussex and Robert Dellars collaborators from time to time, Ted Curtis, Martin Cooper and many more.
Each of the contributors essays, whether short or long, are an interesting blend of autobiography, fictional accounts and serious academic essays on 1980's sub culture. The 1980's, whether early or late, is the period that is relevant to this book.
The book is £8 direct from Lulu Publishers