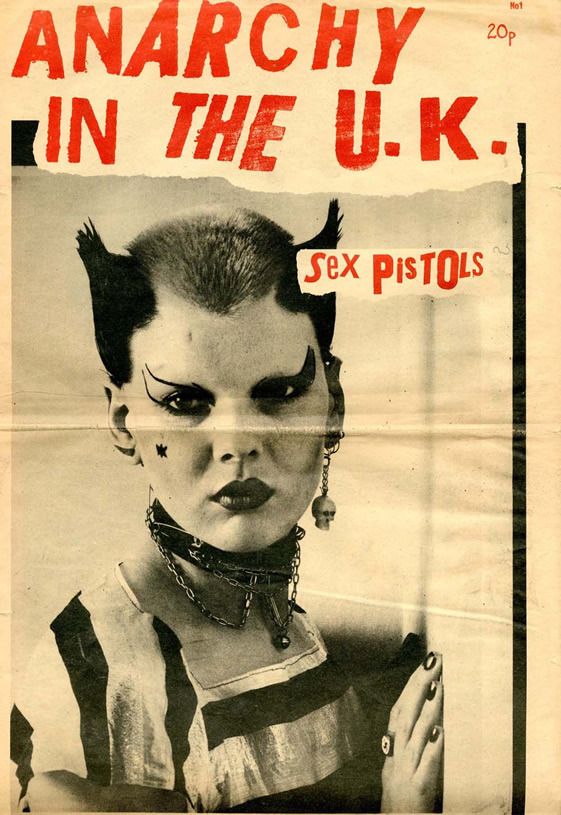 Punk-an aesthetic. Edited by Johan Kugelberg and Jon Savage.
Buy, buy the damnation of your soul, here at last is the mechanism to destroy your old, ordered and worn out mind. Welcome frenzy and darkness with out stretched hands, become the person your parents' warned you against. Do it now! (etc) … YES!!! Who else churns out those old and yellowing surrealist manifestos and delivers them to your door like a black rose, and they were right THERE IS NO TOMORROW so lets just say it all now and as loud as we can… [Kill Your Pet Puppy 4, September 1981]
Fuck this is annoying. I get bored saying the same thing over and over again. But here is another book about punk and this one even has a photo of the cover of KYPP 2 (on page 281) . So here we go again… Note- the book goes with an exhibition of punk graphics/ images first seen in New York in 2011 , now on show (until 4 November 2012) at the Hayward Gallery in London. Tony D. (who wrote the above quote from KYPP 4) was one of the members of a panel discussion on 13 September which
…explore[d] the provocative graphic art that developed alongside punk rock. Panelists [included] Tony Drayton, editor of Ripped & Torn, one of the first UK punk fanzines, and Kill Your Pet Puppy – arguably one of the most aesthetically interesting anarcho-punk fanzines of the '80s; William Gibson, award winning writer and seminal cyberpunk novelist; John Holmstrom, writer, cartoonist and legendary editor of the iconic Punk magazine; and artist Gee Vaucher, whose record covers and newsletters for anarcho-punk band Crass in the late 1970s and early '80s influenced graphics for political protest as well as for music.
So where did punk's 'provocative graphic art' come from? The book has a few illustrations of punk style graphics from the sixties counterculture plus a few Situationist images and even one from the pre-Situationist Potlatch from 1954. What is missing from the origins section are any Surrealist images. This is strange since some of the most striking graphics in the book are collages/montages by Linder Sterling (page 259) and Jon Savage ( page 262) which can be compared with 'Parfum Greve Generale Bonne Odeaur' by Jean-Jacques Lebel, a 1960 surrealist collage directed against the Algerian War.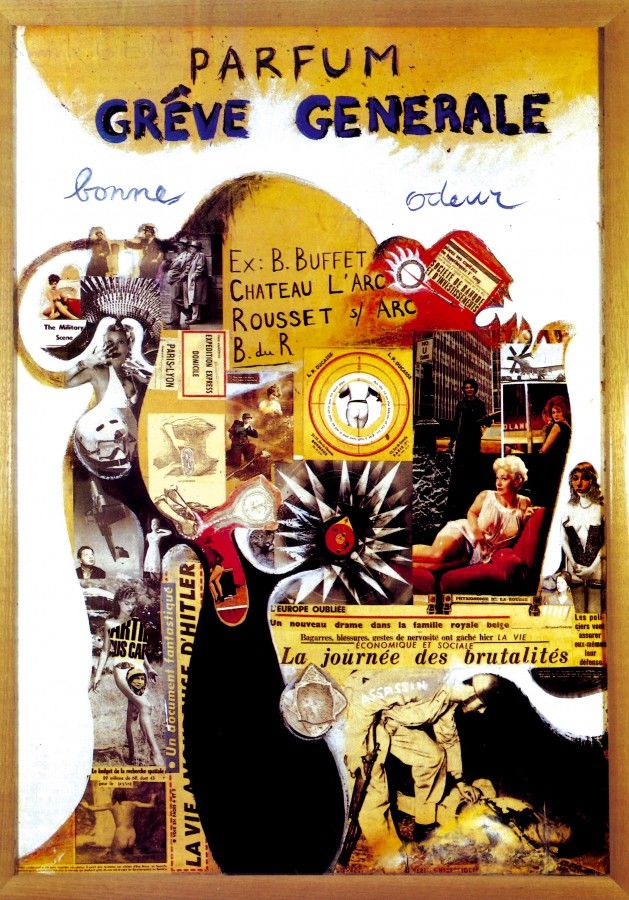 To push the boundaries of the punk aesthetic back even further, its origins can be traced back to Dada, which was a response to the calculated insanity of World War One. This gives a sequence dada, surrealists, situationists, punk. But if punk was a music based youth subculture with a creative lifespan of two years (1976/7), then that sequence doesn't work. Yet even if the focus is just on punk as a musical style, a bigger picture emerges. This has been aurally illustrated by Kris Needs through the two volumes of his 'Dirty Water- punk as attitude', which documented the diverse range of musical influences which fed into punk. 'Punk- an aesthetic' does a similar job, documenting the visual influences which fed through into punk.
Punk design with its ransom note lettering, acidic pinks and yellows and torn national flags had a directness, rawness and energy that most left-wing fine art lacked. Nevertheless, a collage aesthetic, an aesthetic of revulsion and shock value were also elements punk and avant-garde art movements such as dada and surrealism shared. ['Left Shift- Radical Art in 1970s Britain', John Walker, 2002, p. 188]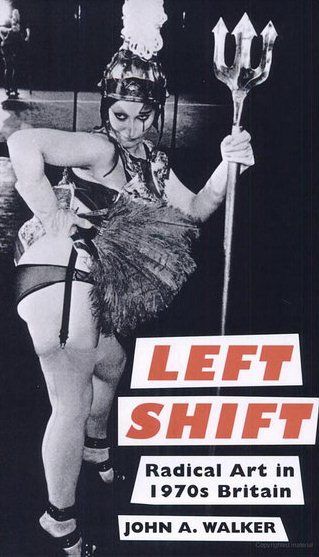 So what? Well, both the surrealists and the situationists put a lot of time and effort into their work with the intention that it would be 'revolutionary', that it would shake the existing social structure to its very foundations. Both groups tried to disrupt the smooth flow of an everyday life which is taken to be normal and natural rather than the artificial product of capitalist exploitation and alienation. Their texts and images were designed to shock us out of passivity and into action.
With punk, what happened is that Malcolm Mclaren hired is old mate Jamie Reid to help promote the Sex Pistols. Both were former art students rather than music business types so when they looked for ways to draw attention to the group, they tried to short-circuit the process of promotion by re-cycling the shock tactics of the surrealists and situationists. Which they managed to do quite effectively. However, an unintended consequence was that UK punk (unlike the USA model) from its conception contained strands of the revolutionary DNA acquired from dada, surrealists and situationists.
Picked up and amplified in the echo chamber of tabloid outrage, punk went viral. As it did so, the strands of revolutionary DNA were also reproduced and multiplied. While the shock of the 'new' soon passed, the DIY aspect of the punk aesthetic took root. For those who engaged with this aspect of punk, it became an enduring culture of resistance. But resistance to what?
In the noise and confusion of the time this was not always clear. On one hand, at the popular/ tabloid/ mass media level, punks were civilisation threatening folk devils who sparked a (manufactured) moral panic. On the other hand, punk also challenged and threatened the existing counterculture :- 'never trust a hippy'. For all the 'filth and fury' headlines, civilisation survived punk. More significant and long lasting was punk's impact on the counterculture. Although the impact was delayed rather than immediate, the effect of punk was to deliver a big and necessary kick up the arse to the hippie counterculture.
The hippie counterculture had emerged in the sixties as an essentially optimistic vision of the future in which the advance of technology would bring about an age of leisure. Inspired by their acid trips, the counterculture's psychedelic visionaries were convinced that a new age was dawning. Punk fell like a dark shadow across these dreams of sunlit uplands. 'Escapism is not freedom' as the Pop Group proclaimed.
With the benefit of hindsight, punk's distopianism was the more realistic response to the rise of 'neo-liberalism' -a major right-ward shift in the political, social and economic landscape. Yet, through the eighties and nineties, the bleakness of punk's initial nihilism was tempered by interaction (through free-festivals and the new travellers) with the anarcho-utopianism of the hippie counterculture. George McKay's 1996 book 'Senseless Acts of Beauty' traced this process.
And now? Since 2008, the global economy has been in crisis, a crisis which shows no signs of ending. The global economic system depends on growth. With growth money can be borrowed to invest in production or property. As production increases or property gains in value, the borrowed money can be paid back out. When growth slows or stops, the system freezes up. This happened in the 1930s. Then the Great Depression was only 'solved' by the outbreak of World War 2. Since, thanks to nuclear weapons, World War 3 is not an option, no-one knows what to do. To make matters worse, any return to economic growth will lead to an increase in carbon dioxide emissions, thus speeding up the rate of global warming. [This may already be happening. The summer melting of Arctic sea ice is occurring faster than climate change models have predicted.]
It is 35 years since punk proclaimed 'no future'. The Sex Pistols ejaculation was premature. The anticipated apocalypse was delayed and history did not end. With the passing of time, punk's convulsive immediacy has passed and its yellowing manifestos have become the stuff of sociology lectures, exhibitions in art galleries, coffee table books and collectors' guides. And yet, just as the current crisis of capitalism has led to a revival of interest in the works of Karl Marx, so the absence of a future for the children and grandchildren of the punk generation has the potential to unleash another wave of anger as an energising force.