FOR ORDERING THE ALL THE MADMEN RECORDS POISON GIRLS 'PERSONS UNKNOWN / STATEMENT' DELUX 12″ SINGLE FROM ALL THE MADMEN DIRECTLY PLEASE OPEN THIS LINK: HERE
FOR ORDERING THE POISON GIRLS BADGE SETS FROM ALL THE MADMEN DIRECTLY PLEASE OPEN THIS LINK: HERE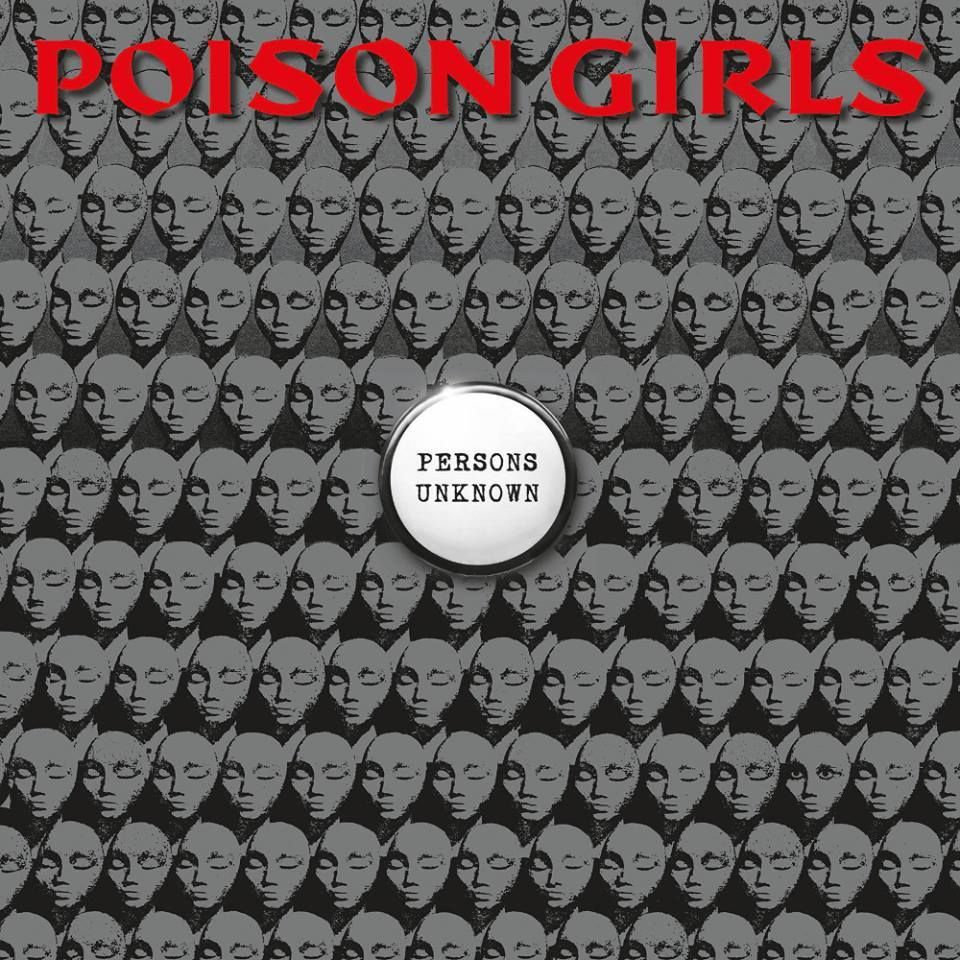 Arrangements
It was during the summer of 2014 that I found myself on the phone with Lance d'Boyle. An international call between England and Spain, in fact. We were catching up on each other since Vi's final return to the UK the previous autumn. Lance was telling me that he had heard from someone in England that was interested in printing a set of Persons Unknown badges, and had asked for permission to reproduce the designs and inquired as to whether we might have any of the original artwork available.
The person in question was Nick Hydra, who, it turned out, had been an avid collector of punk ephemera for many years and was keen to own a full set of the famous Persons Unknown badges after searching high and low for them without success. Unfortunately, it transpired that most of Lance's original badge artwork had been demolished by the Spanish termites, which meant that Nick was going to have a difficult job on his hands to recreate the designs.
Lance wanted to know what I thought about the idea – and if Nick was going to all that effort, couldn't we maybe offer the badge set for sale and see what happened? I told him I would give it some thought and share my opinion the next time we spoke… as I put down the phone, straight away it occurred to me that if the Persons Unknown badge set was going to be produced again, it might be an obvious idea to reissue the single to go with it. After all, it was getting on for thirty-five years since the original record had been released, and there had already been some discussion about what might be the next Poison Girls reissue …
By sheer coincidence I had been introduced to Des Hoskins from All The Madmen Records at the Mob gig in Brighton a few weeks earlier. I had known about All The Madmen since I first met The Mob back in 1981. They had always been a good crowd and the label had released a lot of important stuff.
I told Lance that I would ask Des whether All The Madmen Records might be interested in putting the single out, and perhaps carrying the badges too, as an option for people who might want to buy them together. As it happened, the label seemed quite chuffed to be offered the chance to release a Poison Girls record and told me they'd be very interested.
Encouraged, I alerted former Poisons Vi and Richard to my plan and awaited their responses. Initially, I was greeted with a kind of bemused indifference, which gradually became a sort of tacit approval after I explained in more detail what I was thinking about.
For what seemed like an eternity, ideas flowed back and forth and questions were raised – what form would the release take? Was a combined package too ambitious? Who would coordinate such a task? What should the B-side be? Would anyone even be interested after all this time??
Since there was no actual, working band anymore and the former members were geographically dispersed, I was asked if I would co-ordinate the discussions, so I agreed to act as liaison between the ex-band members and the label. Ideas flowed back and forth, but one thing was already decided in my mind. I suggested that, since one of the most striking things about Persons Unknown was its inordinately long running time of seven-and-a quarter minutes, if we could find a suitable companion piece for the B-side it could be issued as a 12″ pressing, which would give us a lot more scope with the artwork.
Everyone agreed that this seemed like a good idea, so we proceeded to contact graphic designer, default Xntrix cover-art provider and original Persons Unknown bassist Bernhardt Rebours, to see what he might suggest for a sleeve design and / or insert sheets …
Well… more ideas flowed back and forth for what seemed like an eternity. Bernhardt would be delighted to do the artwork, but we had a committee now and many things to be agreed.
Gradually, with input from everyone, decisions were reached. The sleeve artwork would resemble that of the original (Xntrix) Hex, with the shop dummy heads that signify an anonymous multitude.
There would be a fold-out poster with all fifty of the badge designs newly recreated by Nick Hydra, and a printed insert with a piece about the infamous Persons Unknown conspiracy trial, the mission behind the original release (with Crass's Bloody Revolutions) and the founding of the Autonomy Centre, together with the lyrics to the songs and the credits.
Eventually – after very much discussion – we settled on a B-side, and I arranged for Richard to deliver the original analogue tape masters of both of the tracks we had chosen to my studio, for restoration and transfer. Richard would provide the text for the piece about the trial, the original release and the Autonomy Centre. Bern would press on with the artwork designs while I set about restoring the tapes, and preparing them for transfer to disc at the best possible resolution.
The chosen B-side, Orchestral Statement (recorded originally for the Wargasm compilation) is, in its way, every bit as representative of the collaborative nature of the Poison Girls ethos as Persons Unknown.
We needed something that would carry equal weight to the A-side, both sonically and in terms of lyrical stature. Drawing on the combined talents of classical conductor Jason Osborn and composer and arranger Barney Unwin, together with members of The National Youth Orchestra, this 1982 re-recording of the track that had originally appeared as a flexi-disc with Chappaquiddick Bridge a year earlier, imbues the piece with a far greater depth and emotional reach than had been achievable with the four-piece band alone. It was unanimously decided that Orchestral Statement would back Persons Unknown for the 12″ release.
Well… fast forward a year now and, finally, it has arrived. Many emails have been exchanged. Bernhardt has delivered stunning artwork; the disc has been cut to an exacting standard; Nick has somehow managed to get all of the badge designs in the bag and Des has arranged manufacturing for both the single – on heavyweight vinyl, no less – and the badges, courtesy of Marta at Active Distribution.
In true collaborative spirit, everybody has graciously contributed their time and energy to give this project all the love and care it so richly deserves.
In summing up, I hope everyone who buys this record will appreciate what they have found – a presentation of perhaps two of the finest protest songs ever written, both of which express a similar message but in strikingly different ways: a committed and passionate statement of our continued intention to stand up and be counted in the name of peace and freedom.
You can probably tell how proud I am to have been a part of this project. But then I am incredibly proud of everyone that took part in all of the planning and the creative work with Poison Girls through the years. All the people, past and present, that have helped to bring about this wonderful music. You all know who you are. But most of all, for writing the words and making it all possible in the first place, I'm proud of my dear old mum.
Pete Fender – December 2015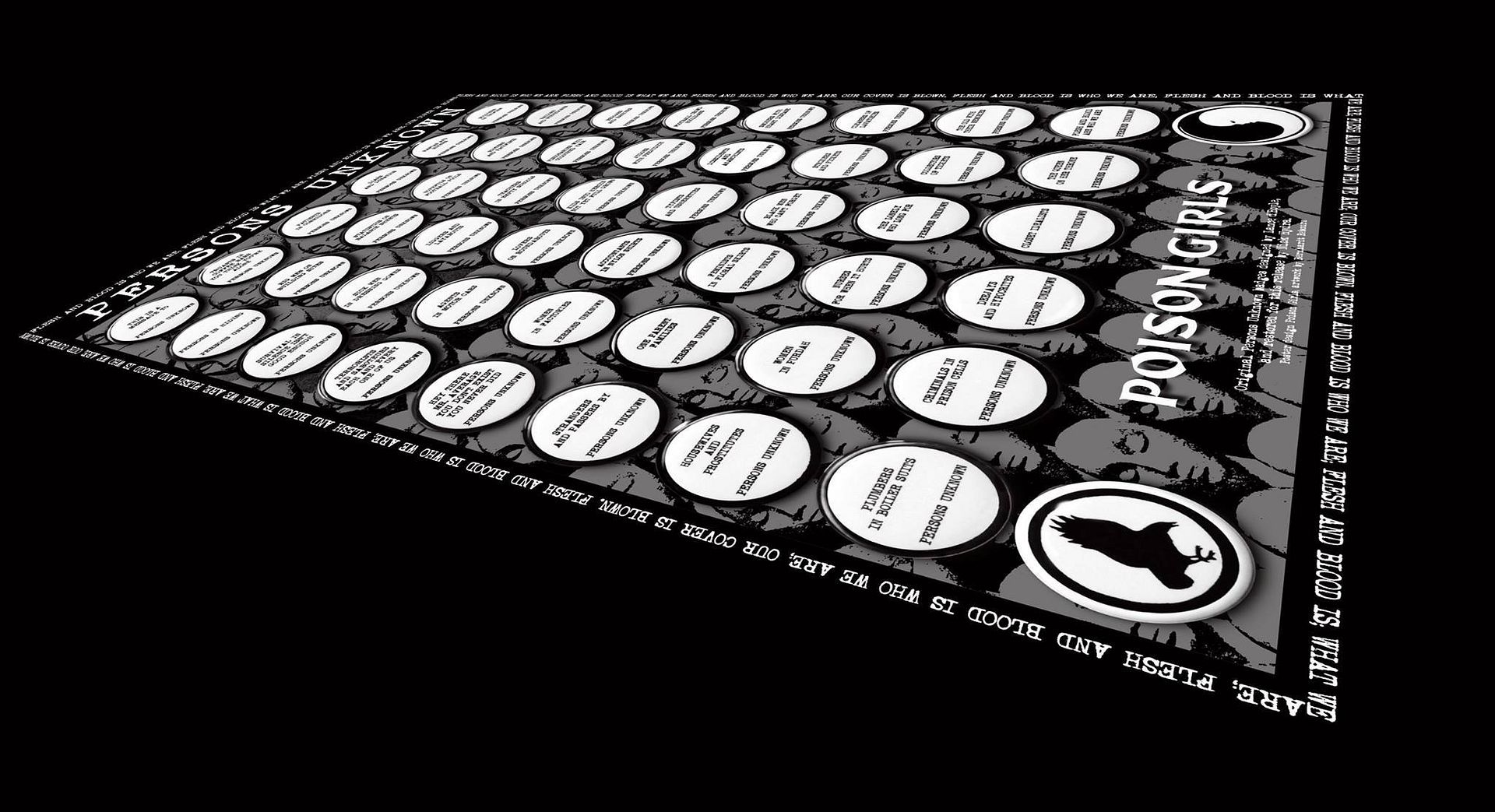 My epic struggle with two blocks of text and a circle
As the Poison Girls 'Persons Unknown' thirty five year anniversary edition has now been announced by All The Madmen, I can finally reveal the years of lonely toil that went into recreating the original set of badges. A process with a long gestation period, carried out via trial and error (with the emphasis very firmly on 'error').
The story begins in the mist of prehistory known to modern scholars as 'September 2012'. Gripped by one of my occasional bouts of insomnia, I was wandering the streets of Deptford in the early hours of the morning, when I came across a display attached to the wall directly outside Deptford train station as part of the Deptford X art festival.
I wouldn't normally have turned that corner, but I was looking for a place to have a crafty piss, so perhaps the gods of chance were smiling on me that day, although considering the heartache and despair that followed perhaps "smiling" isn't quite the word I want…
Essentially a photo of a badge collection mounted under Perspex by Rachael House, it contained many nice old punk badges, not least several of the original Persons Unknown set.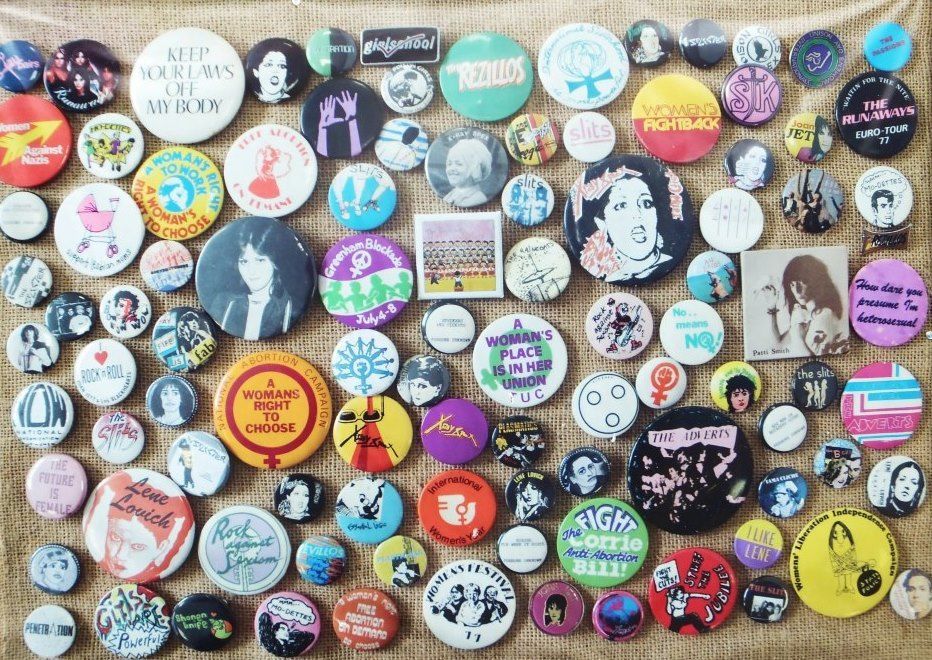 I took some photos and posted them on Facebook, all the while thinking about the simplicity of the design and how easy it would be to recreate the set. "All I need is a circle and a typewriter" I thought to myself, like the stupid bastard I am.
I punted the possibility of doing a set in one of my comments on the photos, to be met with encouraging comments from Chris Low (Apostles/ Oi Polloi / Part 1). So me being me, I did fuck all about it for two years.
The idea nagged away at me until February 2014, when I finally decided to do something about it. I realised that I didn't know how many badges had been designed, or what text had been on them, so I turned to Google Images for help. "I'll easily be able to find a picture of the complete set on the internet" I thought to myself, like the stupid bastard I am.
Obviously I was failed miserably by Google, and all the other search engines I tried. I finally gave up when, in a scene eerily reminiscent of Robinson Crusoe coming across his own footprint in the sand; I got ridiculously exited to finally find an image of one of the designs only to follow the link back to my own Facebook post.
Realising that what I needed was to find other people as weird and obsessive as myself, I started to post appeals for help on various Facebook groups, such as Kill Your Pet Puppy, The Old Punk Rock Badge Fanatics, Pay No More Than Nowt, and obviously enough, Poison Girl Friends.
Through various people replying to my increasingly desperate pleas for help, I established that there were forty eight original designs, and many people generously sent me photos of the badges they had, but I still couldn't amass a complete set, so I was still stymied in terms of the text.
Then, in March Lance d'Boyle (who admins the Poison Girl Friends page and designed the original set of badges in 1980) contacted me, to tell me that he wasn't sure he was happy for me to carry on with the project, presumably because he thought I was intending to sell the badges for commercial gain.
Having established that was most certainly not the case, and having shown him some Poison Girls badges I had designed previously, he was happy for me to continue, and we came to an arrangement that I would design the badges, and Poison Girls would sell them (initially to raise money for a mooted re-release of 'Persons Unknown'), so it was suddenly a bit more serious than me running off a few sets for my mates, and getting it right became even more important.*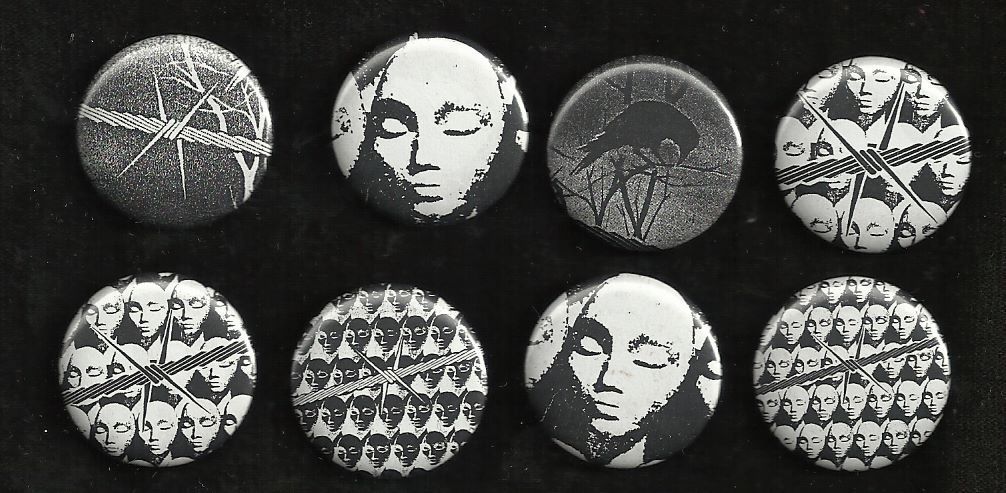 He was even able to find and scan some of the original artwork for the badges. Sadly this had been badly damaged by termites and was incomplete, so I still didn't have the complete text, but together with the other images I had collected, I had something to go on, and more importantly I had good quality, flat, scanned images to use as a template.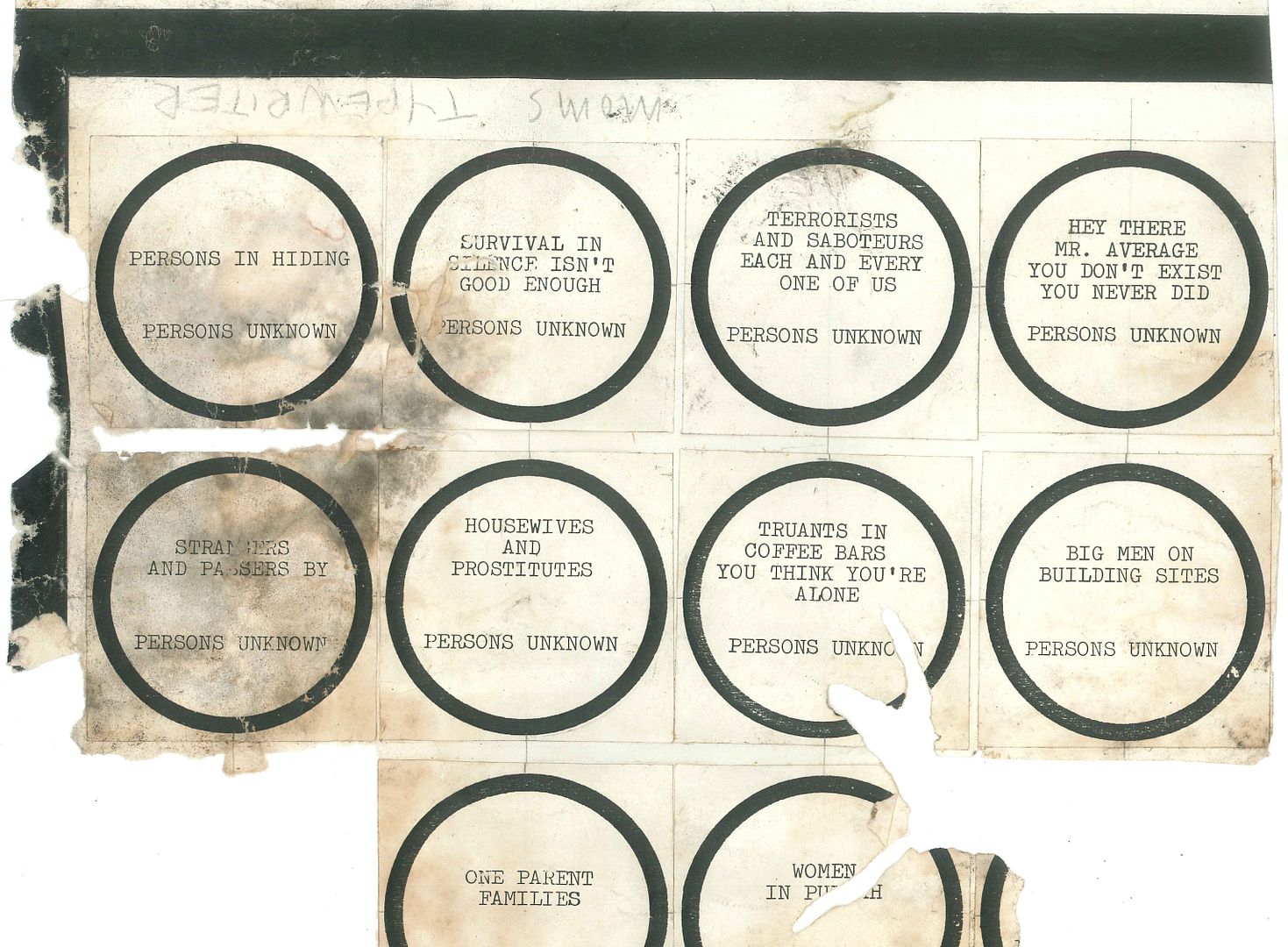 He was also able to supply me with original artwork for the 1979 'Crow' and 'Yin-Yang/ Foetus' designs, and it was decided that we would add these to the original set of forty eight to make it an even fifty. "Plain sailing from here", I thought to myself like the stupid bastard I am.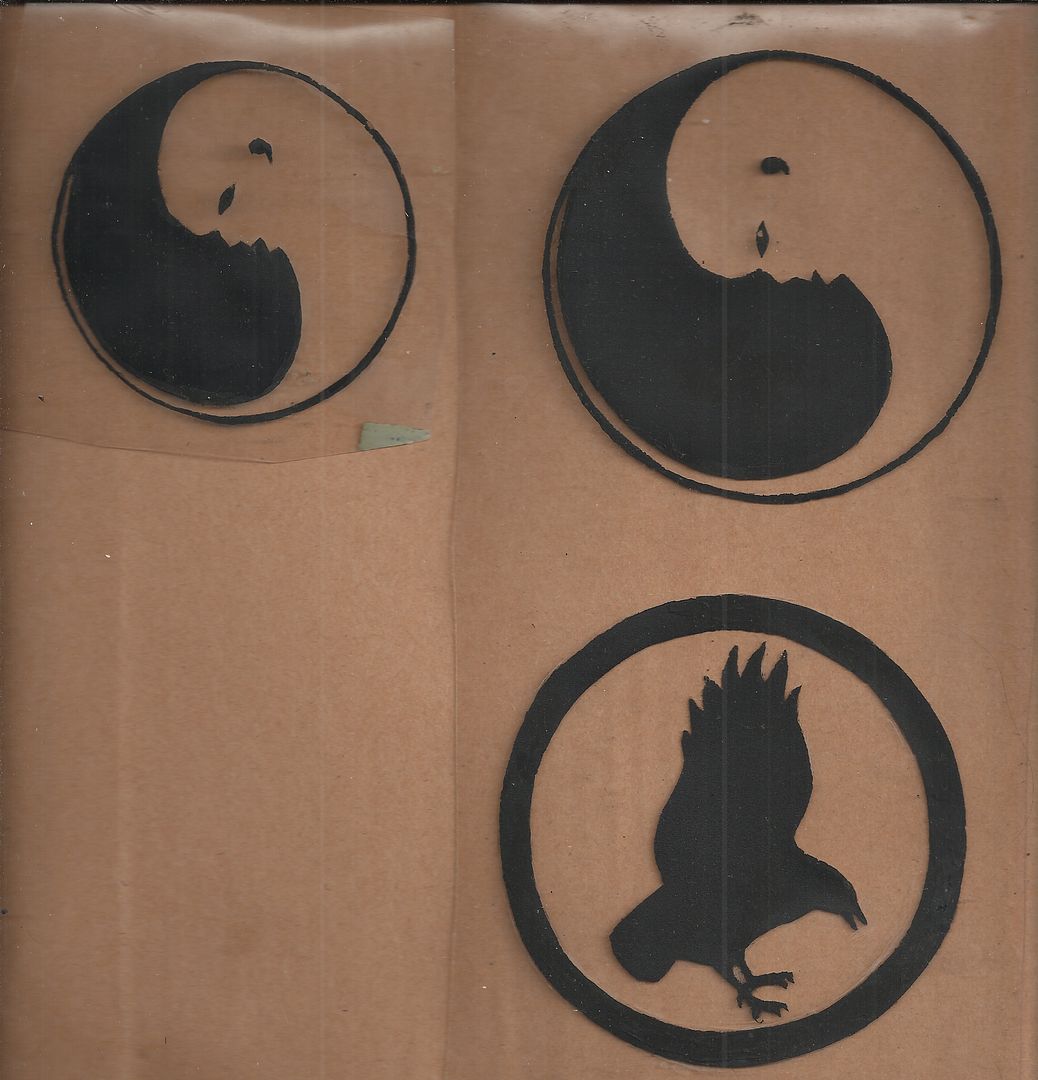 In the interests of authenticity, I decided to use an old manual typewriter to physically type the text, rather than use a font in Photoshop, so I started asking around friends for such a machine. Having drawn a blank, I then tried the various local markets. "I'll be able to pick one up for a fiver, as it's a dead technology", I thought to myself like the stupid bastard I am.
Not so, for as with all things retro and vintage, manual typewriters have been fetishized by hipsters and are now hard to find and expensive.
I eventually discovered a stall on Greenwich Market that sold typewriters, and armed with an image of the text for comparison, I proceeded to type the phrase 'Persons Unknown' on every machine I could find. Eventually settling on a decent likeness I paid the £25.00 price tag and dragged the thing home on the bus.
And discovered that the ribbon (apart from the inch currently under the keys) was completely fucked.
"Never mind, I'll easily be able to buy a new one on the internet" I thought to myself, like the stupid bastard I am.
You know where this is going, so I won't bore you. Suffice to say I ended up using a font in Photoshop, and authenticity be damned.
By now I was in a three way email conversation with Lance, Bernard and Vi from the band as to what text had been on the badges, and eventually we came up with a definitive list based on actual images I had been able to find, plus a list of 'best guesses' based on the memories of various band members and associates.
This was made more complicated by the fact that some of the text on the badges I had found didn't match the lyrics as they appeared in the song, so there was no way to tell if the text of the 'best guesses' was 100% accurate even if a design had in fact featured that particular line.
As we were unable to find a full set, it was decided that we should move forward on the basis of these lists and if any more original designs came to light, I would use them to replace designs from the 'best guesses' list.
At this point someone contacted me on Facebook claiming to have the entire set of forty eight in his loft, but no amount of cajoling or bribery resulted in them actually turning up.
Realising that things were moving on apace, I decided to grasp the bull by the horns and start actually designing the badges. Using the damaged original artwork as template, I laid out forty eight designs in Photoshop using 'Mom's Typewriter' as the font, and guessing at the layout of the text based on the few original designs I had access to.
As the 'Persons Unknown' text was the same on all the designs, I left this the same and just re typed the other text each time, saving each design and over typing it as I went.

I then needed to lay them out on the template used by the badge making company (Big Wow), and email them over to get a test run of the entire set. As soon as I did the 1st one I knew I had a problem; due to the two files being at a different DPI, the designs were nearly four times bigger than the template. This meant I'd have to resize the badge designs to fit onto the template, which wouldn't be that difficult, but as I was doing it by eye, there was no way to get each one exactly the same size as the other ones.
Now, if I was doing one design, this wouldn't matter but if I was doing a set of very similar designs (with a circle, yet), any fluctuation in size would be glaringly obvious. So all I had to show at the end of a process lasting several months were forty eight meticulously laid out designs that were completely bloody useless. So I did what every dedicated craftsman does when presented with a design problem of this magnitude; I threw a massive strop and gave up.
Fortunately (or unfortunately, depending on your point of view), other people were relying on me to deliver on my promise, so after a dark teatime of the soul drunkenly weeping into my pillow, I went back to the proverbial drawing board. It was at this point that I realised I'd somehow managed to get a greengrocer's apostrophe in all the designs so they said PERSON'S rather than PERSONS… It was at this point that I lost it for a while.
During the days and nights of madness that followed, ever-after spoken of by the villagers (with many a muttered prayer and gestures of protection against the evil eye) as 'The Dark Times',  fearsome howls were heard to emanate from my darkened tower rooms, and slaughtered livestock was found horribly mutilated. The local veterinarian, on examining the remains in detail tore his eyes from their sockets and died some weeks later, screaming wordlessly in his padded cell.
When sanity returned to my fevered brain, I found myself forlornly staring at the computer screen, flicking between the two different templates like a hungry man repeatedly opening an empty fridge, getting exactly nowhere.
Then it struck me, what I needed was to create a third template based on the Big Wow version, but with a good photo of one of the original badges sized to fit it, then lay a scan of the original artwork onto this, resize it so the words PERSONS UNKOWN lined up, delete the photo of the badge, go back to the Photoshop template, re-type each of the forty eight versions of the text, 'hide' everything but the text, 'merge visible', copy and paste this onto the new template, re-size it so that it lined up, 'hide' the scan of the original artwork and save it as a jpeg.
"Fuck me, I've cracked it." I thought to myself, like the stupid bastard I am, and got a test run of one design made.
So what could possibly be the problem now, you ask (probably with some irritation, running as we are to one thousand seven hundred words at this point).
The problem now was that the circle was wrong. It just looked too small. No amount of mucking about with it would make it look right. It's only a circle, and you'd think that the fact that I had used the original artwork as a guide would ensure that it came out right, but you'd be wrong.
The basic problem was that I couldn't tell what it would look like on an actual badge by looking at the computer screen. I mucked about with it off and on for another week and in the end I did eight different variations and ordered another test run.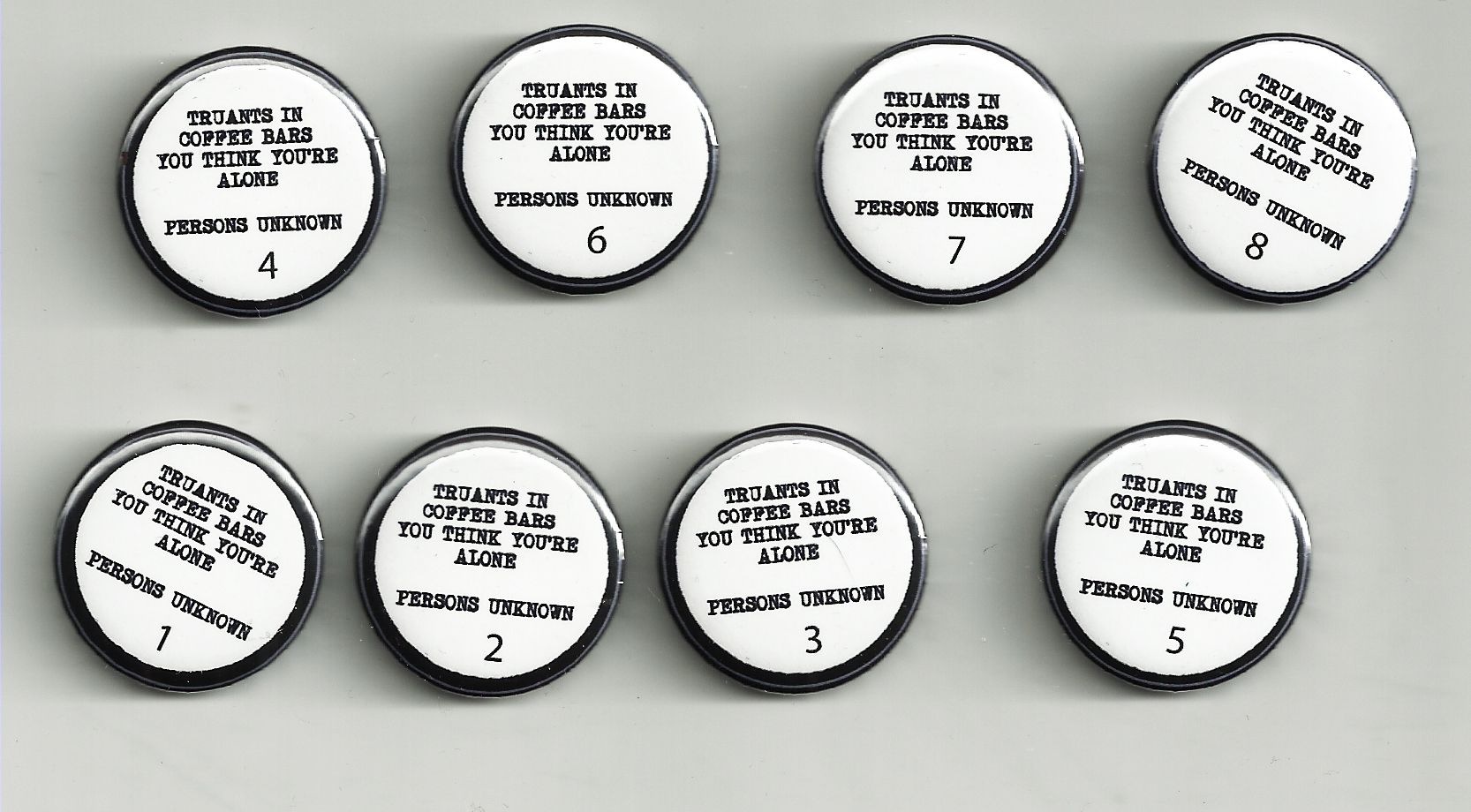 By comparing all eight versions with the pictures of actual badges that I had (not that easy as none of the pictures I had showed badges where the circle was completely central), I eventually decided on one thickness of circle, which was slightly thicker than the original, but looked 'better' to me and got a full set of fifty badges printed.
Finally happy with the results, I posted them off to Bernard for approval / scanning.
And that was that as far as I was concerned;  at some point the band decided that rather than sell them to fund the re-release of 'Persons Unknown' the intention was to include the badges as part of the single, and then this changed to selling them separately.
I was peripherally involved in these discussions as well as how many sets to print up, who would print them, and how they would be sold (just as a set, individually, or in batches), but I won't bore you with the details.
It was eventually decided to get the badges done by a small D.I.Y outfit, rather than the web-based firm I had been using, which meant the designs had to be re-sized AGAIN, as they worked to a slightly different template. Luckily the person printing the badges (Hi Marta) was able to resolve the problem without my involvement.
So this brings us to November 2015; the 18th of November to be exact. The posters and the covers have been printed, the records  are being pressed, the new badge set is advertised, and then and only then, an almost complete set of forty five badges turned up on Facebook via Kevin Pedersen.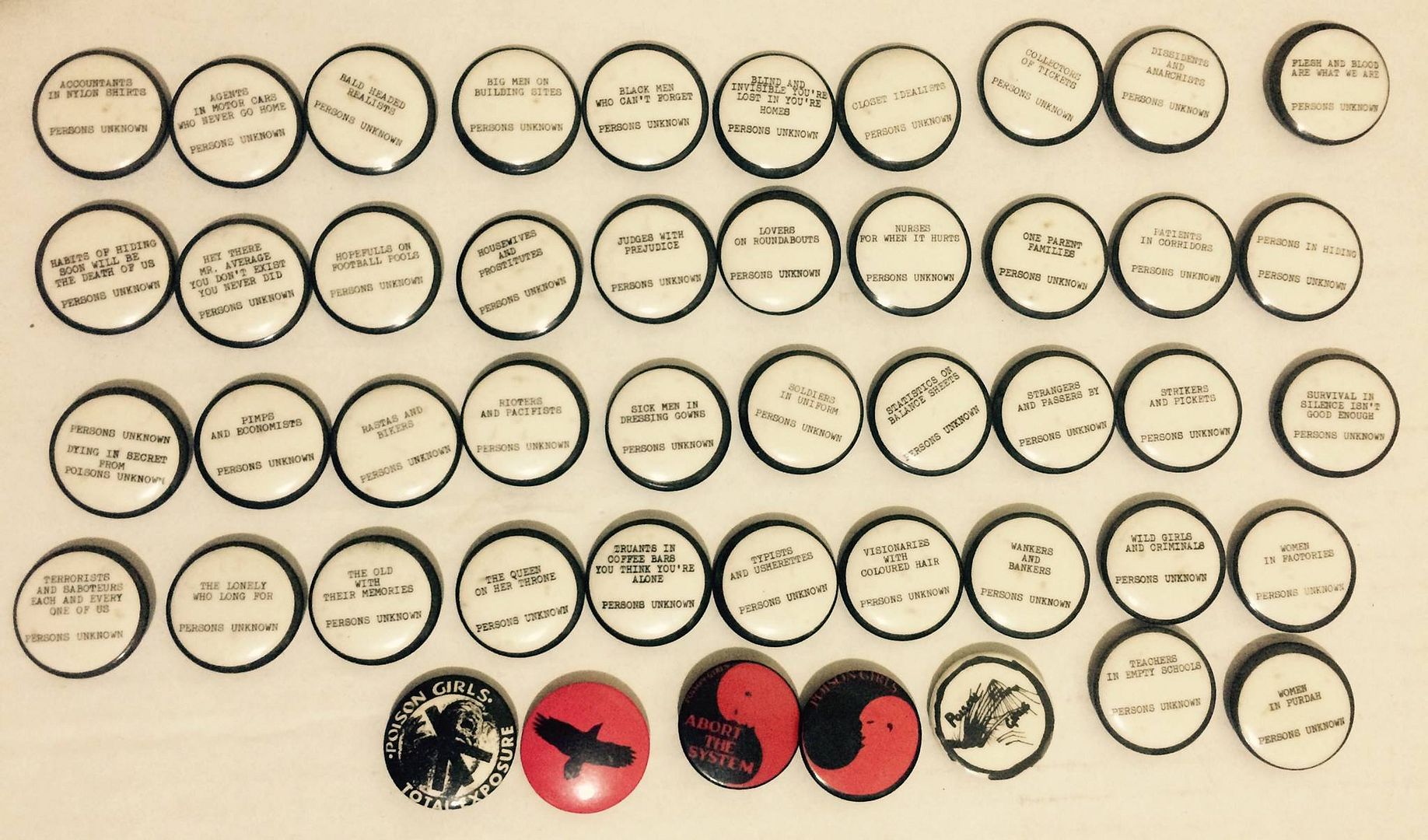 Looking at the photos, I could tell there were some of my designs that were just plain wrong; and some where the text was right but the layout was wrong.
I could have re-done the ones that were wrong, but I was assuming that it was too late to change the 'new' set by then, and even if it wasn't, we still didn't have a 100% complete set, so there may still have been mistakes on the ones I couldn't check against an original.
After a brief consultation, it was decided to not to change them as they wouldn't match the designs on the poster that had just been packed into a thousand records and people had already been ordering specific sets of ten badges from All The Madmen.
I know I'll go back over the designs and 'correct' them as best I can, just for my own personal satisfaction, but I still have three designs to track down.**
Can anyone help a poor badge designer down on his luck…?
*I had assumed that there had always been an intention to re-issue 'Persons Unknown', and the idea of including the badges had grown from that, but reading between the lines it appears that the discussions about the badges might in fact have provoked the decision to re-issue the record.
** A list of all the authenticated designs is included below.
ACCOUNTANTS IN NYLON SHIRTS
AGENTS IN MOTOR CARS
BALD HEADED REALISTS
BIG MEN ON BUILDING SITES
BLACK MEN WHO CAN'T FORGET
BLIND AND INVISIBLE
CLEANERS OF LAVATORIES
CLOSET IDEALISTS
COLLECTORS OF TICKETS
DISSIDENTS AND ANARCHISTS
DEEJAYS AND HYPOCRITES
DYING IN SECRET
FLESH AND BLOOD
HABITS OF HIDING
HEY THERE MR AVERAGE
HOPEFULS ON FOOTBALL POOLS
HOUSEWIVES AND PROSTITUTES
JUDGES WITH PREJUDICE
LOVERS ON ROUNDABOUTS
NURSES FOR WHEN IT HURTS
ONE PARENT FAMILIES
PATIENTS IN CORRIDORS
PERSONS IN HIDING
PIMPS AND ECONOMISTS
RASTAS AND BIKERS
RIOTERS AND PACIFISTS
SICK MEN IN DRESSING GOWNS
SMOKERS WITH HEART DISEASE
SOLDIERS IN UNIFORM
STATISTICS ON BALANCE SHEETS
STRANGERS AND PASSERS BY
STRIKERS AND PICKETS
SURVIVAL IN SILENCE
TEACHERS IN EMPTY SCHOOLS
TERRORISTS AND SABOTEURS
THE LONELY WHO LONG FOR
THE OLD WITH THEIR MEMORIES
THE QUEEN ON HER THRONE
TRUANTS IN COFFEE BARS
TYPISTS AND USHERETTES
VISIONARIES WITH COLOURED HAIR
WANKERS AND BANKERS
WILD GIRLS AND CRIMINALS
WOMEN IN FACTORIES
WOMEN IN PURDAH

Nick Hydra – December 2015
FOR ORDERING THE ALL THE MADMEN RECORDS POISON GIRLS 'PERSONS UNKNOWN / STATEMENT' DELUX 12″ SINGLE FROM ALL THE MADMEN DIRECTLY PLEASE OPEN THIS LINK: HERE
FOR ORDERING THE POISON GIRLS BADGE SETS FROM ALL THE MADMEN DIRECTLY PLEASE OPEN THIS LINK: HERE
THANK YOU FOR YOUR SUPPORT AND THANK YOU TO PETE FENDER AND NICK HYDRA FOR THE EFFORT SHOWN TO WRITE THEIR PARTS PLAYED FOR INCLUSION INTO THIS KYPP POST.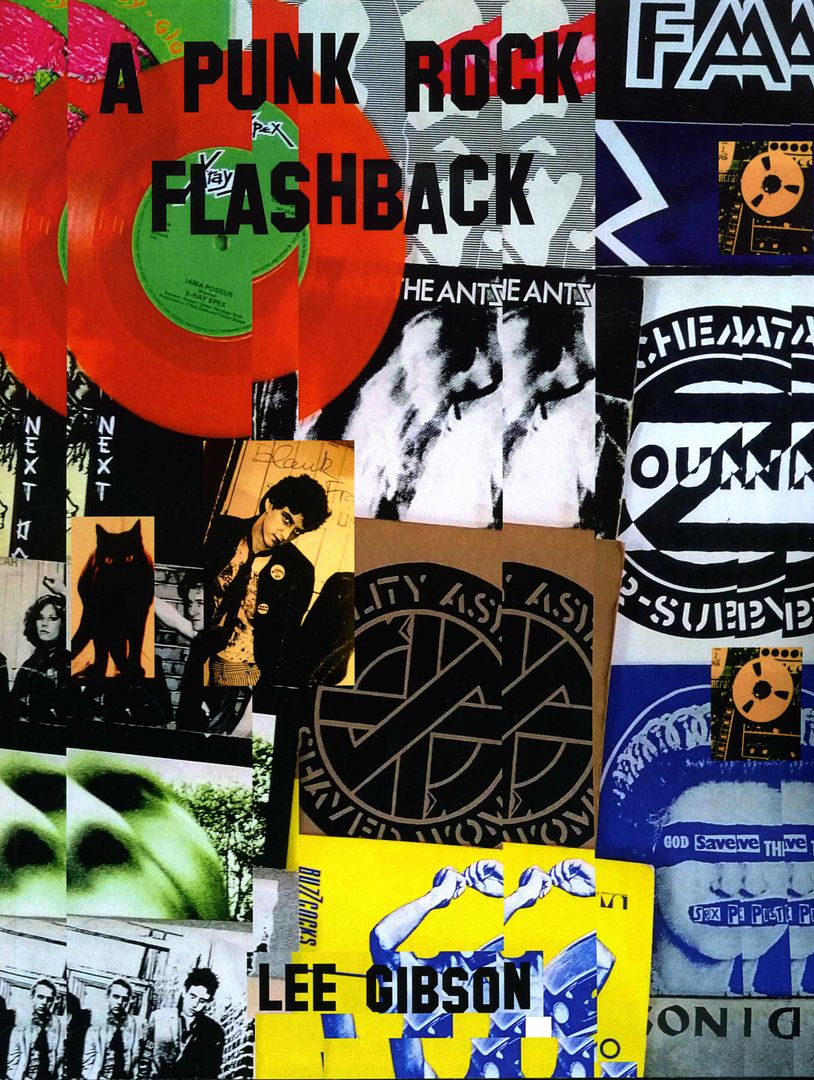 The book by Lee Gibson, ex Brougham Road resident, writer / editor of Anathema fanzine and contributor / editor to many others.
Lee moved in the same circles as The Poison Girls and the Kill Your Pet Puppy Collective for some years. Here in black and white print throughout this immense 214 page A4 book are memories of Lee's early years from 1976 all through to around 1986.
Lee takes the reader though countless Crass and Poison Girls gigs, some pretty rough nights along with various visits to both Crass and Poison Girls HQ's. There seems to be dozens of pages relating to The Mob, Brougham Road and various houses that the Puppy Collective would be just about surviving in. Lots of squat horror stories, Stop The City runabouts, drug abuse, The Apostles, Crowley magick and plenty more.
As an added bonus some of Lees original interviews from his fanzines are carefully reprinted half way through this book, massive texts of the thoughts and feelings of The Fall, Crass, Poison Girls and Andy T from the very early 1980's.
This book seems to be the real deal for anyone who may be interested in reading one persons account of the early anarcho punk culture which was an important, and sometimes scary, time for many of the young people involved.
Absolutely insanely cheap at £10.50 – but having the quality of a £20 book.
A must for anyone interested in this era of the anarcho punk scene.
You may purchase Lee Gibson's book HERE