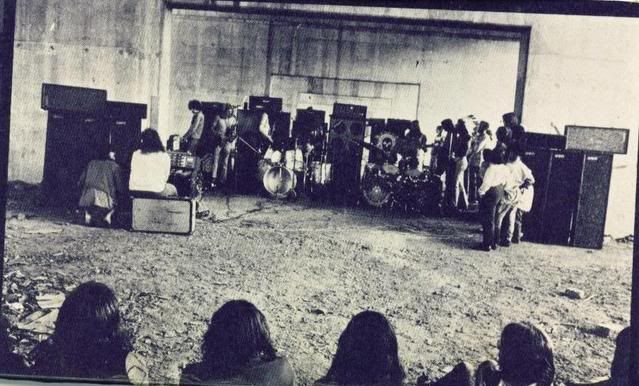 " Up and down the Westway, in and out the lights…" The Westway – a motorway on concrete stilts carved through west London, was opened in July 1970. In the July 1971 Mick Farren organised an oppositional series of free gigs / benefits for his White Panthers underneath it. Hawkwind (see photo above) and the Pink Fairies played.
In summer 1976 I travelled from Gloucestershire to London. It must have been mid- July, since I stopped off at Stonehenge on the way and found  no sign of any festival. Just the dry stalks of dead grass waving in the heat haze around the Stones. Route lined with leafless dead elm trees. Remember seeing pillars of smoke rising up from heath fires over the Cotswolds.
I had with me a postcard from Nik Turner, with the address of Hawkwind's W11 office on it. I was a fan and had written a science fiction story for a Hawkfan mag which was planned but never published. Nik had read it and rated it 'far out' – hence the postcard. Even though that had been a couple of years before, I vaguely hoped I could find some surviving traces of the 'underground'.
I found the Westway and stood beneath it in a space which looked like the place in the 1971 photograph. But by the summer of 1976 I was five years too late…I wandered around in the hot sun and found a suitably strange shop which had stacks of old underground mags in it. Bought a few but realised that the underground, the counterculture I was in search of was dead and gone.
And then… it was 1977 and there was punk. First single I bought was Neat Neat Neat by the Damned -which came out in February. Then I heard White Riot, which came out 18 March 1977. It was White Riot wot did it. Fucking hell, I'd been there…Notting Hill, just a few weeks before the Carnival riot which inspired the song. Suddenly it connected. Punk was music being made by people my age – 18 – not ten + years older as in Hawkwind and Pink Fairies. Punk was my generation's counterculture, our underground scene (man).
Ancient history now, but it was a mind-fuck a riot of my own…and the b side, 1977. Well-  replace 'no Elvis, Beatles or the Rolling Stones…in 1977' with my fave bands and there was my punk revelation/ revolution. Almost. I couldn't quite do a Year Zero.
Just as well, since it turns out that KYPP's 'Uncle Joly',[ McFie] of Better Badges who encouraged Tony to start the mag and – Tony please fact check– used old Ozs, International Times and such like to inspire the style – was very much part of the previous underground counter culture.
And then there is the whole ATV/ Here and Now 1978 tour -including Stonehenge Free Festival – stuff, and the Fuck Off Records Zounds/ Mob/ Androids etc etc connections and Frestonia / Freston Road W11 where Tony lived in a squat in 1977 with Sandy Robertson (journalist) and Alex Fergusson (the ATV/ PTV musician not football person).
Tom Vague has document all this, so here are a couple of quotes from Mr. Vague:
Better Badges: Underground Overground Revisited – Fanzines i-D Crisis
The Portobello Road underground press tradition was continued into the 80s at number 286, across the road from the site of the Frendz office, by Jolyon Mcfie's Better Badges fanzine press (named in honour of Miles's beat Better Books shop on Charing Cross Road). These premises were formerly the Bell Press, who printed posters in the 60s for Count Suckle's Cue Club in Paddington, and also hosted the office of Van Der Graf Generator, and acted as the mailing address of DBC, Fuck Off Records, etc. Today, 286 continues in a similar vein and maintains a reggae link as the Portobello Artshop stationers.
Joly was another International Times editor and Pink Fairies tour manager, also associated with Syd Barrett, Hawkwind, Gong, Pretty Things, Lightning Raiders and Suzi Quatro, who reputedly hadn't had a haircut since 1968. After a macrobiotic revelation that badge making was the way forward for the underground movement, he started pressing up hippy badges like 'Hendrix Lives', IT, 'Legalise Cannabis' and 'Pass It This Way'. Before moving to Portobello, he made the punk rock leap to the Ramones and the Sex Pistols 'Anarchy in the UK' at his original press in a garage off Chepstow Road.
In another legendary local moment in fanzine folklore, after 17 issues of Ripped & Torn fanzine, Tony D handed over editorship to Vermillion Sands (of Vermillion and the Aces, Illegal Records, and the San Francisco fanzine Search & Destroy) 'outside a pub in Portobello Road' (probably the Blenheim). As Vermillion (who was also some sort of Ballardian hells angel) produced a post-punk postscript Ripped & Torn, published by Miles Copeland's Insult Design company, Tony had a punk Down and Out in Paris phase.
On his return, he began his next venture Kill Your Pet Puppy with: 'Reality lies bleeding in Portobello Road. Can this really be the end?… Down and Out in London with amphetamine psychosis again.' Kill Your Pet Puppy's day-glo litho coverage of life on pre-pop Adam and the Ants, Crass and Tuinol led the way from anarcho-psychedelic-punk to acid-house.
The later issues of Ripped & Torn featured local ads for the Acme punk clothes and record shop at 278 Portobello Road (which would become Honest Jon's record shop before the end of the 70s); Better Badges, a few doors up the road at 286; the Vinyl Solution record shop at 39 Hereford Road (which became Intoxica at 231 Portobello); and the 5 th Column punk T-shirt shop at 64a Notting Hill Gate. Following the demise of the 1977 International Times and Phoenix Publishing, their office at 180 Talbot Road was taken over by Zigzag magazine, and Rough Trade and Better Badges formed the Fanzine Co-op printing and distribution network.