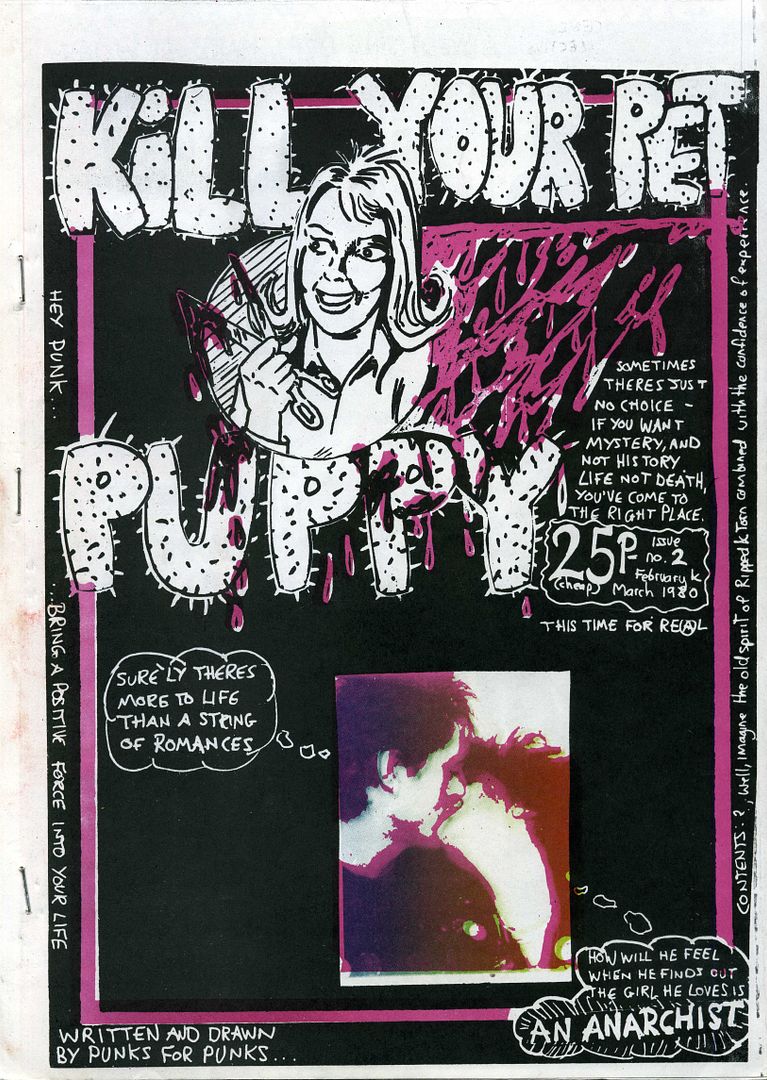 Just realized that the second issue of KYPP came out about this time, checked it out and indeed it was – thirty three years ago. Here's a few memories from me of that time.
After awhile of KYPP1 being released/published/onsale/whatever people started to ask about the next one. The reply given was that the next one would come when there was something relevant to say. I wanted to avoid the production-line conveyor-belt problem of producing issues at regular intervals because it was expected. I'd been through all that with Ripped & Torn. When the time was right it would happen, that was the Puppy party line.
Except there was a constant personal worry that I wouldn't be able to match the first one, and this procrastination wasn't helping the paranoia. Then a few things happened at once; Leigh and myself went to see Crass at Dial House to discuss our views about their pacifist stance, which was printed in the first issue (pro-Crass-tination). A few days later we received a letter from Penny Rimbaud, a long review of their philosophy. This has to go into the next ssue I thought, which meant creating a new issue and not faffing about.
Then there was the Sid Vicious memorial march; which brought together a lot of people and strands of thought: and also brought a lot of things to a head. I wrote about those things, and then I wrote about why I thought those things – and the two pieces became the mainstay of KYPP2: appearing as the pieces 'Apocalypse Now, Part 1' and 'Pet Puppies In Theory and Practice, Part 2'.
AL Puppy then wrote one of his best and most sustained pieces of work, a six-page essay. This was also too important to not put in, and another sign that an issue had to be put out.
So all of those things went into the pot. When I went to Joly of Better Badges with this idea, assuming the same deal would be on as for the last issue and he would front the money for it's publication, he was not impressed. To cap it all I went mad on the idea of printing coloured images then overprinting them with black text, which meant basically, as every page was being printed twice the costs would be of printing two fanzines for the price of one.
Even worse, commercially, was not having 'a band' on the cover: the picture incidentally is a photobooth photograph of Val Puppy and Brett Puppy.
Luckily Joly went with the flow. The issue was written, laid out and finished between the 4th and 7th of February 1980: and by the next week it was in the shops.
My lasting regret with KYPP2 is that I didn't get a new typewriter ribbon for the final drafts of my writings. Without getting too technical this is why the pages (reproduced in our photo gallery) are hard to read. Don't blame Joly – I gave him poor image quality pages to work from.
Another regret is not charging Virgin Records an arm and a leg for their advert promoting the Pistols' 'Flogging A Dead Horse' album. They paid the same as Vinyl Solution and the Last Words. I was a fool.
Interestingly the back page is an oblique review of Bauhaus, who we'd seen play at the Rock Garden. Brett Puppy was the one who dragged us all there; and seeing Pete Murphy do his mime act stuff with the bright light in the box with the churning riffs of the band driving it on – it was like seeing the Ants at the Man In The Moon all over again. And just as good: 'Bela Lugosi's Dead' was, to me, their 'Plastic Surgery' moment.
So there we were, Anarcho-punk's fragile community under threat from the far-right and a new band dawning with all the flash and dangerous excitement of the Ants.
At the end of the last page there is the line 'WHERE DO WE GO FROM HERE?'  We meant that, man.
Visuals of Bauhaus a couple of years later doing the light in the box thing.
And here is some audio of them performing 'Bela Lugosi's Dead' live in 1980 HERE
And the released single version can be heard on this KYPP post HERE
There's also a great live version at the beginning of the film 'The Hunger'  which can be found on youtube and many other outlets.
Memories of the producing Kill Your Pet Puppy issue 1 can be read HERE