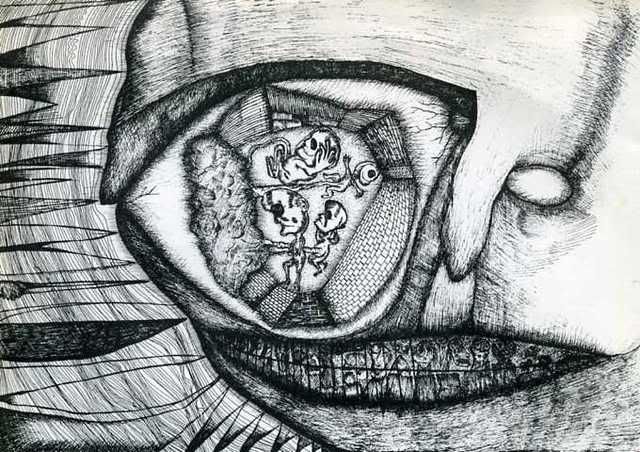 Cosmetic Plague / B-Ward / Blind Dogs / Inside / Zero Again / Subdued Violence / Mice Race / Media Person / The Gardener / Teenage Time Killers / Sacrifice / Farce / Tower Of Strength / Only Human / Bloody Jellies / Nothing But A Nightmare
Indebted to Chris Low for access to this cassette. A rare glimpse into a Rudimentary Peni live performance, never really thought that many audiences took them that seriously around this era…the band disappeared out of view for a number of years in 1983 amid rumours of death and mental illness, then released the massive 'Cacophony' LP in 1988, suddenly people started to take more notice. Nick Blinko's morbid artwork, displayed in galleries and on the Internet and a book 'Primal Screamer' published by Spare Change Books in 1995 also added to the mystique and interest in this band.
Nowadays, audiences all over the world would tear your arm off for a ticket to see Rudimentary Peni reform, shame the audiences in 1982 were so indifferent to the sound that Rudimentary Peni performed!
This gig is a decent quality 'crowd' recording, well worth a listen. A performance in the same year at St James Church, Kings Cross, London is also uploaded on this site somewhere. Use the search function on the right.