REPOSTED FROM NOVEMBER 2007 DUE TO SOME RARE CASSETTE TAPES BEING LENT TO ME RECENTLY BY LOUISE AS WELL AS AN INFORMAL 'INTERVIEW' UNDERTAKEN.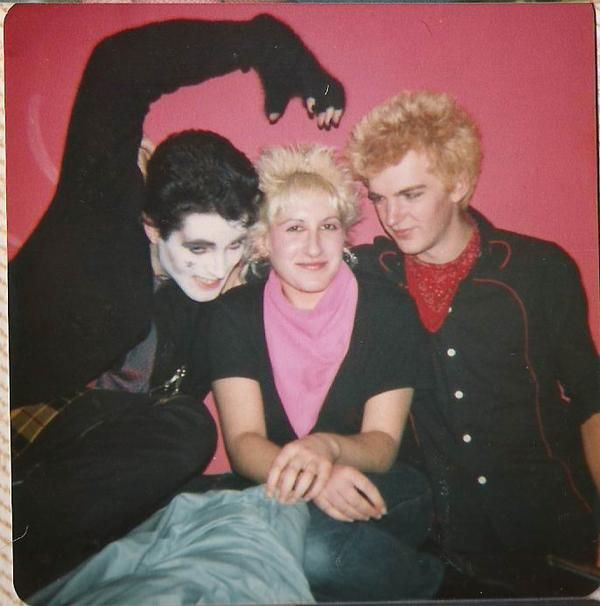 Brett, Lou and Tony D Puppy Mansions 1981 – photo – Tony D collection
Louise Harris once of the Kill Your Pet Puppy collective, veteran of Campbell Buildings, St Monicas and other slum squats alongside Bob Short and Lisa of Blood And Roses, Quick Phil, Cory, Tony D, The Heretics and Dave Sex Gang amongst many others. A Wapping autonomy centre and Centro Iberico regular.
One of the most pleasant women around and a massive help to a much younger Penguin when I first started helping out at All The Madmen records in Brougham Road Hackney.
The Hysteria Ward cassette is a rare All The Madmen release indeed. Not many cassettes around any more I would think. I have added some rough mixes of some of the tracks that featured on the original cassette. These rough mixes are very good indeed. The rough mixes were recently lent to me by Lou herself and simply must be heard… I have been also been reminded by Dan I that All The Madmen records also released a flexi disc by Hysteria Ward. I forgot all about that release; but of course I own it. I have added it to this post now!
SOME HISTORY
Lou was living with the Puppy Collective at Puppy Mansions in Westbere Road Hampstead during 1981. Lou along with other house mates went to witness a gig in the squatted 'Grimaldi' church in Pentonville Road, Kings Cross.  The Grimaldi church was so called as that is the resting place for a famous clown Joseph Grimaldi who died in 1837. The proper name for the church to any other congregation, other than punk squatters, was St James.
Amongst the bands performing that night was The Mob. This was the first time Lou had witnessed the band and she was shortly in a relationship with Mark from the band. Through Mark who was living at 74 Brougham Road at the time, Lou met Josef Porta and Tim Hutton amongst other notable Brougham Road co – op members. Tim at the time was drumming for The Mob. Josef was drumming for Zounds.
When Lou was commuting from Puppy Mansions into Hackney to see Mark Mob in Brougham Road it was decided one night to record a low key jam in Josef's bedroom at 64 Brougham Road.  One of the tracks on this personal tape is entitled 'Shalom' which means peace in Hebrew. This is a track that was written by Lou after she was badly attacked by two skinhead girls in Kilburn. Brett and Mick Lugworm from Puppy Mansions managed to get Lou to the Royal Free hospital in Hampstead to get cleaned up and mended.
Josef drums, Tim guitar and Lou on second guitar and vocals.
Lou with Tim Hutton and Josef Porta 1981 <<< Tape to download>>>
This line up ventured out of Josef's bedroom only twice Lou remembers. Once at a pub now forgotten when an amp blew up so no performance was completed, and once on the Fuck Off stage set up at Stonehenge. The Stonehenge performance went ahead but as Lou and Tim had dropped acid a little while before, it was not that memorable at least to Lou who was tripping heavily. She remembers the reception to the performance was pretty good but that could be just the drugs! The band retreated back to the KYPP tent after the performance to enjoy the rest of the evening at the stones on Salisbury plain.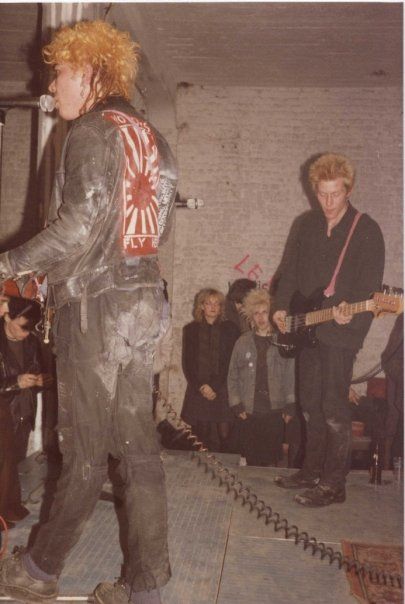 Lou (with the blue denim jacket on) at a Mob gig in Belgium – photo – Onno Hesselink collection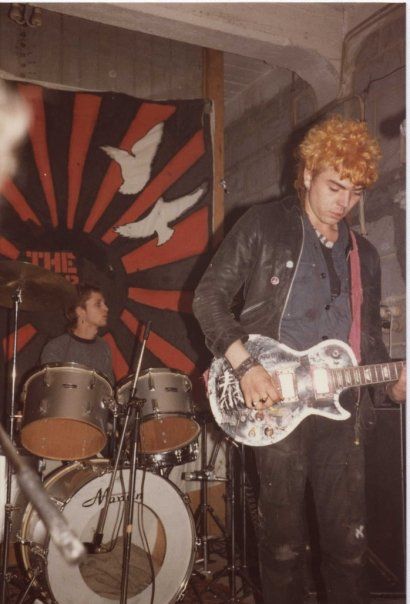 Tim Hutton who drummed briefly for The Mob before Josef Porta's stint on the drum stool at a gig in Belgium. Tim a Brougham Road resident also performed bass duties for Zounds in a short lived four piece band – photo – Onno Hesselink collection
Lou was at Brougham Road waiting to travel with The Mob on one of the Belgium and Holland tours. At the same time that the police were raiding 64 Brougham Road to hassle the assorted Zounds personnel that were barricaded within, Lou and The Mob were loading the truck to drive to Harwich to get the ferry. Last man in shuts the door. The door shuts and then falls off into the street. Trying not to be so obvious whilst a police presence is within pissing distance, the members of The Mob hastily attach the door back on and make a quick getaway with whatever stash they were going to Europe with. Mark who was driving to Harwich was not in the best of spirits. Not because his near neighbours were getting busted, or because of the state of the truck. The problem was that all the other passengers in the vehicle were swallowing magic mushrooms while Mark was the designated driver…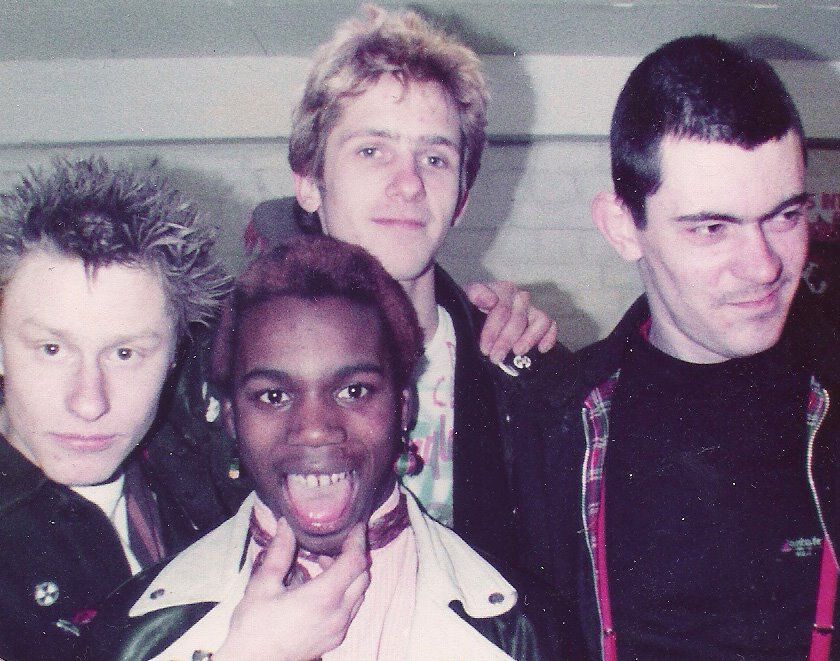 Peat Protest, Mitch Flack, Martin Flack and Andy Martin of The Apostles at the Wapping Autonomy Centre – photo – Martin Flack collection
Andy Martin from The Apostles was also a huge motivator for Lou. Lou ended up at the top room of the squat that Andy had in Foulden Road, Stoke Newington, and between them composed and performed several tracks that appear on the tape that you may download below. Lou got on with Andy Martin very well and even got a cake given to her, made from Andy for her to share with Mark from The Mob. Commuting to Stoke Newington was also pivotal to Lou's future as it was there that she was first introduced to Rob Challice then of Faction. Lou had seen Rob at the Wapping autonomy centre but had not up to this point ever spoken to him. Lou sold Rob her heavy black bass guitar in fact in Andy's Foulden Road squat!
Lou with mostly Andy Martin 1981 <<< Tape to download>>>
In 1981 Lou had also been a member of The Witches who infamously performed with The Apostles, Blood And Roses and Part 1 at the Wapping autonomy centre in January 1982. This event was the first time Part 1 had successfully performed in the capital. The Witches also had in the band's ranks Ann Gee Zoff who at this time was Bob Short's partner in Hackney squatdom.
Lou was still living at Puppy Mansions in Westbere Road Hampstead. Through the house she met up with Paul AKA Jah Pork Pie again. Paul was another survivor of Campbell Buildings alongside Tony D.
Spasm Ensemble was a band that included Lou on vocals, Mick Lugworm on guitar and Jah Pork Pie on bass. This band performed in the North Cheam and Esher areas of south west London but according to Lou, was just a band that would get together if another band advertised on any flyers did not turn up!
Mental Disorder was another band that Lou was involved in with Mick Lugworm around this time. The band used to rehearse in a pub in Esher (Surrey). This was useful as the band were offered free refreshments throughout the practice sessions.  There was another band that used to be involved with this pub that was run by the parents of two brothers who were in a band called Wargasm (before the compilation of the same name was released). Neither were in Mental Disorder but at least one of them did play with Spasm Ensemble. Part Time Pousurz was another Lou and Mick Lugworm band that did have Fred Previous within the bands ranks.
Jah Pork Pie was involved in another band with Lou, Dream. Also featured in the band was Lou's brother Max Harris on keyboards. The band was influenced by Patti Smith (Lou's greatest influence then and now) and Pink Military.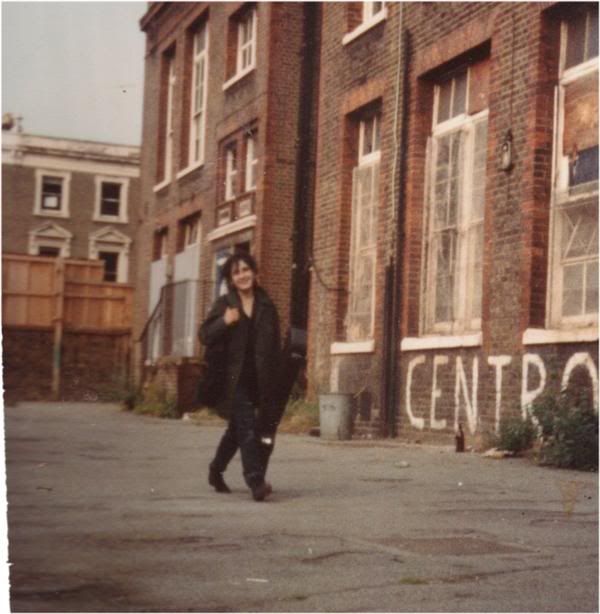 Lou at Centro Iberico 1982 – photo – Mick Lugworm collection
Dream performed at the Harrow Road autonomy centre, the Centro Iberico on a couple of occasions in the summer of 1982.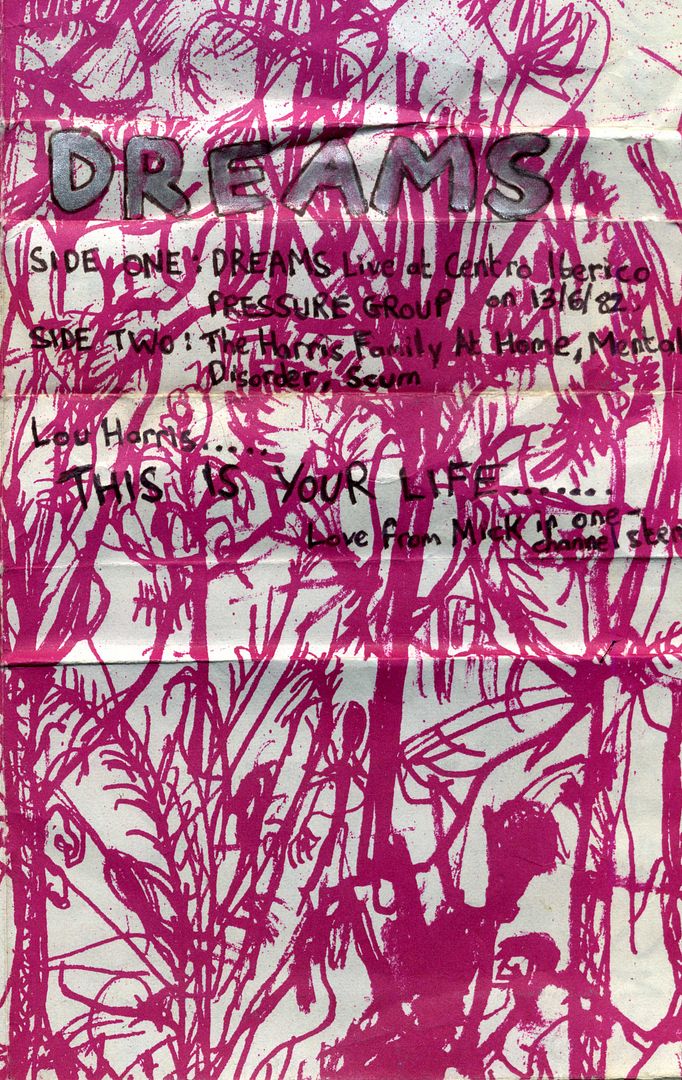 Dream – Centro Iberico June 1982 <<< Tape to download>>>
Dream – Private Recordings 1982 <<< Tape to download>>>
Both sides of this cassette are recorded in mono and the cassette 'sleeve' is an old page of KYPP fanzine issue five; cassette info hand written by Mick Lugworm!
But around the middle of 1982 Lou had a life changing moment and the darkness started to cast around her already fragile psyche.
Lou's parents decided to organise their daughter to be sectioned under the mental health act in the autumn of 1982. Lou was self-harming at an alarmingly consistent rate at this stage. Lou's father unbeknown to Lou at the time picked her up in his car and drove her to Tooting Springfield hospital and dropped her off there to be 'examined'.
The area in the hospital that Lou was taken to was the Wisteria Ward.
She spent around eight weeks on the ward. During this time she was being forced fed antipsychotic drugs which were not working, just gave her several episodes of jerking fits. Procyclidine, an anticholinergic drug was added to the daily menu.
She had friends visiting during this time one of which Mark Edmonson the guitarist of Youth In Asia.
Mark made a deal with the hospital and with Lou's parents to look after Lou and that he would ensure she took her drugs. Mark allowed Lou to stay at Lithos Road in Finchley. Soon enough the two were in a relationship. Mark got Lou into Youth In Asia as a second guitarist. They played several gigs toward the end of 1982 the pinnacle of which was performing at the Black Sheep housing co – op organised Zig Zag squat all day gig in Westbourne Park late on in December. Crass also helped to advertise and clean this venue for the day's events. The first choice of squatted venue, the Rainbow in Finsbury Park, was found to be too risky the night before. Youth In Asia performed amongst the cream of 1982 anarcho punk bands including Flux Of Pink Indians, Poison Girls, The Mob, Faction, The Apostles, Amebix, Omega Tribe, Null And Void and Crass.
Lou left Youth In Asia early on in 1983 as Mike Clarke from the band Windsor's Disease took over guitar duties. Mike was a far more accomplished guitarist than Lou at that time. Probably still is. Kay from the band continued to inspire Lou to get back to being a vocalist in a band.
Lou was still living with Mark in Lithos Road and as Mark was very close to Crass, the couple would spend many days away from London and in the beautiful confines of Dial House in North Weald Essex. Lou wrote in a long distressed letter about her feelings about the street violence she saw around her and the experiences that she had with being assulted. Penny wrote a very long and kindly reply to Lou which she states helped her immensely. It was around this time that Lou and Penny Rimbaud from Crass discussed a possible single release on the Crass record label. Lou went into a studio to record some demos for Penny. Involved in the session was Simon who was the partner of Lou's sister. Two tracks recorded were 'Grey man' a track written about her experiences in Wisteria Ward at the Totting Springfield hospital and 'The Field' about the Stonehenge trips that Lou had embarked on with the Puppy Collective and the Brougham Road crew. After these tracks were complete the cassette tape was given to Penny who unfortunately but politely rejected the material.
Youth In Asia were also offered a release on Crass but alas split up shortly before it was organised. Members of Youth In Asia turned up shortly afterwards as Decadent Few.
Lithos Road in Finchley was suddenly becoming populated with punks and squatters due to a new Autonomy Centre starting off opposite Mark's co-op squat. This autonomy centre was named the Burn It Down Ballroom. This venue / workspace was where the bands on the scene would turn up to to perform; hand in hand with the Rosebery Avenue autonomy centre in Islington which was up and running around the same time.
Mark moved out of Lithos Road in 1984 and the space was taken up by a good friend of the Puppy Collective; Julian AKA Joe Pop.
Rob Challice was still a Brougham Road resident living at number 96 where he was in charge of Wot Distribution and All The Madmen records. Andy Morgan soon to join Blyth Power was Rob's co worker at this time. The office was at the front of the building on the second floor overlooking the many trucks and converted buses that would be parked up along the road with many people and dogs and cats residing on them.  JC and New Zealand Darren were also residing at 96 Brougham Road at this stage.
Joe Pop moved out of Lithos Road towards the end of 1985 and Rob who was now in a relationship with Lou spent the day time hours in Brougham Road and night time hours in Lithos Road with Lou.
Around this time after a gap of around a year Lou felt confident enough to start singing again on stage with a band. She placed an advert in Melody Maker stating Magazine, Bowie and Patti Smith as influences which gained interest from a band (with no vocalist) called Umbrellas Of Cherbourg.
The musicians Boggie, Squid and Mick who eventually formed the backbone of Hysteria Ward were (happily enough) friends of Mark Edmonson from Youth In Asia who had got Lou out of the Wisteria Ward and into his care some years previously.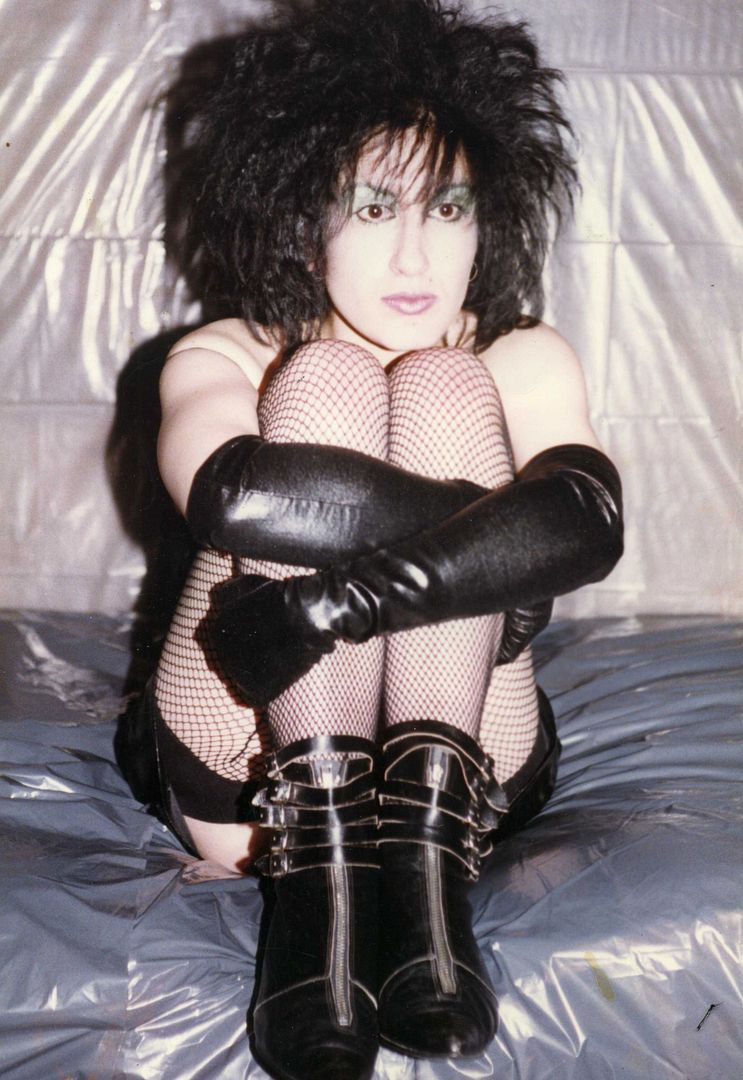 Lou – photo – Lou's collection
Rob Challice guided Lou and her band Hysteria Ward into the pubs and clubs of the time towards the end of 1985; one special occasion was when the band performed at a street party in Lithos Road along with Lou's old band mates Decadent Few. Hysteria Ward were a much more professional and long-standing band than Lou's previous band incarnations, with the immense help of Rob Challice the band performed many times in London. Lou or myself whilst we were talking trying to remember the 'history' could not remember Hysteria Ward performing outside London except for a performance in Brighton in April 1986.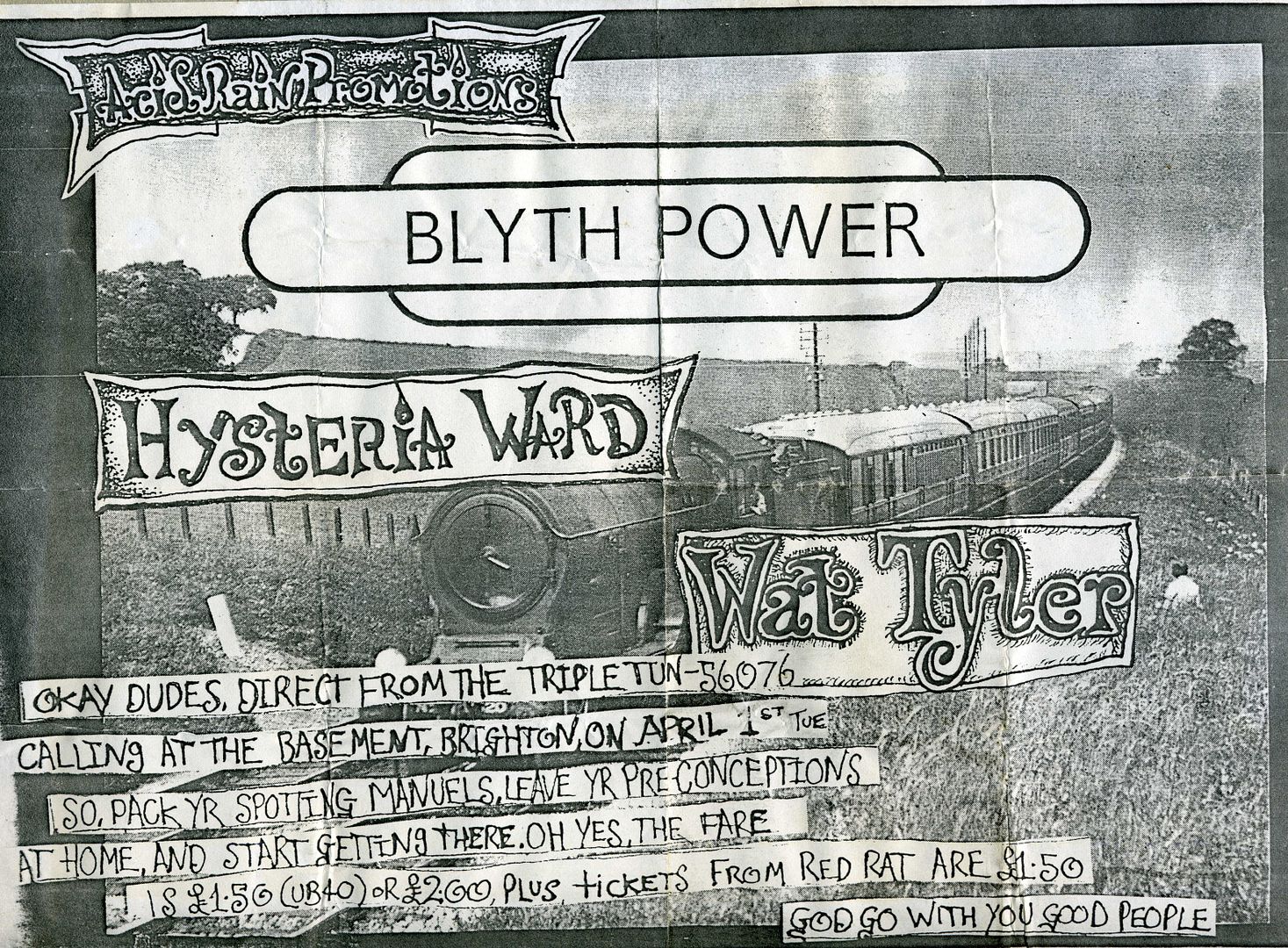 Blyth Power, Hysteria Ward and Wat Tyler all jumped into JC's bus parked outside 96 Brougham Road along with myself, I had started working for 'free' at All The Madmen records from the last months of 1985, Sean Gummidge the Wat Tyler vocalist was within the All The Madmen ranks around six months previous to myself. JC drove us to the seaside together and we all did normal seaside type things throughout the day finishing off with a blistering gig in the evening. Hysteria Ward played well that night probably because Brighton crowds were not quite as cynical as London crowds who tended to resort to heckling quite easily. Robin and Lee from Acid Rain tapes organised this classic gig with all the bands caught on the top of their game at the Art College Basement.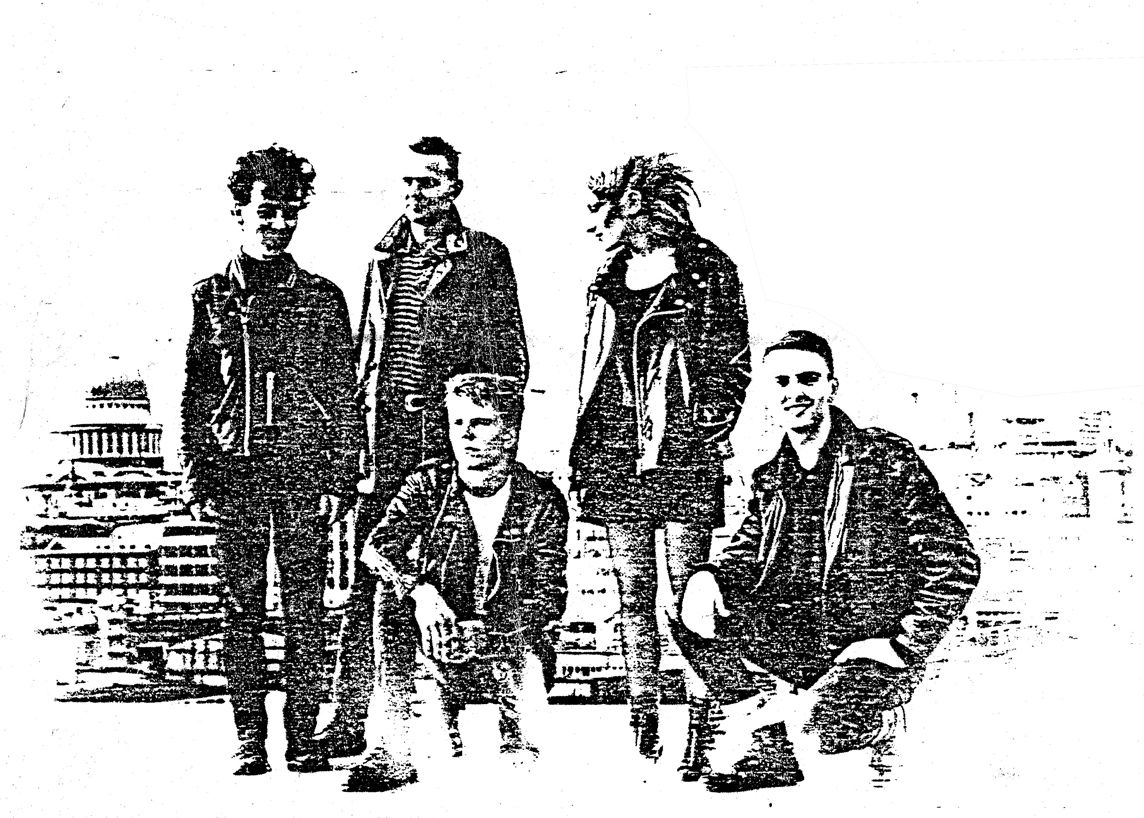 Hysteria Ward – photo – Darren Clements collection
Hysteria Ward seemed to go through several drummers in quite a quick time. Squid also left the band after little after a year. New Zealand Darren who was still living at 96 Brougham Road along with JC joined as the band's drummer. Rob Challice had left Brougham  Road and was living full time with Lou at Lithos Road.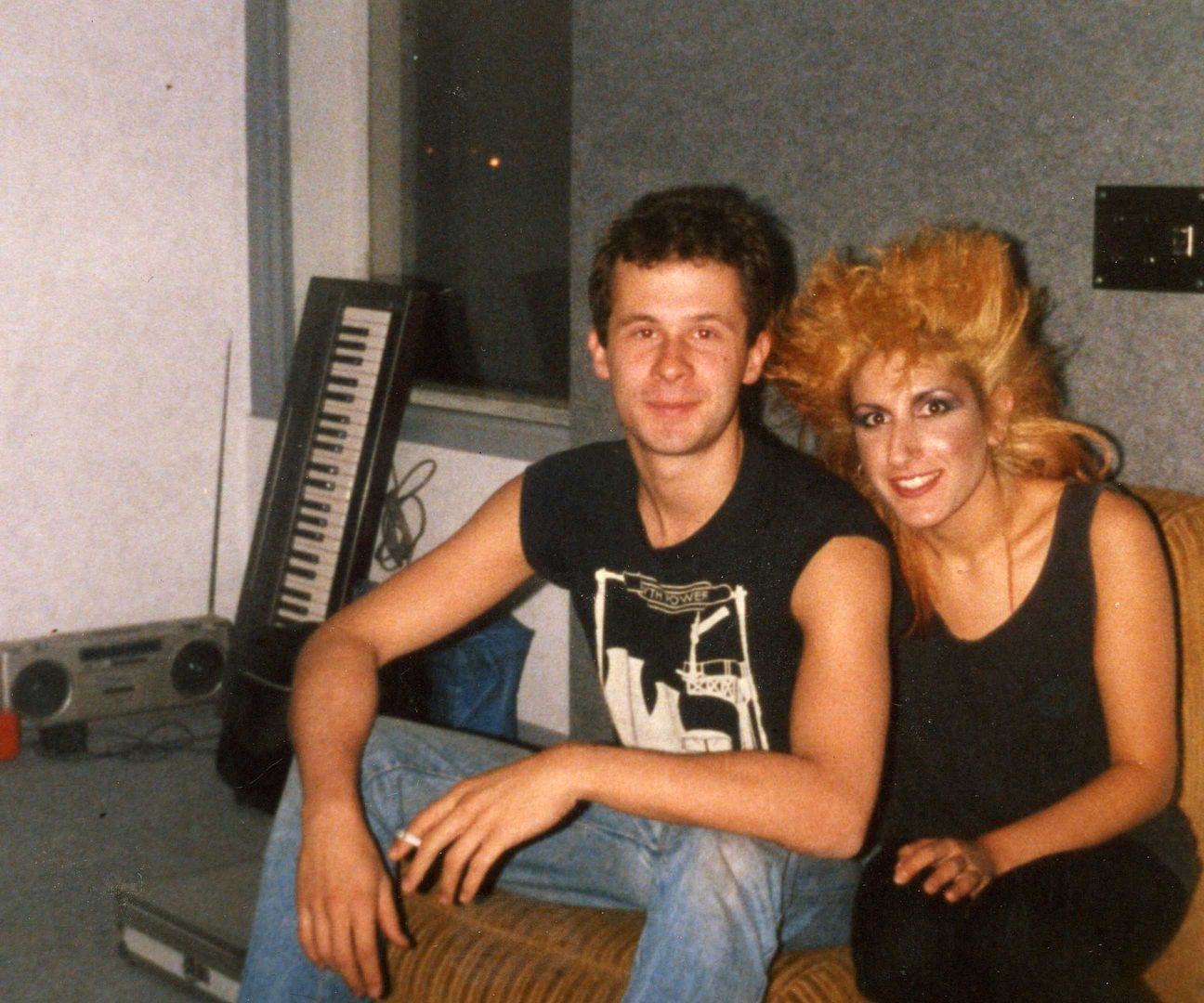 Rob Challice and Lou during a break in recording at R.M.S. studio – photo – Lou's collection
Rob Challice had been getting Hysteria Ward some studio time throughout the differing line ups and some of the results ended up on the All The Madmen released cassette tape and flexi disc released at the beginning of 1987.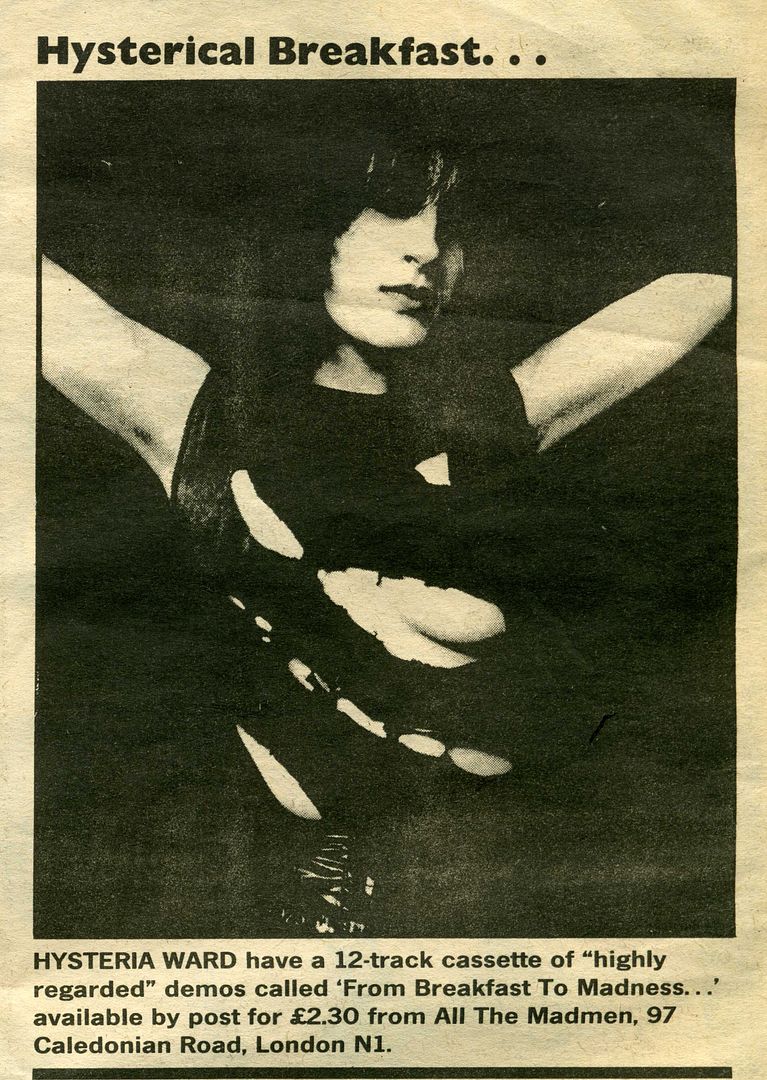 All The Madmen had left Brougham Road early in 1987 to engage in the hustle and bustle of Caledonian Road in Kings Cross. Above Better Badges, below Fuck Off Tapes (several months later to be replaced by Cooking Vinyl). Over the road to Rough Trade Distribution. A much different experience than the relative laid back vibe of the hidden away from the main drag, Brougham Road in Hackney.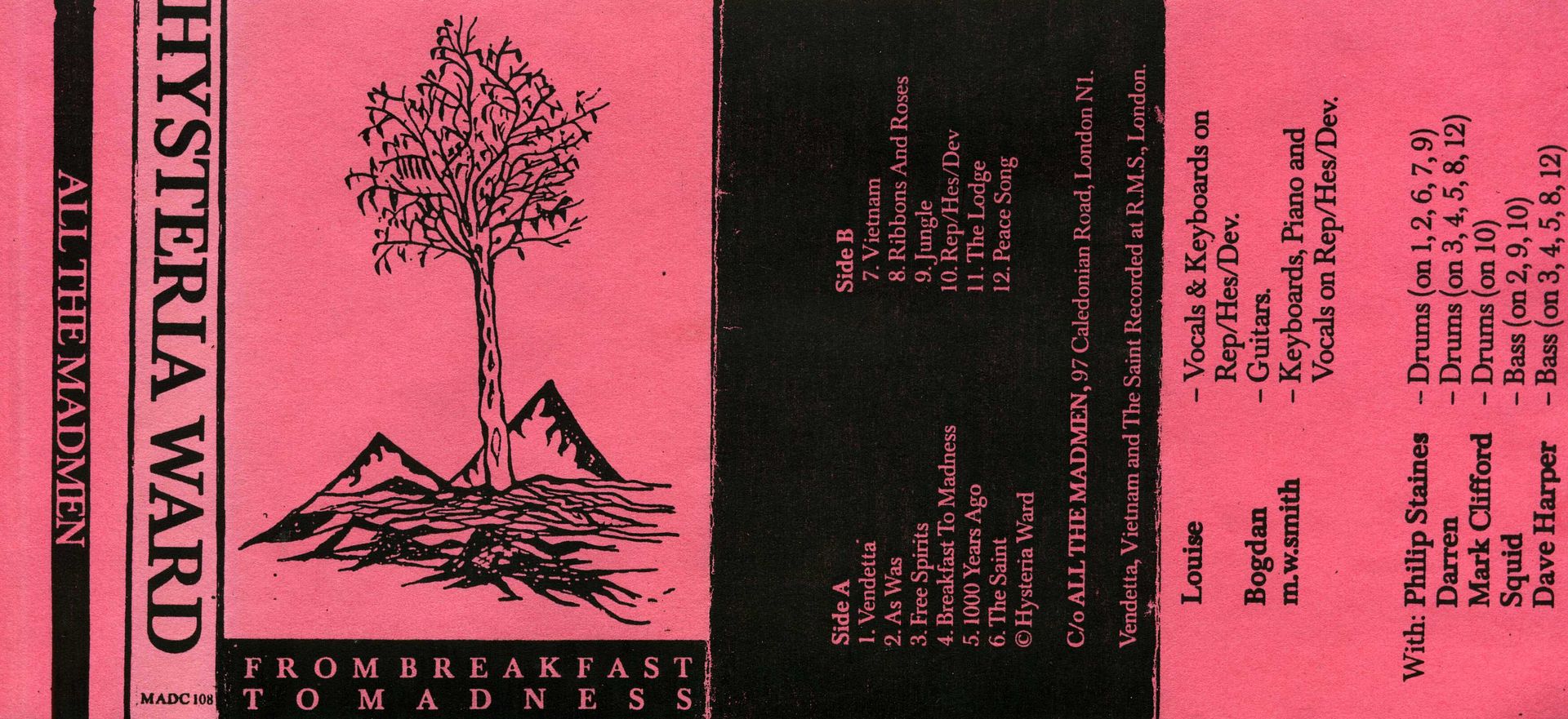 Vendetta / As Was / Free Spirits / Breakfast To Madness / 1000 Years Ago / The Saint <<< Tape to download>>>
Vietnam / Ribbons And Roses / Jungle / Rep-Hes-Dev / The Lodge / Peace Song <<< Tape to download>>>
Rough Mixes 1 <<< Tape to download>>>
Rough Mixes 2 <<< Tape to download>>>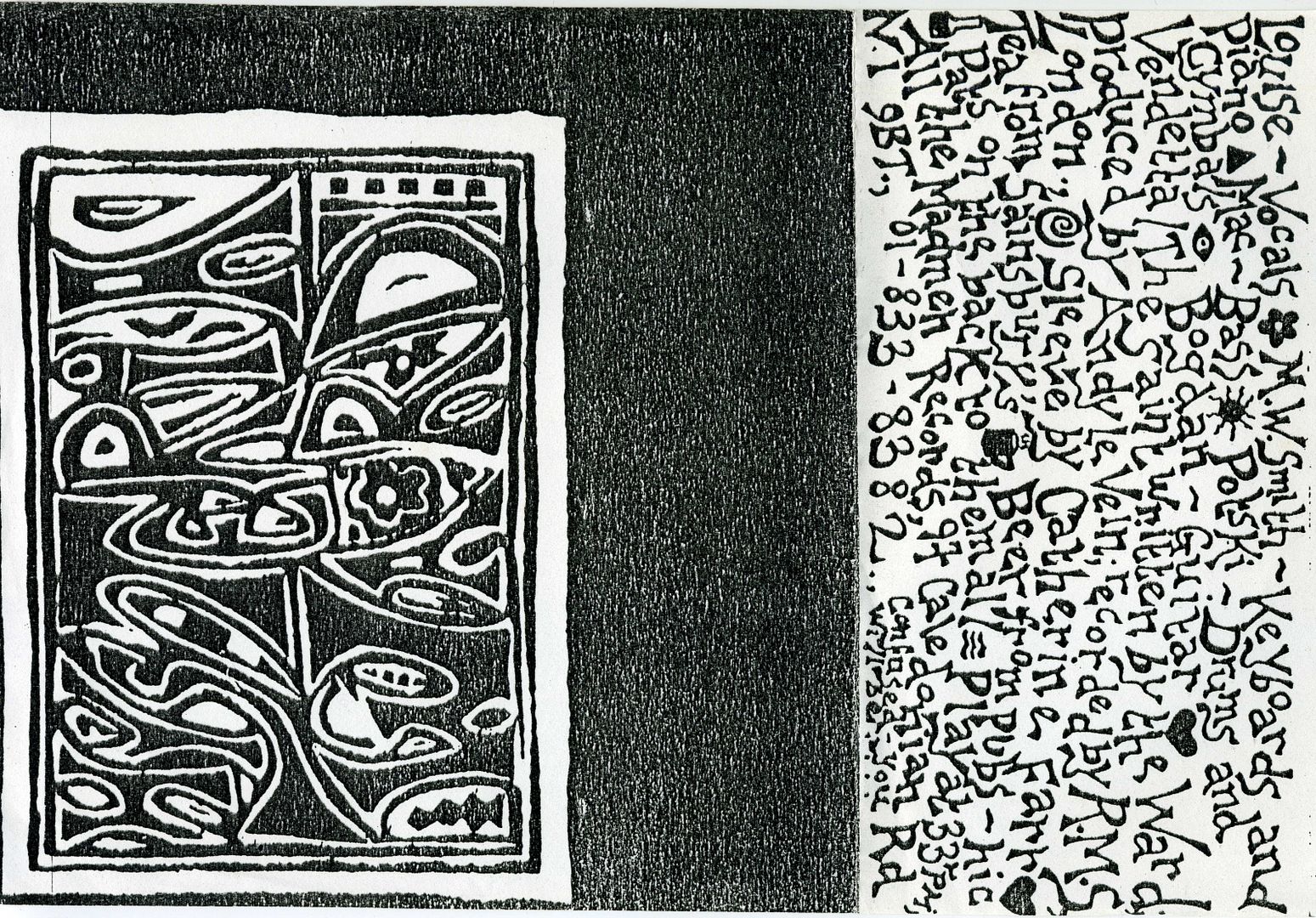 Vendetta/ The Saint  <<< Flexi to download>>>
John Peel played the flexi disc on several occasions. Hysteria Ward continued to perform gigs but things started to sour a little with the slog and the low audience appreciation. Times had changed on the gig circuit. Bands like Napalm Death and Extreme Noise Terror were getting the excitement of the crowd by 1987, not bands like Hysteria Ward.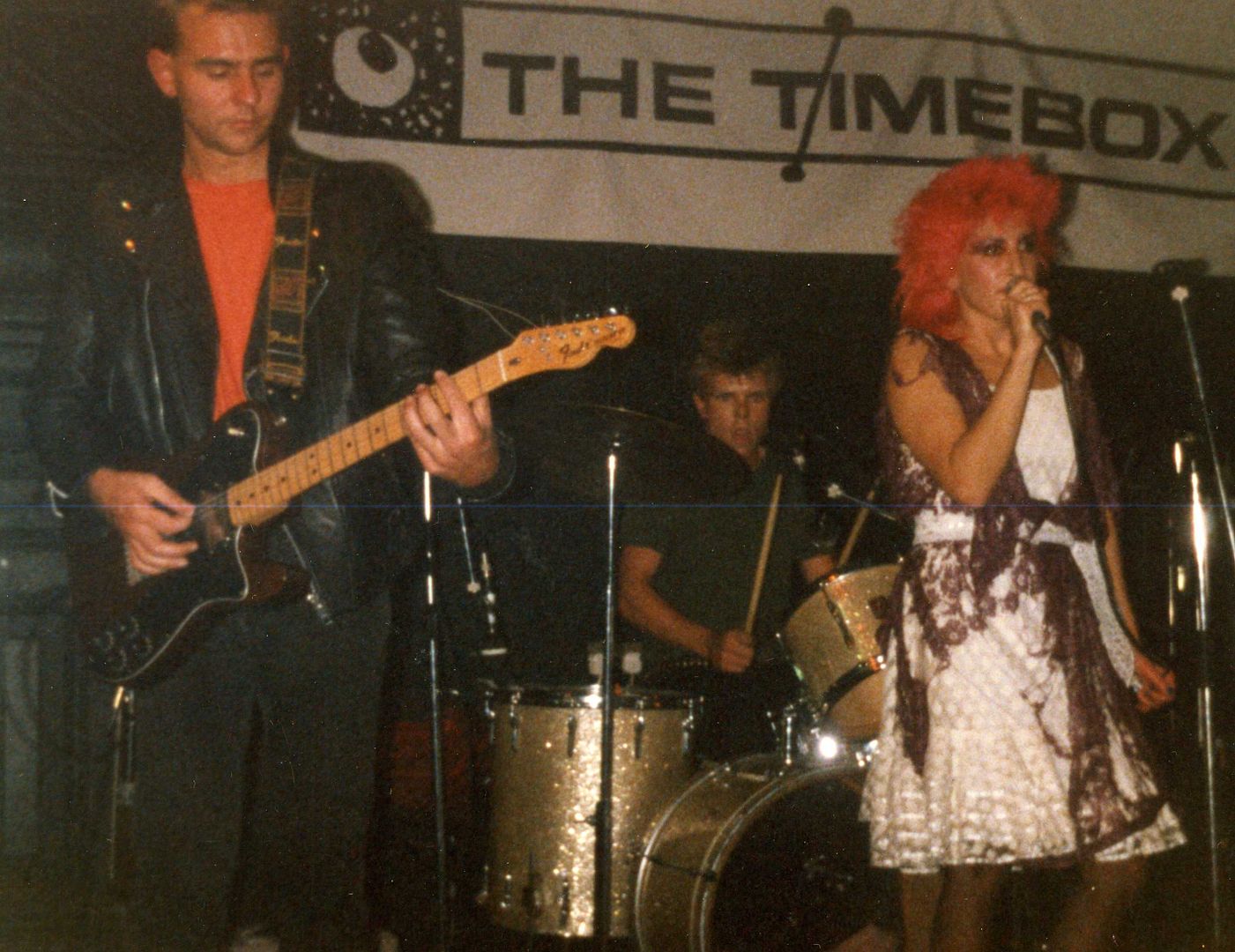 Timebox night at the Bull And Gate Kentish Town 1986 – photo – Lou's collection
The last gig Hysteria Ward performed was at the Bull And Gate in Kentish Town in 1987. The band told Lou that they were fed up and wanted to move on to other things. Boggie and Lou, the two original members of the band left after that night's gig, remained friends and still see each other to this day. As does Squid another original member of Hysteria Ward who left a year before.
Rob and Lou moved out of Lithos Road and into a house in Willesden sometime in 1988.
Rob stopped the All The Madmen record label and started off Firefly records (Vision Of Change) and started to work closely with Michelle Shocked. Rob also started to put on US/ UK hardcore shows at the Sir George Robey in Finsbury Park alongside Rob Tennant of the Vinyl Solution record shop. Sean went on to continue his 69 tapes empire and eventually got his 'dream' job at Rough Trade Ladbroke Grove. I went onto begin King Penguin Distribution and eventually got my 'dream' job at Southern Studios / Southern Record Distribution early in 1989.
Lou who had already performed several 'acoustic' solo gigs, memorably one at Meanwhile Gardens in 1987 continued to perform solo. Rob Challice organised an Italian tour for her in the 1990's. With the rise of the Mad Pride culture celebrating individuals that society feels are 'unwell'. Hysteria Ward reformed for the odd gig or two. Old Wapping autonomy Centre regular, Apostles and Rudimentary Peni supporter Robert Dellar, who used to produce the 'Straight Up' fanzine from Watford and then Brighton, was heavily involved in getting his old friend Lou back on the stage during this time in the 1990's. Robert Dellar was also the chap who was involved in Spare Change book publishing, Nick Blinko's 'The Primal Screamer' is on Spare Change books as is 'Mad Pride' – the book an essay in 'Mad Pride' is written by Louise herself.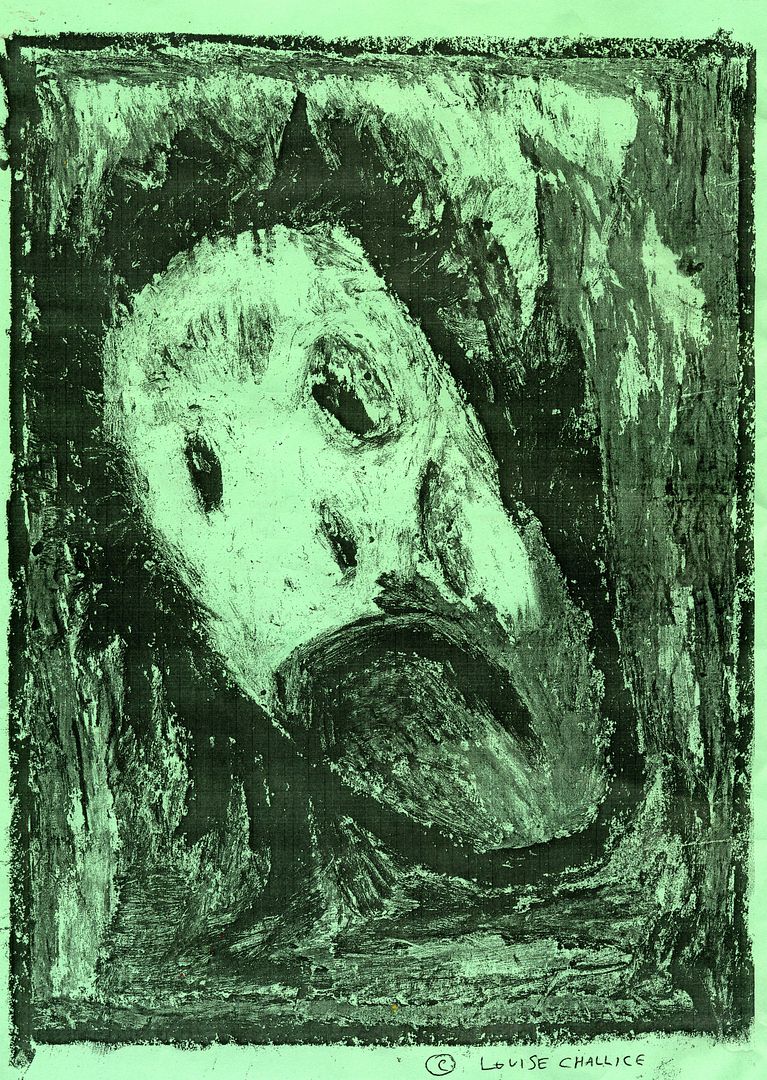 Artwork by Lou – Lou's collection
These days Lou lives quietly with her grown up daughter Rebecca in Barnet. Rob Challice, Rebecca's father also lives locally to Louise in Barnet.
Thanks to Lou for lending me these personal cassettes and photographs to accompany this post and also for discussing all the memories one Saturday afternoon.
Please forgive Lou if some dates or some facts are blurred. It all happened a long time ago and Lou still has to take similar drugs to the ones given out to her when she was a patient at the Wisperia ward in 1982. Thirty years ago. So some of her memories are blurred and collide somewhat.