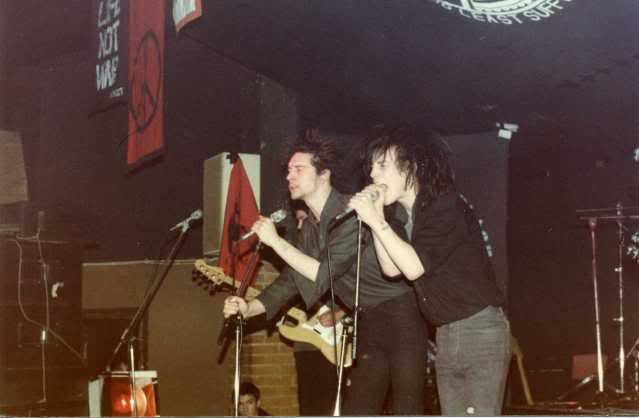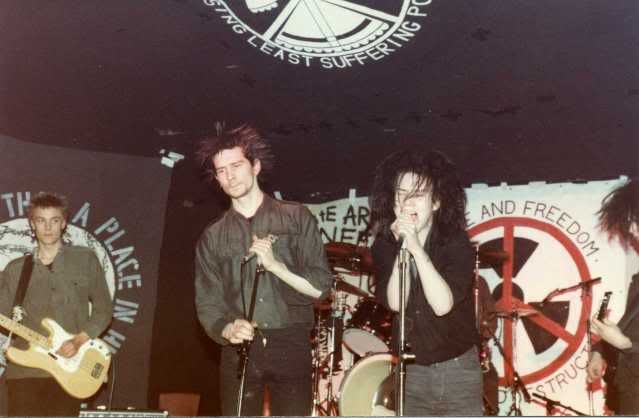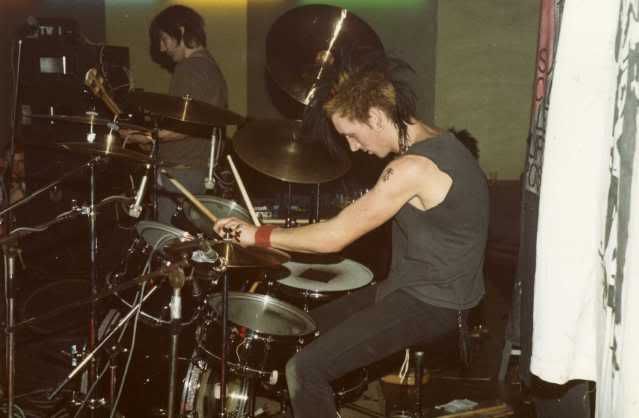 Thanks to Martin Flux (bashing the skins above) for the lend of this tape, the photos and for being a massively good egg.
The mighty Antisect and Flux Of Pink Indians recorded in crystal clear mixing desk quality creating a right old racket up in Nottingham at the back end of 1982. If anyone (namely Nic) knows what date in November this gig may have taken place then please leave a comment. That information will finish off the post off nicely.
Interview with Antisect below conducted by Smith3000 ripped from his blog which can be viewed right HERE
A BRIEF history of Antisect: They formed in the winter of 1980/81 and have done about 200 gigs all over the country. They are a collective of five people, comprising of two singers, a guitarist, a bassist and a drummer but were reluctant to name any individual members saying it is "unnecessary".
Based in Northampton they formed because of "boredom" and a desire to "express what we feel on important issues". I interviewed them before their gig with Amebix and Disorder at the Bierkeller in Leeds in December 1983.
What sort of lifestyle do you lead?
"At the moment, some of us live communally, some don't".
You've been described as 'Crass ideas with Discharge music'. What do you think to this?
"That's absolute rubbish. We just describe ourselves as human beings. We are not really influenced by anyone apart from humanity in general. We play the music we enjoy playing, to an extent".
Is there any chance of your message getting across to anyone but punks – many of who probably think that way anyway?
"Not a lot of them do think that way anyway. We don't have to compromise for those who won't listen. We just play what we like – though what we say is more important".
For a movement that is supposed to be an anti-movement and anti-fashion, what do you think of the way that Crass have become leaders of a certain kind of punk, with all their followers dressing in all-black with loads of studded leather etc?
"It's up to people to wear what they like. We don't recognise the punk movement as it is simply just another division".
What's the point of singing about anarchy when there are literally millions of people, including many punks, who are quite content to live in and conform to the system?
"We don't sing about anarchy. It's hard to say what we believe in. We're not particularly against 'the system'. The system is a product of people and not the other way around. It's up to them. We're only saying what we feel. It's up to them to make their own choice".
Is it a waste of time to make people aware of things if they then go home and listen to the Addicts, Peter & The Test Tube Babies, Chelsea and other escapist pop punk music?
"It's up to them what they listen to. These are just our views. The most important thing is the ability to change ourselves. We'd like people to understand and accept us. We don't lay rules down".
Would you like to get across to a wider audience and if so, how?
"We'd play to anybody who bothers to listen. We'd play with anyone who offered, not just punk bands. We would play with bands with higher prices but we wouldn't advertise that we were playing so that people wouldn't pay that price specifically to see us".
What do you think to CND?
"They're okay but they don't go far enough. They talk about the immorality of nuclear weapons but as far as we're concerned, all weapons are immoral. It's bad that Cruise has arrived despite 71 per cent of the people being against it but they ask for it by advocating this political system. It's not true that the only way to get change is to use the political system".
Do we live in a democracy?
"In as much as people accept it, but we personally think it's a farce".
What are your future plans?
"An LP out in January on Spiderleg. Our agreement with Spiderleg is one between friends rather than a contract. We don't have to compromise and have 100 per cent say of what goes in. And at the same time, keep the prices down .."