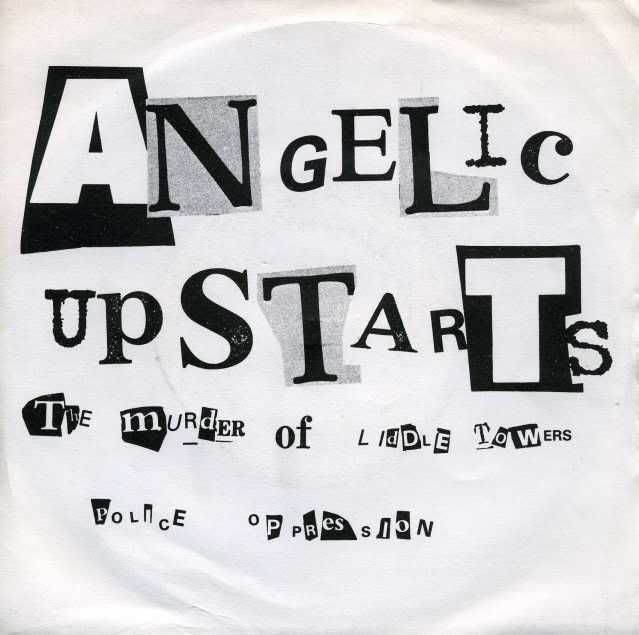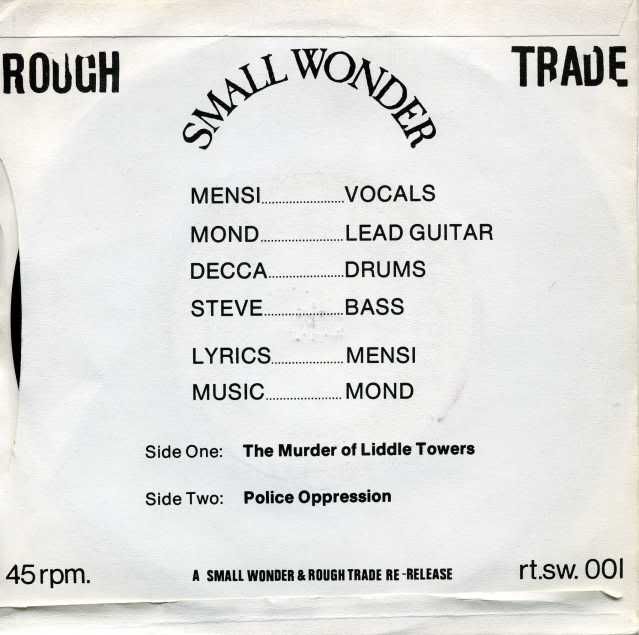 Debut 7″ single by Angelic Upstarts re-released by London based Small Wonder and Rough Trade Records (working in partnership) a few months after the original North East based Dead Records release had sold out and several months before the band were riding high in the Top 40 with the second 7″ single 'I'm An Upstart' .
This track was mentioned in the comments of another post recently so for the folk that mentioned this classic track, here you are…
Text courtesy of Tony Puppy's fellow muso journo at 'Sounds' weekly music paper, Gary Bushell.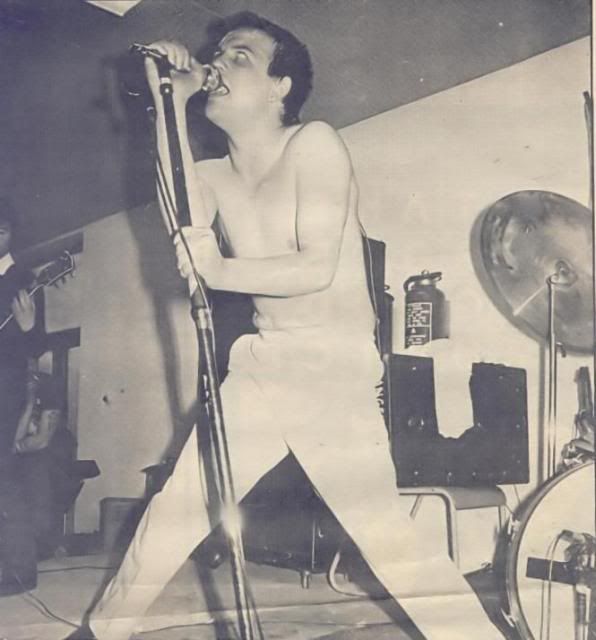 Singer Tommy 'Mensi' Mensforth and guitarist Ray Cowie, known as Mond, formed the Upstarts in the summer of '77 after getting blown away by the Clash's White Riot tour. Childhood mates, they had grown up together on the Brockley Whinns council estate in South Shields and later attended Stanhope Road Secondary Modern school (Mensi got expelled from the local grammar school at thirteen for delinquency.)
Mensi worked as an apprentice miner after leaving school. Forming the band at 19 was his escape route from the pits. Mond worked as a shipyard electrician right up until their first hit. The Upstarts' original drummer and bassist quit after violent crowd reactions to their first gig in nearby Jarrow, to be replaced by bakery worker Stix and bricklayer Steve Forsten respectively. The band were also soon to recruit the services of Keith Bell, a self-confessed former gangster and one-time North Eastern Countries light-middleweight boxing champ, who as manager, bouncer and bodyguard was able to maintain order at early gigs on the basis of his reputation alone.
The Upstarts soon attracted the attention of the Northumbria Police Force, who haunted the band's early career like a malignant poltergeist. Police interest stemmed from the Upstarts' championing of the cause of Birtley amateur boxer Liddle Towers who died from injuries received after a night in the police cells. The inquest called it 'justifiable homicide'. The Upstarts called it murder, and 'The Murder of Liddle Towers' (b/w 'Police Oppression') was their debut single on their own Dead Records. Later re-pressed by Rough Trade, the song's brutal passion was well received even by music press pseuds, although not by the Old Bill who infiltrated gigs in plain clothes. Charges of incitement to violence were considered. Only the Upstarts' mounting press coverage dissuaded them. For their part the band were uncompromising. They appeared on the front cover of the Socialist Workers Party's youth magazine Rebel soon after and accused their area police of being largely National Front sympathisers.
Official police action might have been dropped but unofficial harassment continued unabated. Mensi claimed he was constantly followed and frequently stopped, searched and abused by individual officers. The band blamed unofficial police pressure for getting them banned from virtually every gig in the North East of England – via the promise of raids, prosecution for petty rule breaking, opposing licence renewals and so on. The Upstarts got the last laugh though when in April '79 they conned a Prison Chaplain into inviting them to play a gig at Northumbria's Acklington Prison (where ironically Keith Bell had finished his last sentence). 150 cons turned up to see a union jack embellished with the words 'Upstarts Army', a clenched fist, the motto 'Smash Law And Order' and a pig in a helmet entitled 'PC Fuck Pig'. The band hadn't managed to smuggle in a 'real' pig's head (they usually smashed one up on stage) but the cons revelled merrily in the wham-bam wallop of rebel anthems like 'Police Oppression', 'We Are The People' (about police corruption), and a specially amended version of 'Borstal Breakout' retitled 'Acklington Breakout'.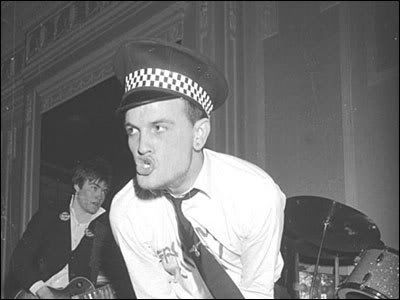 The Daily Mirror splashed with 'Punks Rock A Jailhouse' (wrongly identifying me as the band's spokesman.) The Prison Governor and local Tories did their nuts, with Tynemouth MP, the appropriately named Neville Trotter, condemning the gig as 'an incredibly stupid thing to allow'. Only Socialist Worker printed a true record of the gig, quoting Mensi telling prisoners they'd be better off in nick if Thatcher got elected that summer, and urging punks to vote Labour as 'Thatcher's government will destroy the trade union movement'. (In reality Mensi's brand sub-Scargill patriotic socialism was far removed from the SWP's revised Trotsky-lite posturing).
The band's salty populism and savage post-Sham punk attracted a massive following of working class kids in the North East, the self-styled Upstarts Army, while the power of their debut single convinced Jimmy Pursey to form his JP label with Polydor. The Upstarts were the label's first signing and also their first sacking after a jumped-up Polydor security guard tried to push the band about. He took on Mensi in a one against one fight and went down like the Belgrano. Polydor dropped the band. They never bothered to ask for Mensi's side of the story. Soon after the Upstarts signed with Warner Brothers. Their second single, the Pursey produced 'I'm An Upstart', was released in April '79, charted, and was chased hard by the 'Teenage Warning' single and album