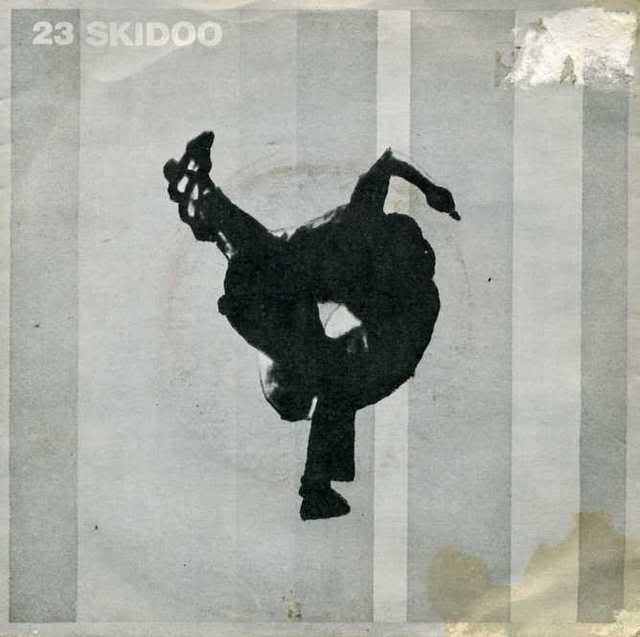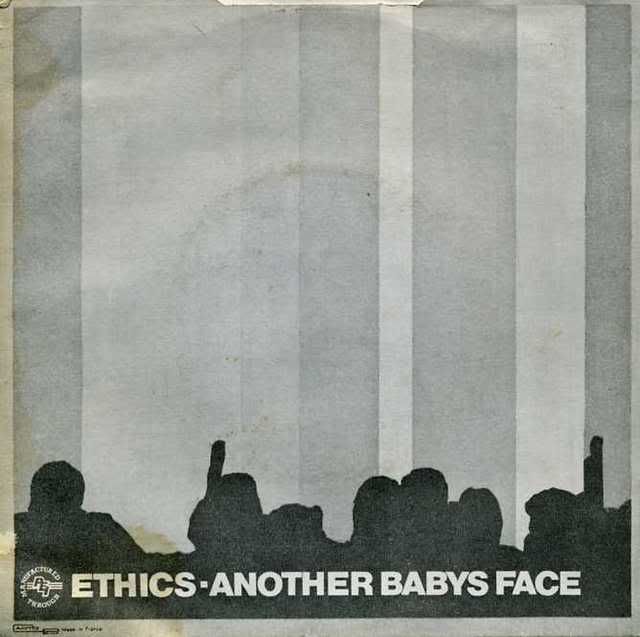 Debut 'pop' single from 23 Skidoo, a band who would soon be working closely along side Cabaret Voltaire, and become friendly with Genesis P and Throbbing Gristle. From this debut 7″ single onwards and through the connections of the aformentioned, the band started to work on a more industrial sound, a percussion based freeform music complete with Tibetan thighbone horns and bells. Psychic TV, with the addition of Dave Tibet, had been looking into the same area of 'field music' around the same time for the 'Themes' series of records ('Themes 1' came free with PTV's first LP in 1981, 'Themes 2' came out a little later on around 1984).
Eventually, much, much later, 23 Skidoo enlisted Sketch, the bassist of early eighties chart toppers Lynx, who added a much harder funk bass into the Skidoo sound. Tracks like 'Coup / Fuck You G.I.' and the LP 'Urban Gamelan' featured Sketch, and believe me, this music was certainly not Lynx!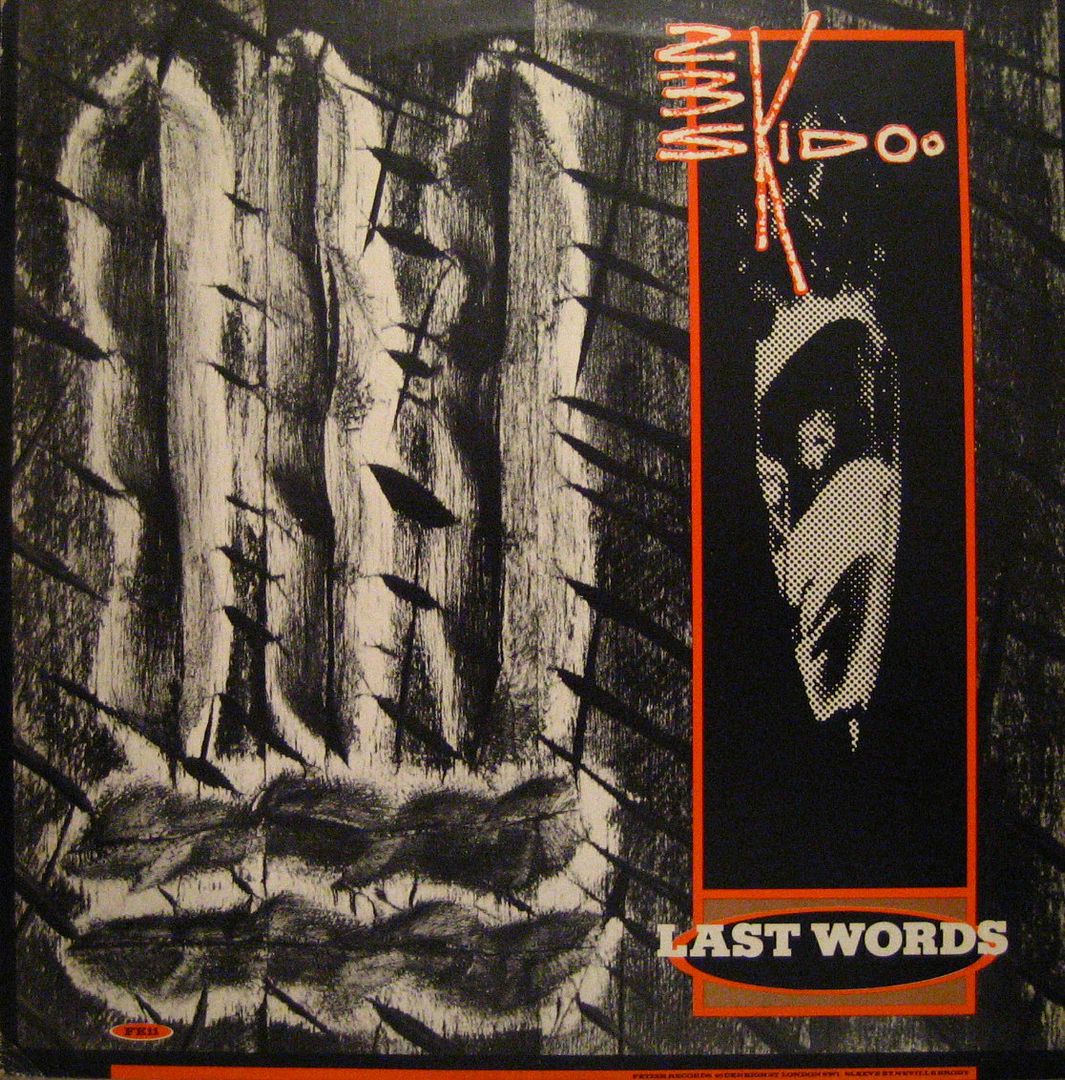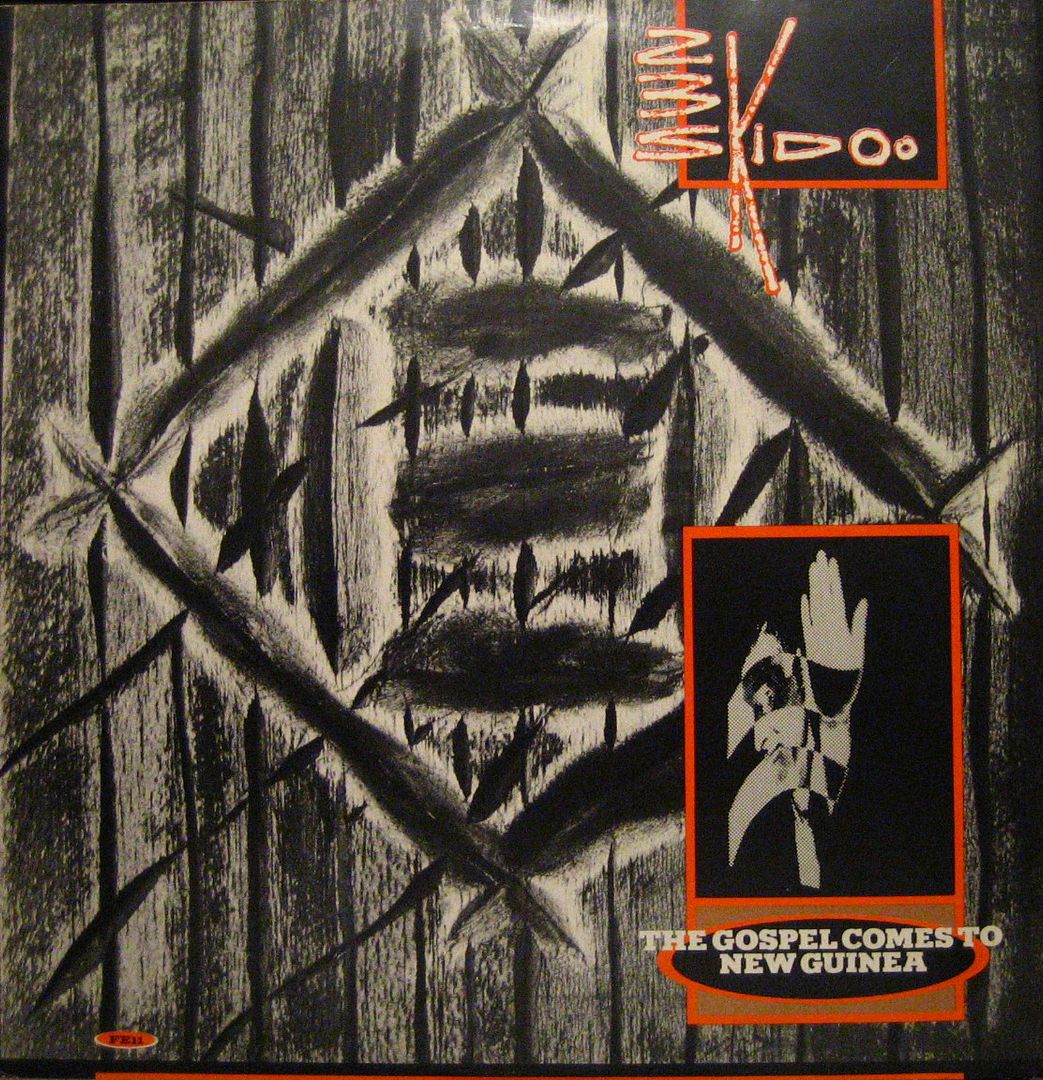 The Gospel Comes To New Guinea
Two completly different sounding tracks from 23 Skidoo for the second single release, this time on 12″. Firstly the funkier 'Last Words' track, a track which is certainly a danceable affair bordering on the commercial. The second side was a much darker, brooding instrumental  which was a direction that would lead to the sound of the third single release below, and eventually to the Womad performance in the summer of 1982, captured by Protag via the mixing desk for the marvelous LP 'The Culling Is Coming' released on Operation Twilight Records.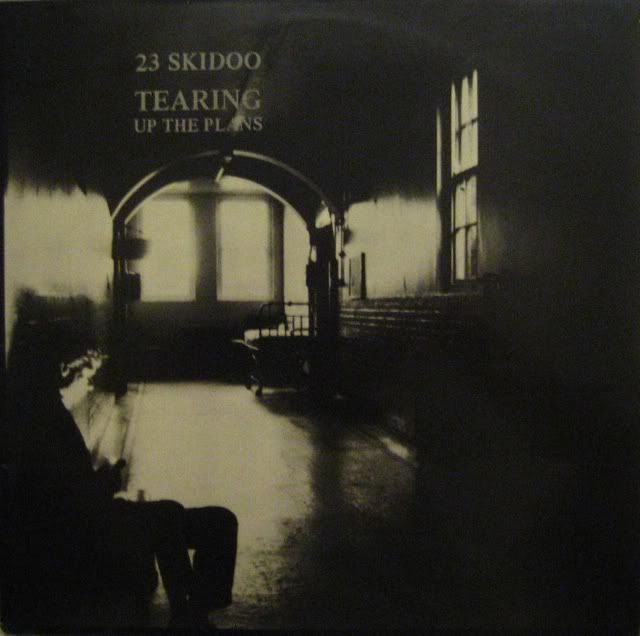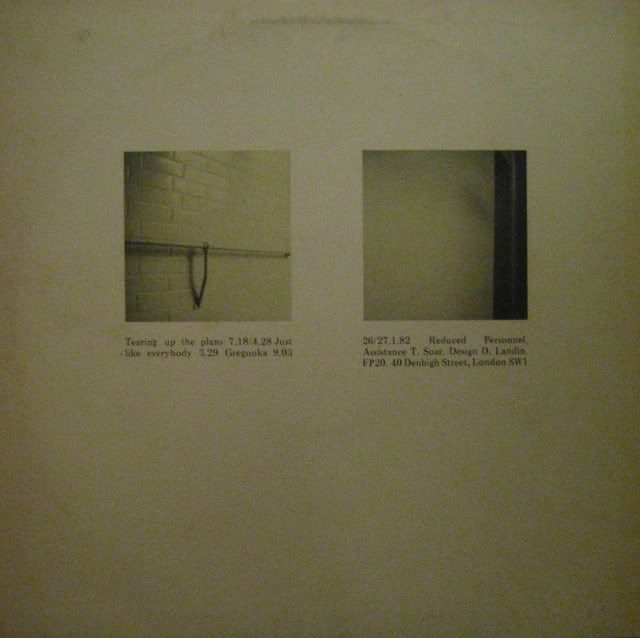 Just Like Everybody / Gregouka
The third single, again a 12″, this time a completely instrumental release from 23 Skidoo, concentrating on percussion and exotic horn sounds, the Tibetan thigh bone horn makes a welcome return. Very soothing in parts, twenty five minutes or so of interesting music.
I really must listen to 23 Skidoo far more often than I do…All the material that was released by 23 Skidoo in the band's lifetime was excellent.
Text below ripped from ltmrecordings.com and the wonderful photographs of the band members courtesy of Jude Calvert Toulmin archive.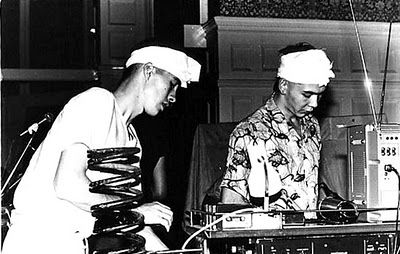 The origins of 23 Skidoo lie in a punk-inspired schoolboy trio formed in North London in 1979. Their chosen name, 23 Skidoo, was borrowed from the experimental Illuminati trilogy by Robert Anton Wilson and Robert Shea, although the American slang phrase is much older and also features in the work of William S. Burroughs and Aleister Crowley, translating loosely as move it, or get out while the going is good. This same philosophy – cut, run and confound – would become a guiding principle for this extraordinary and highly influential group.
By 1980, 23 Skidoo were a quartet, comprising Fritz Catlin on drums, Sam Mills on guitar, Johnny Turnbull on guitar and Patrick Griffiths on bass. After local gigs in North London, including several art colleges and the Scala Cinema, the group recorded their first single in October 1980, coupling Ethics with Another Baby's Face. The session was financed and produced by Mark Bedford of Madness, who Skidoo had supported at the Dublin Castle in Camden, and released on 7″ by Pineapple Records, a small indie set up by Nigel Wilkinson and Dave Henderson. As well as being the band's driver-cum-manager, Wilkinson was one of the owners of the Honky Tonk record shop in Kentish Town where Fritz worked, and Skidoo rehearsed.
Ethics was recorded as a four-piece by Sam, Fritz, Johnny and Patrick, although the group shortly afterwards expanded into a sextet, joined by Alex Turnbull (percussion, drums and bass) and Tom Heslop on vocals, electronics and saxophone. This meant that by the time the single appeared in February 1981, the scratchy punk-funk on offer was already unrepresentative, as Chris Bohn noted in the NME: 'Does scant justice to the more confidently aggressive edgy funk that 23 Skidoo make now… But Another Baby's Face is a better hint of what they're doing today: an angry stomp/hot dance beat wittily curdled by a slyly cool voice.'
Indeed the expanded Skidoo were coming on in leaps and bounds, their influences ranging from The Pop Group, Parliament and Fela Kuti to Can, Eno and This Heat. Having impressed Colin Faver of London promoters Final Solution, the precocious sextet played several high-profile shows, including the University of London Union with The Associates, The Sound and Repetition on 30 January 1981, and North London Polytechnic with A Certain Ratio and Bush Tetras on 27 March. By now live performances were enhanced by visuals provided by Richard Heslop, a film student at St Martins. Reviewing the landmark North London Poly show for NME, Paul Tickell wrote: 'Slideshows are usually more a distraction than a reinforcement of what a band is all about, This isn't the case with 23 Skidoo, who have images projected behind them in choosy, clear series of three. The flow flickers in a primitivist direction, but it's far from the dubious bleached ethnicity which the Pop Group or the Slits might inject into a slideshow if they had one… The 'jungle' roots to the music are similarly mediated rather than immediate. The wall of sound is delicate and calculated; the drama in Tom Heslop's voice is kept low-key, just as drums, percussion, guitars, bass and tapes never let excitement become mere exoticism. Of course, there's always the danger that this kind of balancing act might end up as the cerebral funkster's version of psychedelia ("acid test" was a recurring phrase during one number!). Maybe the band even want to be a new, boho, self-congratulatory s(l)ideshow… And, bugger me, if this isn't where A Certain Ratio already are.'
As well as enthusiastic reviews, the North London Poly show also earned them their first major feature, written by Paul Morley and published in NME in April. The developing buzz around the group saw their live shows constantly reviewed, although even at this early stage, Skidoo were wary of fleeting hip credibility. 'We've been dumped in with the funk thing,' Fritz told Pacemaker fanzine. 'We really like funk music, but there's a lot of other things there. We've radically changed since the old single, though I don't think it's bad for what it is. Maybe it will all fall through in three months. You know, we'll have the 23 Skidoo backlash. I don't think, with the music we're playing, we're ever going to get really big audiences anyway.'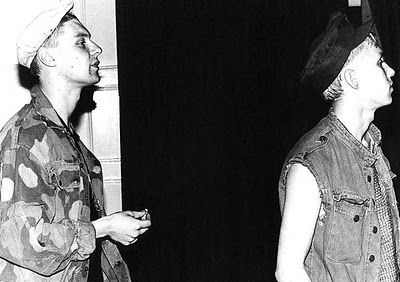 At this stage Patrick Griffiths left to move to Paris, and increasingly the group abandoned fixed instrumental roles. Strangely, several early interviews seemed to overlook the Turnbull brothers. This was unusual, not least because Johnny and Alex were of Singapore-Chinese descent, and their ethnicity was one of several factors which underlined Skidoo's essential otherness. Indeed the brothers came from a creative background (their father William Turnbull and mother Kim Lim were both highly regarded visual artists), and in the 1970s both were teenage skateboard stars, winning the UK championship competitions in 1976. However, none of these background details were aired in the press, or in Skidoo publicity.
The North London Poly gig in March impressed Rod Pearce of Fetish Records sufficiently to offer to record the group. By happy coincidence, Tom Heslop had also shared a squat with Fetish design director Neville Brody. Established in 1980 and run from Pearce's flat at Denbigh Street, Fetish had commenced operations with a series of New York funk and no wave releases by Snatch, Bush Tetras, 8 Eyed Spy and The Bongos, before recording a raft of leading British 'industrial' experimentalists, including Clock DVA, Throbbing Gristle and Stephen Mallinder of Cabaret Voltaire.
For their debut Fetish single, Skidoo recorded one of their most funky and commercial songs, Last Words, the lyric of which referenced Burroughs. Tom Heslop admitted: 'Certainly I read a lot of William Burroughs, and we've played with the cut-up thing. Oh yeah, it works. It always comes out with some meaning, even if it's a bit strange.' No less impressive was the flipside, The Gospel Comes To New Guinea, the dark, brooding ten minute instrumental which opened live sets, with Fritz on bass, Alex on drums, Sam on guitar and Johnny on percussion. The track also featured a cassette loop of the band chanting a Chinese phrase and Johnny playing clarinet. Both tracks were recorded in July at Western Works, the Sheffield studio owned by Cabaret Voltaire, and produced by the band together with Stephen Mallinder and Ken Thomas, the latter a Fetish regular who would go on to produce the Sugarcubes and Sigur Ros.
Mallinder recalls: 'Cabaret Voltaire played quite a few shows with Skidoo and I'd personally gotten to know them well through Neville Brody and the TG collective prior to my going into the studio with them and Ken Thomas. They were capturing that moment better than any other band, a real collision of modern and tribal that somehow worked more effectively in the pre-digital period, more organic, everything cutting and folding, made for the 12 inch format. Everyone was breaking the anchors of analogue, using instruments and studio equipment pretty loosely, but they were very focused on what elements worked and what they wanted. It was a full contingent with pretty fluid roles for everyone. Ken was perfect for getting that across with structure but without diluting that live dynamic. I just remember they were always long sessions over a few days, much fun with brief breaks for a bit of sleep and breakfasts back at my old gothic house that seemed as anarchically organised as the studio sessions.'
Fetish perhaps imagined they had signed a more edgy version of Funkapolitan, Stimulin or even Haircut 100, but in fact Skidoo shared more in common with the avant-garde wing of the Fetish roster. Throbbing Gristle provided rehearsal space at 10 Martello Street in Hackney, and Genesis P-Orridge and Peter Christopherson would replace Mallinder as co-producers. TG soundman Daniel Landin (aka Stan Bingo) was also involved with the live mix at shows and travelled with the band extensively. Live, the band avoided regular rock clubs such as the Rock Garden, Marquee, 101 and Moonlight Club, preferring alternative venues including the London Filmmakers' Co-op, Cabaret Futura and the Action Space in Kentish Town. Johnny Turnbull: 'We were careful to avoid the 'white funk' thing, but then we'd play a gig half funk and half completely unconventional. People would come and look at the person in front of them, because no-one was really sure why they were there.'
In September 1981 the fast-rising group appeared at the Futurama 3 festival in Stafford, supported Cabaret Voltaire at North London Poly on the 25th, and played two nights with Defunkt at The Venue the following month. The middle of the month saw Skidoo record an impressive session for John Peel, comprising Retain Control, Macaw Gungah, View From Here and Four Note Bass, with only the last subsequently appearing on record (as Porno Base). September also saw the release of Last Words, the extended 12″ also joined by a promotional 7″ edit, featuring a dub version on the flip. Most seized on the tight-but-loose funk of Last Words, although reviewing the single as a whole in the NME, Paul Morley wrote presciently: '17 minutes of dense rhythms and insolent effect – interested partners looking to fit 23 Skidoo in with the more theatrical images of funk will not have much of a poetically pleasant time.'
Johnny Turnbull told Blast magazine: 'We tend now to think of The Gospel as our first single, because Alex and Tom weren't even in the group before that. It was the first record that meant anything to us, and gave us the impetus to explore non-musical mediums, like using films. Everything was a process of experience, and although we didn't know what we wanted to do, we did know what we didn't want, which was to play conventional songs.'
At the end of November Skidoo entered Jacob's Studio in Farnham to record a new EP. The result was the seminal Seven Songs, which expanded to become a mini album with the addition of several spontaneous, experimental tracks. The cryptic production credit for 'Tony, Terry and David' disguised the identities of Genesis P-Orridge, Peter Christopherson and Ken Thomas, the humorous pseudonym being adopted to play down associations with TG. The eight tracks were recorded over three days, and like Skidoo live shows were half funk (IY, Vegas El Bandito and Kundalini) and half experimental, featuring thumb piano and pygmy pipe on Martin Denny pastiche Quiet Pillage, a lock groove, and within Porno Base the refined voice of Diana Mitford, decrying the pernicious influence of pop music. Seven Songs still sounds contemporary today, combining grooves, industrial ambiance, metallic noise, fluid percussion, and anticipating world music and sample culture. Every bit as trailblazing as the scholarly My Life In The Bush Of Ghosts, it was also a lot more fun.
Tom told Melody Maker: 'We don't listen to much music from this country apart from Cabaret Voltaire and Throbbing Gristle. So far, most ethnic music in the Third World has been ignored because of Western tradition. We've immersed ourselves in a lot of black music, especially African, but you can only use tradition as a starting point to move on to something more adventurous.'
Johnny Turnbull later told Blast magazine: 'At the time we were trying to get into Eastern and African rhythms and the album seemed a good blend of what was happening at that time. We tend to all work on things separately and then fuse them together. Our approach tends to change frequently, but we have a concrete agreement that we don't want to be conventional musicians. To me, each time you make a record you make a statement, and it angers me that people can make that same statement over and over again. I think that's why we try to make every record different.'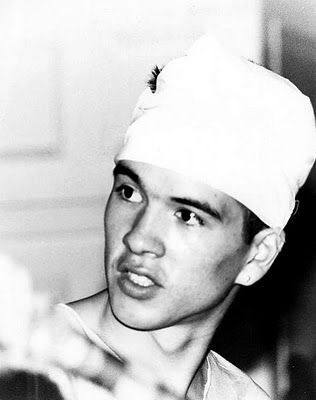 Alex added: 'Actually it surprised us that it was taken up by so many people. When we recorded Last Words we thought that it might become popular, but with Seven Songs it was much more a case of us thinking, "Well, fuck everybody, we'll do what we want to do". It just so happened that there were two or three pieces on the album that were relatively catchy.'
Immediately after the recording, Alex and Johnny left to travel in the Far East for three months. Still as 23 Skidoo, the remaining three members performed at the Institute of Contemporary Arts (ICA) on 3 January 1982 along with Dislocation Dance and former Pop Group man Mark Springer, extracts from which were broadcast on Capital Radio. On 26 and 27 January the same 'reduced personnel' trio of Fritz, Sam and Tom also recorded an aleatory EP with P-Orridge, Christopherson and Thomas again producing. With guitar and bass entirely absent, it was even more experimental than Seven Songs, joujouka and Gregorian chant were combined on Gregouka, while Just Like Everybody, a collaboration with Tim Soar, featured a cut-up tape of CIA operative Frank Turpel. The 12″ was eventually released as Tearing Up The Plans in June.
Seven Songs was released at the beginning of February 1982. Retailing at a buyer-friendly £2.99, it debuted at #20 on the NME independent charts at the end of the month, rising to #14 the following week, and #2 by mid-March. It was held off the top spot only by Pigbag's Dr Heckle & Mr Jive, but peaked just above Sextet, the second album by A Certain Ratio. Reviews were ecstatic, Paul Morley describing it as 'one of the most exciting records I've heard since Unknown Pleasures… A variably energetic and stimulating addition to that collection of perceptions, hallucinations and associations brought into play by Joy Division, Cabaret Voltaire, Throbbing Gristle and A Certain Ratio. It tears away deceptive dramatic or sentimental gloss and mixes a neutral type of documentary candour with thrilling regenerative abstraction. It's candid, obstinate, intimate, incomplete, uncommon… rather solitary. Very appropriate. Intoxicating.'
This unexpected success meant that the Turnbull brothers were hurriedly recalled from Singapore, and dates by the full band hastily arranged. These included shows in Eindhoven (Holland) and Berlin early in March, where the group attracted unwanted police attention by applying graffiti to the Wall. Back in the UK, the group played dates in Scotland with the Virgin Prunes. Profiling the band for Melody Maker from Edinburgh, Adam Sweeting wrote that 'Primed by a day of Fela Kuti and William Burroughs, Skidoo played a menacing set to an appreciative audience. Their slide show shoulders all the subversion, flicking super speed images of the band's recent bombed-out arrest for graffiti-ing the Berlin wall. But beneath all this anti-theory, Skidoo thrive on making a great bloody row.'
By April a VHS video version of Seven Songs was available from Fetish, priced at £15 and packaged in a plastic bag which also included a boiled sweet, elastoplast and a coloured condom. The clips were shot and edited by Richard Heslop, who also provided Skidoo's live visuals, generated by three slide projectors and one 8mm film. 'The films are really important,' Alex explained to NME. 'For a start, there's not very much light when we play, which we like 'cos we're not very extrovert performers, we don't tend to bounce around onstage. At one point we were using four carousels and two 8mm, which was crazy. Sometimes we try to get the images projected round the back and sides, and sometimes we hang bits of material from the ceiling to catch part of the light. The relationship of the slides to the music is now evolving at the same pace as the music itself. Richard interprets what we're playing, but we're trying to make the two things even more closely related, because, unless it's worked out beforehand, it's not always possible to et the slides where you want them.'
'It works in a couple of ways,' revealed Richard Heslop. 'One is the movement of the films in rhythm with the music, and the other is the specific content of each piece of film. Like Kundalini on the video is just about energy and sexual energy, to do with movement and colour. The films are basically composed of cut-ups of TV programmes and so on. I'm at St Martin's film school anyway, so I can use their facilities. The 8mm films I've been shooting are just looking at rituals of society… There's obviously a lot of chance involved, which is good, 'cos one slide can give a song a totally different shade of meaning.'
Skidoo headlined at London University Union on 14 May, and at the newly-opened Hacienda club in Manchester on the 29th. In an NME interview with Barney Hoskyns, Alex confessed that the success of Seven Songs had taken the band by surprise. 'Definitely. When Fetish wired Johnny and me to come back from Singapore 'coz the album had gone in at number one, we thought Rod was winding us up. I think it's because a lot of people thought we were like ABC or Stimulin, or a funky dance band like Pigbag, and then bought the record to find that wasn't really so… From the reaction we had to The Gospel Comes To New Guinea, people tended to just review Last Words and not mention the rest of it. I think lots of people do come to our gigs who only want to hear the 'funky' ones… To be quite honest, I don't think we've ever really been a dance band'
While dismissing New Pop as 'just so much bullshit', and spurning overtures from labels such as Island and EMI, the Turnbull brothers did not discount making a pop record. 'It would have to be a one-off,' explained Alex. 'It would be hard to come up with something commercially feasible. And I think there's a danger in making a real lot of money. There are so many bands who mind what people say about them because they're so anxious to get famous and make money. So many bands find a formula and then don't let go of it in case they lose their audience. We're fortunate in that we don't all have to live off the band, so we don't have to think of it as a commercial proposition.'
Reviewing the show at Sheffield Victoria Hotel on 11 June for Melody Maker, Frank Worrell observed with complete accuracy: '23 Skidoo have come a remarkably long way in a remarkably short time. I'm not making a claim for them as potential messiahs (the mini album was too patchy for that), but clearly Skidoo are attempting and gradually working their way towards an alternative music… Skidoo provoke, invoke and soak their audiences with provocative ideas. Yes, Skidoo are worthy pioneers.'
Certainly the group brooked no compromise. On 16 June Skidoo headlined a prestige London show at The Venue, with support from Mark Springer and Palais Shaumberg. Shortly before going onstage, Sam Mills and Tom Heslop were dismissed from the band, though to their great credit both still performed that night, and again at a final booking in Leicester. For Fritz and the Turnbull brothers, it really was a case of Tearing up the Plans – ironically enough, the title of the new EP featuring the 'reduced personnel' of Fritz, Sam and Tom. Fetish, among others, were wholly perplexed. Challenging audiences and spurning major label deals was subversive enough, but sacking the guitarist and singer appeared perverse.
Sam Mills recalls: 'Tensions had been building since at least the European dates. I didn't take to the increasing rejection of structure so easily, and was becoming a bit of a Brian Jones figure. Being told that we were no longer required was a shock, but it was a relief too. I already had a place at LSE to read anthropology, so I went on to do that, and continued playing music with other people.'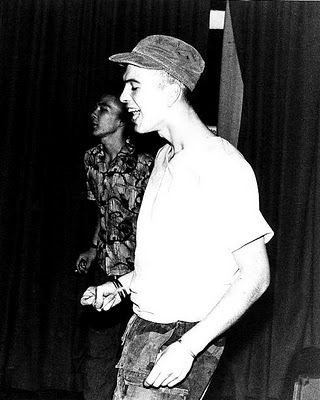 Tom was less disconcerted: 'Like Sam, I was having problems with the increasing free-industrial direction, and the rejection of the dance side. I kind of sleepwalked through the final live dates, and I wasn't really shocked when I was dismissed – although I was surprised that Sam was too.'
The departure of Sam and Tom was not reported in the press, and shortly afterwards the group were announced as a late addition to the WOMAD festival, held at Shepton Mallet in Somerset in July, organized by Peter Gabriel and others as a celebration of world music, arts and dance. As well as orthodox rock acts such as Echo & the Bunnymen and Simple Minds, the polycultural festival also offered a wealth of world music, including the Drummers of Burundi and the Balinese Gamelan Ensemble. For their set on 17 July, Skidoo elected to perform a ritual to 'banish' their previous incarnation as hip press darlings, and were even joined by David Tibet of Psychic TV on thigh bone trumpet.
Alex Turnbull: 'Skidoo elected not to use traditional instruments, but instead to improvise a performance with instruments made of scrap metal and tape loops – at this time, literally looped sections of tape. The ritual of banishing, invocation and healing mirrored the changes that had occurred within the group. Indeed this cycle of renewal is something very basic to the concept of 23 Skidoo. At 11 am on a sunny summer morning Skidoo – heads shaven, faces camouflaged – took to the stage. The bleary-eyed festival crowd, expecting a trendy funk band, were greeted by a wall of noise. Some fled, but those that remained witnessed Skidoo at their most confrontational.'
While expectations were shattered, Skidoo's radical mid-morning gesture was missed by the music weeklies, and thus passed unreported at the time. Ironically, Sam Mills was in the audience, and judged the performance very good: 'quite apocalyptic and visceral in a shamanic kind of way'. Just twelve months on from the recording of Last Words, 23 Skidoo had delivered their most unambiguous public rejection of mainstream commercial concerns. This irked Rod Pearce, and Fetish wound down soon after. In a sleevenote for farewell Fetish compilation The Last Testament, Jon Savage wrote: 'Fetish's greatest success was to occur at the point when mogul Rod Pearce was shutting up shop… Seven Songs became Number 1 in the indie charts. Phew! Luckily, insufficient interest combined with too much time spent promoting The Bongos meant that this incredible success was nipped in the bud.' The same compilation signed off with a knockabout version of the Hawaii Five-O theme, recorded by Skidoo at the Seven Songs session to wind up Pearce, and seemingly released by way of revenge. Tragically, years later Rod Pearce later murdered in Mexico in appalling circumstances.
As the matt textures of post-punk gave way to the gloss finish of new pop, groups such as Cabaret Voltaire, the revamped Clock DVA and even Psychic TV began to step cautiously towards the mainstream, streamlining their music and membership, and signing deals with major labels. In stark contrast, 23 Skidoo abandoned the commercial zone entirely, the core trio of Alex, Johnny and Fritz now embracing tape effects, cut-ups, and a form of gamelan performed on conventional percussion and scrap metal. Gamelan is a ceremonial style in which light yet insistent percussion forms a rhythmic base, to which chiming melodies by gongs and bells are added. Adding their own slant, Skidoo came up with the concept of 'urban' gamelan. 'Real Gamelan instruments are made from bronze and wood and elaborately carved,' explained Johnny, 'which makes them very expensive, so we've had to make our own. Hence the cylinders. It's very attractive as an idea, simply because it's an available source of music.'
The Fetish/Some Bizarre avant-garde allowed themselves a last hurrah at the Final Academy, a season of readings by William S. Burroughs in London and Manchester, organised by Genesis P-Orridge and others. These shows also featured performances by a variety of writers, artists and music groups, the latter including Cabaret Voltaire, Psychic TV, Z'ev, Last Few Days and 23 Skidoo. Skidoo performed as a trio at the Brixton Ritzy show on 29 September, describing themselves in the Final Academy catalogue as 'cultural assassins' who 'embrace this ceremony of the constant random factor'.
The following month Skidoo took part in a short package tour in Belgium billed as Move Back-Bite Harder, arranged by Les Disques du Crepuscule, which also included Cabaret Voltaire, Antena, Tuxedomoon, Isolation Ward and The Pale Fountains. Several of the shows were professionally recorded, and Skidoo's 27 minute loop-based performance at Tielt on 8 October was later issued as a bonus track on the CD version of  The Culling Is Coming released via  Boutique Records. The following night at Leuven Skidoo evidenced a more gamelan/Gregouka feel. Blaine L. Reininger of Tuxedomoon was among those fascinated: 'I was envious and impressed by three things. Unlike us with our many heavy boxes full of electronic gear, they only had to acquire some empty gas cylinders used in any bar for beer. These they would percuss in interesting ways, while also availing themselves of field recordings and concrete acoustic tape assemblies, which they all carried on portable recorders. Also they were from Singapore. Add to that the name suggestive of Burroughs and the Illuminati, and I was intrigued.'
Having seen the Balinese Gamelan Ensemble perform at WOMAD in July, Skidoo arranged a recording session using authentic gamelan instruments at Dartington College on 22 and 23 October. Alex Turnbull recalls of the session: 'It shows the other, meditative side of Skidoo… We travelled down to Devon for the weekend with a mobile eight-track studio, and spent the next three days and nights improvising and recording rhythms, which were later taken to Jacobs Studio to edit and mix with Ken Thomas.' The featured instruments included gamelan and kendang drums, gongs and bamboo flutes. Paired with a recording of the WOMAD performance, the Dartington sessions then became side two of the second (and secondary) 23 Skidoo album, The Culling Is Coming.
Culling was released on 4 February 1983, initially on Operation Twilight, the label run Patrick Moore (aka writer Philip Hoare) and allied to Crepuscule in Belgium. Crepuscule also released the album in Europe, albeit in a less extravagant pantone sleeve. Both sides lasted 23 minutes, and side one included a stylus-hostile lock groove midway. Listeners tended to react in much the same way as the original audience at WOMAD. NME reviewer Richard Cook blasted an album that 'traipses disconsolately across an arid terrain swept clear of form or relationship… They have missed the point of improvised music, of minds and instruments fusing and sparring to create a new world… Why bother with Skidoo?'
Writing in Sounds, Dave McCullough was scarcely more generous: 'I must say that after hearing it, I still can't dismiss the proposition that Skidoo are one of the few acts I would cross the road for. It's just that The Culling Is Coming is an awfully long, some would say impossible, road to cross. There's always been a thrill to Skidoo. They were like an elastic band you could stretch ridiculously far. With Culling, that elastic gets close to snapping.'
Steve Sutherland of Melody Maker was more positive, praising the 'brave simplicity' and calm of the Dartington material, but clearly less keen on the fearless WOMAD recording: 'Like an orgy in an abattoir… Further listening should decide if the record cuts, or is simply a con.' However, Sutherland at least understood where Skidoo were at creatively. 'Sometime last year, more by misleading coincidence than deliberate design, popular music and 23 Skidoo crossed paths. The superlative Seven Songs was rhythmically direct enough to be loosely dubbed funk, and un-asked-for responsibilities were heaped on this flexible lot to prove they were worthy pioneers. Skidoo didn't play the game, wouldn't join the race, but instead shed two of the members once accepted as their public image and simply did something else. And whatever you think of The Culling Is Coming, is certainly is something else.'
Skidoo refused subsequently to view the album as a mistake. 'Culling was very necessary at the time,' Fritz told Sounds two years later. 'Because it felt as if the music press was right behind us, ready to present the group as the new wonder boys. But we wanted to flush all that down the toilet, and make something very clear about our attitude.'
Public puzzlement aside, one unforeseen consequence was that The Culling Is Coming made it hard for Skidoo to find a new label, and difficult to persuade some shops to stock their next record. Alex later reflected: 'We haven't exactly been laying low, but due to the response to The Culling Is Coming people seem to have deemed us less worthy of notice. Culling was music as function. But when we really involved ourselves in the idea of music as function, for myself anyway, it got a bit obscured from the fact that one of music's most basic messages is to actually dance.'
For the remainder of 1983, Skidoo activity was restricted to occasional gigs at home and abroad. During 1981 Catlin had begun performing with Last Few Days, a deliberately esoteric collective centred around Daniel Landin, Kier Fraser and Si Joyce. LFD avoided making records, and instead performed infrequent concerts featuring megaphones, tape loops and hard sonic barrages. Another early LFD contributor was none other than Sam Mills. In April 1983 LFD and 23 Skidoo were invited by Laibach to play at Zagreb's prestigious new music Biennale. Skidoo also performed with at the Tone und Gegentone festival in Vienna in May. LFD returned to Europe for a lengthy tour with Laibach at the end of the year, recordings from which were later edited into the album Pure Spit & Saliva. On this tour Catlin also performed with Laibach, and played drums on the recordings that formed their first single. Catlin also collaborated on the first Current 93 release, and in 1986 performed again with Laibach behind choreographer Michael Clark for his show No Fire Escape in Hell, staged in London, Brighton and Los Angeles.
In mid 1983 Skidoo filmed an interview for BBC arts programme Riverside with Fetish cohort and i-D magazine publisher Perry Haines. The group insisted on recording and repeating the dialogue as it went along, with the result that the interview was not broadcast. However all was not lost, for at the studio the band met virtuoso bass player Peter 'Sketch' Martin, previously a member of Britfunk chart duo Linx. In Sounds Johnny explained: 'Sketch told us he'd been involved in commercial music and wanted to move out of that area, and we told him we hadn't been involved in commercial music but wanted to move towards it. Months later, we got him over for a rehearsal, and the first thing he did was ask if he could hire us as a rhythm section to record a single he had planned. So we went to work for him on his project and it ended up as Language.'
'There is a dichotomy,' confirmed Sketch, 'but that's what it's all about. If 23 Skidoo were like Linx I wouldn't be working with them. We're working together, but we give each other infinite leeway to try things out. But if you ask me what 23 Skidoo are about, I wouldn't have an answer.'
While Skidoo continued to explore a variety of musical and rhythmic forms, including hard reggae, funk and Burundi drumming, the concept of urban gamelan remained the backbone of (and title for) their album in progress. That said, the band were keen to distance themselves from metal-bashers such as Die Krupps, SPK and Test Department. Fritz explained: 'We stayed with Remko Scha in Eindhoven once, who had a huge metal structure in his room. We spent hours hitting it, and after a while a whole range of tonal relationships became apparent between the different shapes and types of metal. It's this we've been developing in our own music, using ideas borne of gamelan traditions.'
The move towards more commercial music outlined to Sketch bore fruit in February 1984 with the release of Coup, a tight dance version of a track that had been around for some time in various forms, including Coup In the Palace and GI Fuck You. This outstanding funk single featured a classic bassline from Sketch, and horns courtesy of Aswad. 'It's certainly more accessible,' Johnny told Sean O'Hagan of NME, 'but we've always allowed ourselves the space to do what we want, absorb what we need and move about in different directions. It was always part of the plan to confound the audience's expectations, and part of that requires that you question your own popularity. That's exactly what we did after Seven Songs… If we'd released Coup after Seven Songs then the story of 23 Skidoo would be very different. We have always put ourselves in a position where we don't make a lot of money.'
'Our application of our instruments has changed,' Alex added in Sounds, 'and that's what Coup is all about. It's quite funky – which I use in a very loose sense of the word, in terms of rhythm – but it hasn't been made as our 'commercial' single.'
In fact Coup had undoubted commercial potential, although the absence of a 7″ version meant no radio airplay, and no chart hit. Despite this, O'Hagan voiced the concern that its wider appeal might raise precisely the same problems of expectation as had Last Words. 'Then we were kind of lumbered with that new white funk scene,' said Alex. 'In many ways it's a pity we don't have that kind of audience now, because I'm sure we could take better advantage of it. You see, it gave us a lot of confidence. The fact that we could consciously reject that, and then come back, has meant that we no longer worry about appearing commercial. It's all in the attitude, really. Coup may be commercial on one level, but it isn't your average chart single.'
Fritz agreed. 'We can use a kind of camouflage to superficially fit in with the music-biz game whilst actually using it for our own advantage. The commercial arena is so small, and outside it lies a vast area, still relatively unexplored, of other music, other sounds… We like to work on the periphery, sometimes jumping into the small commercial area, then dodging back out again and hopefully pulling a few people out with us.'
In July Skidoo followed Coup with Language, the track co-created with Sketch Martin, and featuring co-producer Simon Boswell on glass piano. The a-side version had been recorded the previous year, but never quite completed, and it's the longer dub version on the flipside that works best. During this period 23 Skidoo did not play live, and instead the core trio practised chops of a different kind through extensive martial arts training. 'We could do a whole new interview about Bruce Lee,' revealed Johnny. 'He was the greatest, the last of the warriors. You should mention the importance of Jeet Kune Do – that's his fighting system and philosophy. It's the idea that you just use what works for you at any given time, which is what we are doing.'
The album Urban Gamelan was finally released by Illuminated in August 1984. Perversely, the singles were omitted, with Coup appearing in radically different form as GI Fuck You, and Language in sparse percussive form. Although eagerly anticipated by many, the album was less accessible that either of the 45s. Reviewing it for NME, Mat Snow recalled: 'Back in 1981 I walked out of the 23 Skidoo experience, I thought never to return. That is, until Coup thundered over the horizon earlier this year. A mighty 45, Coup is a vinyl TV cop show car chase driven by Sketch Martin's bass, with Aswad's horn section blazing away in hot pursuit… A pity there's nothing half so much fun on Urban Gamelan… No single piece is allowed to unfold and grow, thus remaining little more than a series of tintinnabulating percussion workouts occasionally rounded out with other instrumentation, distant chants and Jah Wobble-ish humourous asides.' Blast magazine also offered qualified praise, judging the album 'a frightening journey of great endurance, a collection of sounds which is extremely difficult to translate' while asserting that 'criticism breaks down in the face of art like 23 Skidoo's.'
With Skidoo still essentially a trio of Fritz, Alex and Johnny, live performance of their more commercial tracks remained problematic, and for a series of dates in Spain and London the group relied on tapes. 'It's funny,' Alex told Sounds, 'because we're justifying the use of backing tapes, things we've tended to scoff at in the past. OK, so we've always used a lot of tapes, but in different ways, so this is just a different application that allows us to move on and not be restricted by playing bass, drums and guitar.'
Soon after the Spanish dates in Granada and Mercia, Fritz Catlin took a sabbatical from the group, and the Turnbulls devoted their energies to their chosen martial arts. The next Skidoo single would not emerge until 1986, when Illuminated released the hip-hop informed Assassin, backed with Ooze and neo-soul track T.O.Y. (Thoughts of You). A different version of Assassin also appeared as Shugyosha Step on several compilations, including Funky Alternatives (Vol 1). The single GI, released on Saderal in 1986 and credited to 400 Blows/23 Skidoo Assemblage, had no legitimate link to the group. The following year Catlin returned to the fold, and Illuminated (as Bleeding Chin) released Just Like Everybody, a compilation of Skidoo tracks recorded between 1981 and 1986, including a previously unreleased monitor mix of Coup. A new track, Magrehbi, was also released as a promo. Skidoo were then invited to record in New York by Rush Management, a subsidiary of Def Jam, and recorded three tracks with Sam Sever. However no deal materialised, and this episode proved instrumental in the band's metamorphosis into a production entity, Ronin.
For much of the next decade, 23 Skidoo activity was displaced by remix and production work under various guises, including Assassins With Soul and 23 Skidoo. Having built their own studio in Highbury, clients included Ice T, Seal, Sade, Stevie Wonder, Bomb The Bass and Public Enemy. However, sessions with Mark Morrison didn't pan out. 'That's a funny story,' Alex later told Mojo magazine. 'Just when he was about to get big, we got hooked up to do some production for him. We played him some tracks and we were all set to do it. Then for some reason we started talking about 23 Skidoo and played him the live side of The Culling Is Coming. Never heard from him again!'