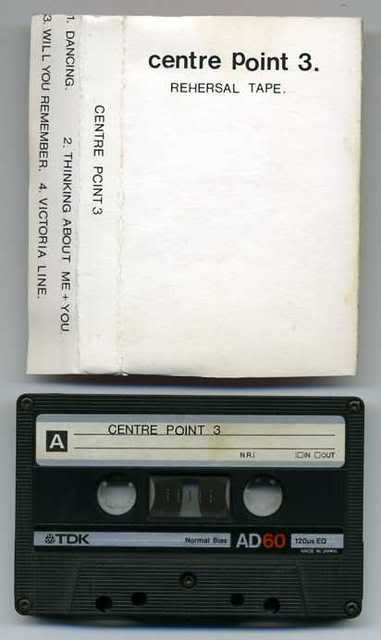 Centre Point – Dancing / Thinking About Me And You / Will You Remember? / Victoria Line– Schwartzeneggar – Untitled Tracks
Schwartzeneggar – Untitled Tracks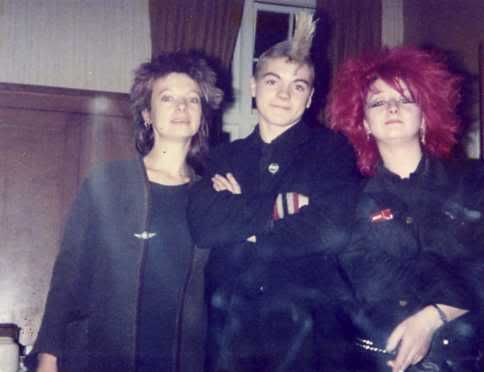 Centre Point were a short lived band featuring Phil Barker from Lack Of Knowledge and Vince (A.K.A. Vomit pictured above with Eve Libertine a couple of years previously) from D.I.R.T. This tape lent to me by Vince is just a practise session, but I found it very enjoyable to my thrash battered ears…A nice melodic sound, that rolls on nicely enough. A nice surprise to hear a band that I have never heard of, and never got that far out of  'garageland', that are actually very good.
Vince was invited to join the very first line up of Schwartzeneggar with Steve Ignorant, later on in 1984 or early 1985.  These tracks from the very first session recorded at Dial House were performed by Iggs, vocals, clarinet and harmonica. Vince on bass. Nemo Jones (Eve Libertines son) on guitar, and a drummer called Roland TR707, who is not actually a human, are on the same cassette as the Centre Point rehearsal, so put them all up on one post.
Vince now performs in Earth Culture (check post 86 section)
Steve went onto work more closely with Conflict for a couple of years, so Schwartzeneggar were put on hold for this period. Eventually when Steve came back to perform Schwartzeneggar material in the studio and on the live stage after his time with Conflict had ended, the band members were completely different. The new line up Schwartzeneggar released material on Sean Forbes 'Rugger Bugger' Recordings in the early 1990's, and played frequently all around Europe.