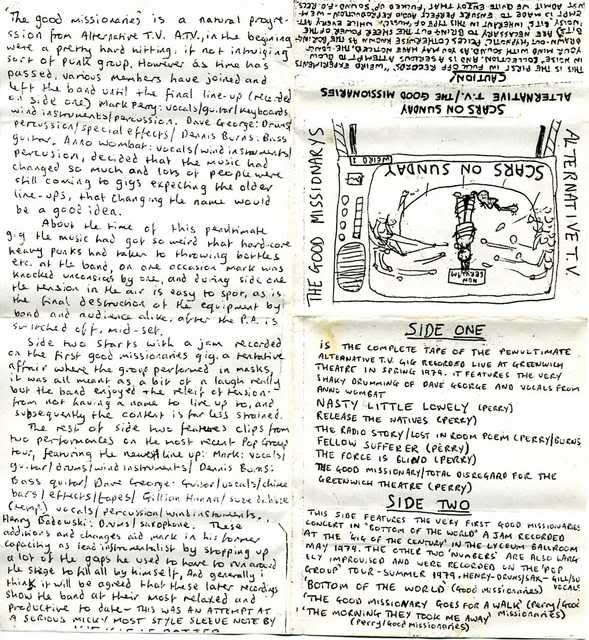 ALTERNATIVE TV – Nasty Little Lonely / Release The Natives / The Radio Story / Lost In Room / Fellow Sufferer / The Force Is Blind / The Good Missionary / Total Disregard For The Greenwich Theatre
GOOD MISSIONARIES – Bottom Of The World / The Good Missionary Goes For A Walk / The Morning They Took Me Away
Mark Perry – The Godfather of all things DIY, starting with Sniffin Glue fanzine early 1976, releasing countless singles and tapes on various labels including Deptford Fun City / Deleted / N.B Records / Cherry Red / Unnormality Records / 100 Things To Do Records / Fuck Off and various other Street Level labels.
In 1978 when being a 'punk' meant seeing The Clash once a year in Town for £3.50 and wearing a leather jacket a la The Clash, Mark Perry realised that the bands / individuals that were actually trying to do things were actually hidden away in the (then) much despised Hippy / Stonehenge / Free Festival scene.
He soon tuned into the Latimer Road / Holland Park squatting scene, and hung around with the band Here And Now and also Street Level Studios where he recorded a lot of material, A.T.V. went on 'free tours' around the country in small clubs and fields. Mark Perry had records released all over the place in different guises and band names, most of them avant garde with a distinct lack of fuzz guitar, many of the records selling fuck all in the shops.
Music papers, and the original ATV fan base did not know what to do, or how to approach Mark Perry's new direction. Some up and coming bands were influenced by this new direction including most obviously The Mob and Zounds, but most audiences were left bemused. This is a tape of the last ATV show when the band had been 'experimental' for some time. Most of the audience hated it, more Throbbing Gristle free form than The Lurkers!
The band changed thier name so THAT audience will not then come to gigs expecting 'How Much Longer'  to be played night after night.
The Good Missionaries was decided on, and the band played out of way places including Centro Iberico, years before the 'Anarcho Punk' bands that made this venue infamous knew where this broken up old school full of elderly Spainish anti Franco refugees was situated. Ironically though the recording above was actually done at the Lyceum, when they supported The Pop Group.
Some of the bands he was involved with other than ATV and The Good Missionaries were The Door And The Window / The Reflections / Blue Midnight plus his solo work. 70% of the output is great, 30% is pants. But at least he was trying to be an individual, and trying to get honest work out there.
A lot of people will not like this cassette, but I think it is worth adding to the downloads because it is a crossover period from the time that is never documented, when street punks were getting away from high priced London Marquee / Lyceum gigs with the bouncers and VAT reciepts, and trying something a little more community minded in free festivals and of course cheaply recorded singles and LP's that were sold cheaply, around the same time Crass started to continue this tradition.
You can find lots of books on The Clash, none on this period. Best try Alistair's Site for a few snippets and more info
 http://greengalloway.blogspot.com/search?q=atv